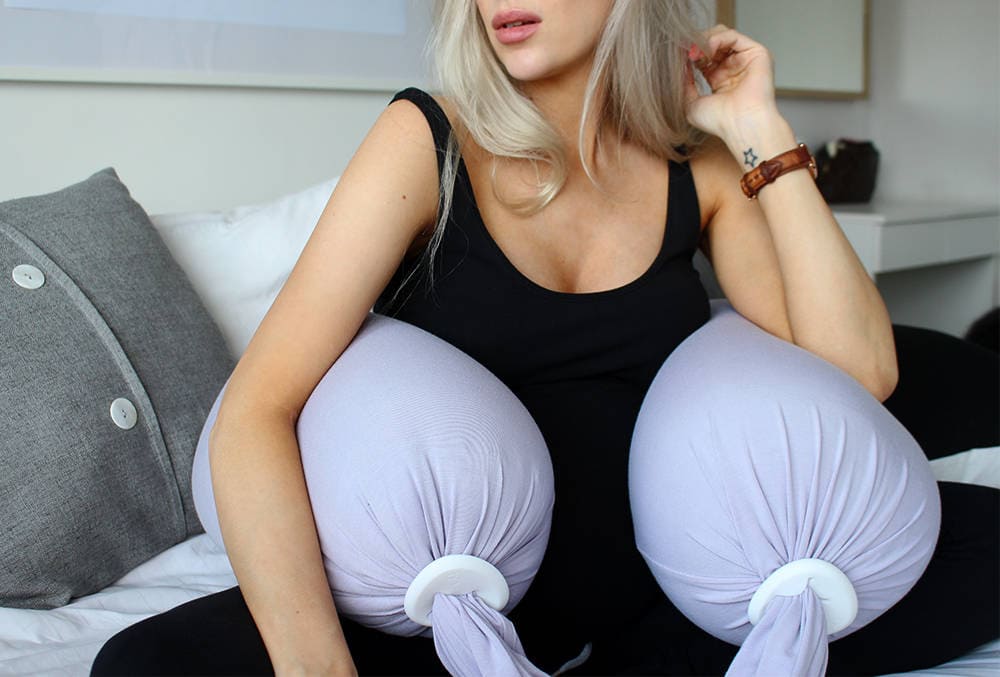 Win a bbhugme Pillow and Review
Before falling pregnant I told Richard that if we had another child I was 100% going to get a pregnancy pillow. I didn't have any comforters or luxuries with Andre. I had a very laid back approach to everything and thought it's pointless spending money on something I would seldom use. Oh how I learnt…
After 6 weeks of constant back pain I promised myself never to be so foolish again. When pregnant, the weight of the baby shifts to the side as you lie down which causes strain on the back muscles. The increased volume also adds pressure to the bottom of the back and as I have recently found in this pregnancy – coccyx pain.
I only started a few weeks ago (I'm now 34 weeks) and causes horrendous pain towards the bottom of my spine, meaning sometimes I need help standing up if I've been sitting a while.
As my first child is coming up to being 8 years old I am completely oblivious to all the wonderful new pregnancy and baby brands around right now. I'm astounded and relived by all the innovative products available and the consciousness towards creating organic products and the environment.
bbhugme is Scandinavian brand to recently hit my radar. They've come up with a body pillow to take you beyond pregnancy and to be the solution to my concerns of a one use product. These are produced with eco-friendly bamboo and BPA free silicon pebbles whilst the pillow and its accessories are certified by OEKO/TEX in addition to food grade certified.
This is a 3-in-1 system that actually serves the entire family. Not only has it become my bed buddy adding relief to my torso, it has also become my posture perfector whilst sitting at the computer or sofa. That's stage one, pre-baby.
Stage 2 and 3 are simple but perfect measures for keeping the baby in a comfortable position. Place the pillow around your front and you can have both arms free to feed, whether it's breast or bottle.
Once the baby is ready to settle down you can tie the ends secure and it becomes a large pillow, safe enough for your child to sleep in without rolling out or being smothered.
This would have certainly solved my daily dead arm situation and allowed me to easily put him into a safe position without disturbing him.
I have already recommended this to a few of my fellow pregnant friends but bbhugme have kindly offered a reader the chance of winning one for themselves.
Each pillow comes with a removable cover in a range of colours and a pair of silicone pebbles to secure the ends of material. Have a look at the choice of colours on their website. I chose lavender and vanilla.
How to enter
Follow @bbhugme and myself @CarlyMusleh on instagram
Like the giveaway picture on my instagram feed
Comment and tag a friend who would love this, pregnant or not 🙂
Open to those who live in Europe only (brand request)
Enter once.
No spam or giveaway accounts allowed.
Open 27th June 12pm BST

Closes 11th July 12am BST
The winner will be picked at random using software.
Once chosen you will have 3 working days to reply before another winner is chosen so please be aware of this if you are going abroad.
PLEASE read the requirements. If you don't follow the giveaway rules another winner will be chosen so please makes sure you follow the requirements.  You must reside within EUROPE as bbhugme do not ship outside of Europe
I hope you love and use this as much as I do mine. I'm currently sharing mine with my older child as he likes to cuddle it whilst watching tv!