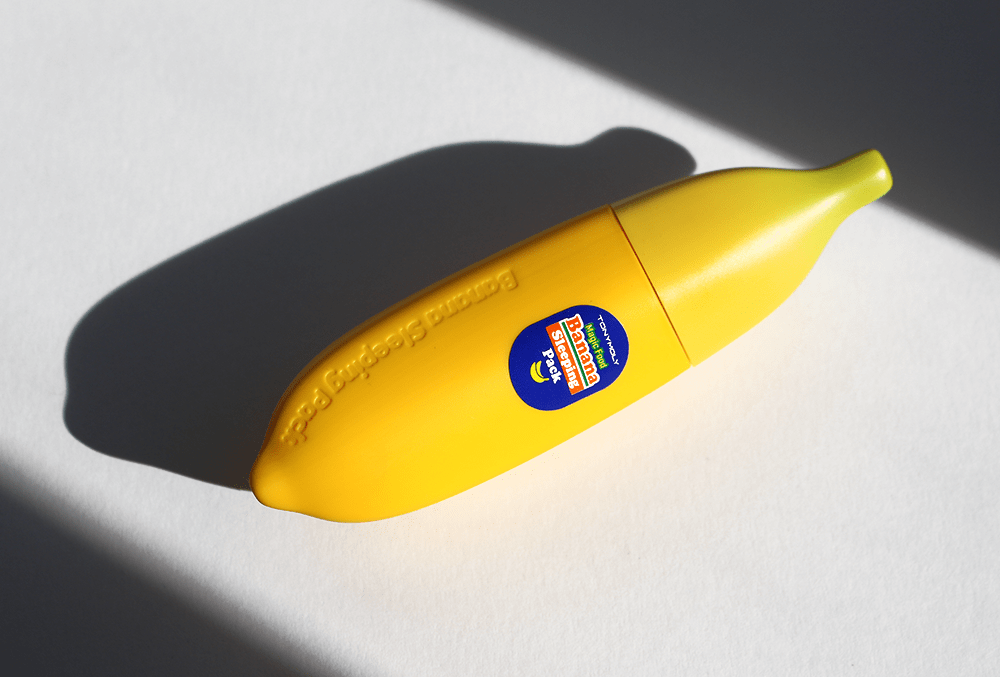 The Sleeping Mask People Are Going Banana's Over
I know what you're probably thinking – and yes that is a fake banana, but it's about to give you some smooth ass skin.
Tony Moly is known for creating incredibly fun, super gimmicky beauty products that not only inject a little humour but also life into skin. You'd be forgiven for thinking these products are aimed at a younger demographic however don't judge a mask by its er, plastic banana skin.
K beauty is huge, mainly because the Koreans 1. Have gorgeously glowing skin 2. Know their stuff 3.Understand the importance of a really good regime, and unless a product works, it doesn't wangle its way into said routine.
Now I'm never under the illusion that every product from a brand will be amazing, even if I have approved of a couple of products within the range. I have tried some masks from Tony Moly before, and I was impressed but I wasn't feeling as hopeful for this one despite the positive reviews. Maybe it was having a banana sitting on the bedside – which, by the way, is very awkward to have to explain.
The ingredients list looks good, a couple of items that some may question but overall it's got hydrating and plumping properties which I have to admit did leave my skin feeling incredibly hydrated. There is silicone in there however I didn't feel like my skin just felt "cosmetically" moisturised. I did wake with my skin feeling plumped and still glossy. Betaine is a good ingredient to look out for as it's an anti-irritant and humectant so this is a good one to use after exfoliation and particularly on dehydrated skin.
Why banana?
Musa Sapientum (Banana) Fruit Extract is anti-inflammatory and anti-oxidant but also a skin softener keeping skin supple whilst the soothing chamomile calms.
The scent isn't particularly strong and definitely wears off to become unnoticeable in my option.
I reckon you'll get approx 15 – 20 (or more depending on the layer) uses which is good going for the £15 price tag.
TIP
Try putting some onto the hands and wearing cotton gloves to bed, esp if you've over done the holiday's or feeling that colder weather starting to dry out the skin. Yes you may get the "why you going to bed wearing Micheal Jackson gloves?" but hey, there's a plastic banana on you're bedside table. What's one more joke?
Shop other Tony Moly products

You can also shop the Tony Moly magic food banana hand milk at ThisisBeautyMart.com
Ingredients.
Water, Glycerin, Cetyl Ethylhexanoate, Cetearyl Alcohol, Glyceryl Stearate, Behenyl Alcohol, Beeswax, Petrolatum, Cyclopentasiloxane, Polysorbate 60, Musa Sapientum (Banana) Fruit Extract, Pentylene Glycol, Dimethicone, Betaine, Urea, PEG-100 Stearate, Phenoxyethanol, Polyacrylamide, Sorbitan Sesquioleate, Fragrance(Parfum), Caprylyl Glycol, C13-14 Isoparaffin, Magnesium Aluminum Silicate, Xanthan Gum, Dimethiconol, Ethylhexylglycerin, Laureth-7, 1,2-Hexanediol, Disodium EDTA, Yellow 5 (CI 19140), Yellow 6 (CI 15985), Hydroxypropyl Starch Phosphate, Anthemis Nobilis Flower Extract