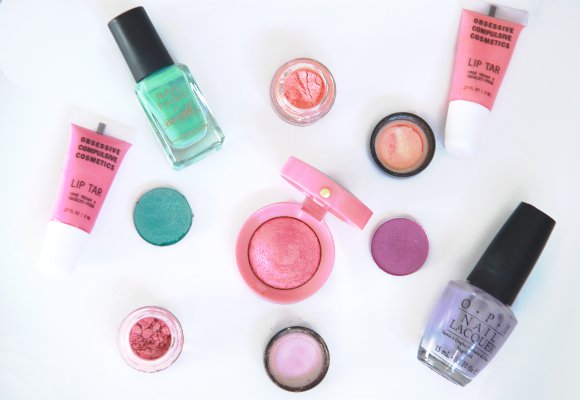 The Pursuit Of Pastels
It's Spring so shake off the Autumn plums and burnt orange shades and lets welcome sugary hues of pink, purple and green. These pastels are often reflected in clothing, accessories and hair,and the Runway has seen a few who've channelled the true essence of Easter through makeup.
After a look through my stash I've picked some of my favourite candy coloured makeup that I think you might enjoy.
1 – OCC LipTar Femme
Not as light as a bubblegum pink, this warmer tone could be re-named Barbie. A rich baby pink that would need little else in the way of makeup. Not so inconspicuous, this shade sits brightly on the lips and would compliment a subtle wash of a metallic grey on the lids. Keep it fresh, you don't want to look like the plastic princess herself.
2 – MAC Aquadisiac
This fresh aqua shade sits perfectly within the pastel spectrum. The colour pay-off can be difficult so use a sponge applicator and pat rather than sweep. To get a a heavier coverage use the foiling method by swatching the product on the applicator and then spraying with water. Also use a primer.
3 – Bourjois Rose D'or
A gorgeous subtle pink with soft peachy tones that leaves a trail of delicate sheen with every sweep, again it's a product you have to build with but it is a makeup artist staple.
4 – MAC Purple Shower
This velvety soft shade of purple applies more on the lavender side than the deeper shade it appears in the pan. It has pink tones to it giving it more of a softness however be sure to mix with darker shades or contrast with other spring colours to avoid the sore eye look.
5 – OCC LipTar Interlace
A celebrity fave, this colour has a peach/nude tone to it wish is why Khloe Kardashian and JLo seem to love it. It looks great with a smokey eye as it can look very nude on the lips so balance is key.
6 – Barry M 77*
This loose pigment is worth every penny, it performs eye trickery as in one angle it looks silver and others more orange. Only a little is needed as these loose powders are quite concentrated.
7 – Barry M Mint Green
One of the first minty nail polishes I purchased, this colour gets many compliments and looks stunning against white so dig out those white jeans girl!
8 – Barry M 3*
Another Barry M wonder, this pigment too performs colour witchery changing from pink to gold. This looks gorgeous when the sun catches the gold and would be a beautiful product for a beach party makeup look.
9 – OPI Done Out In Deco
If you're looking for a creme nail polish in a perfect pale lilac this is the one, it covers well and doesn't look too shabby with just one coat but going for the 2 is a winner.
So that's it, I hope my selection has given you some spring makeup inspiration.
*Some of these shades may not be available online
If you haven't seen it already watch my tutorial on a simple Spring look from hair, makeup and outfit.
Enjoy.
<iframe width="580″ height="400″ src="//www.youtube.com/embed/LImNjumPOcs?list=UUfBAknebnNRavNbsU57GYow" frameborder="0″ allowfullscreen></iframe>