The Look: Blue Nails | BeautyUK Grit FX
Blue is having  serious moment right now, it's popping up on eyes, hair, clothes and nails. This glorious weather is forcing us to get with the programme and embrace the brights. Forget pastels we want a high-octane power punching shade that forces the sun to get his shades on.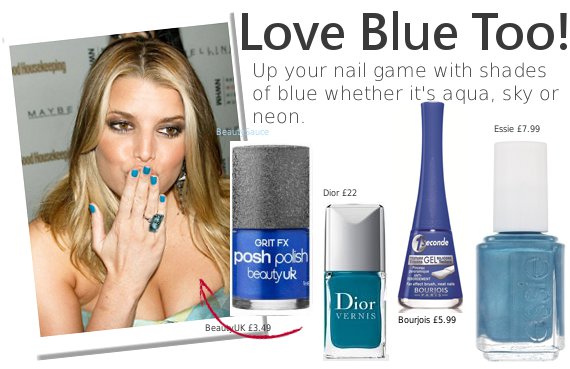 Left to right: Beauty UK £3.49 in the colour Shoreditch at BeautyUK,  Dior £22 in the colour Vernis Birds of Paradise at House of Frazer, Bourjois £5.99 in the colour Bleu Klein at Superdrug,   Essie £7.99 in the colour Beach Bum Blu at Superdrug.
I recently purchased the BeautyUK concrete nail polish in Grit FX Shoreditch (electric blue) The texture is certainly bizarre and requires more than one coat. I wasn't keen on the smell of this but the colour is gorgeous, like the glitter nails I'm guessing this will be a cow to take off but the good old foil wrap trick should work.