The Look: LFW Moschino Cheap & Chic
THE BEAUTY LOUNGE | FASHION WEEK – Stand Out Lips.
Make-up Artist Val Garland created a frosty pink lip for Moschino Cheap & Chic by encrusting soft or vibrant pink shades with a shimmery glitter by MAC.
Two looks were created, one for lighter skintones and one for darker skintones:-
1-Fair
MAC Pro White and Magenta Paints sticks mixed
2-Deep
MAC Pro Violetta lipstick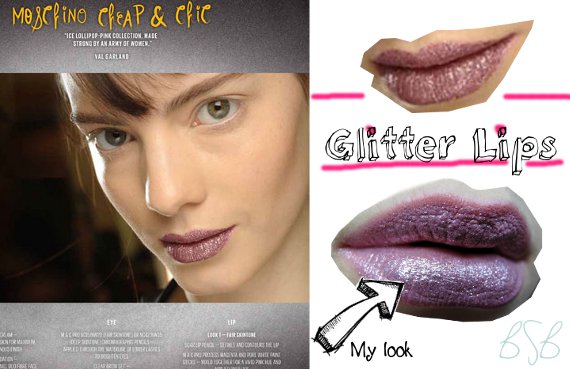 I had a go at re-creating this look myself using cheaper brands, how it looked it in the picture (above)
What I used
OCC Narcissus liptar mixed with MAC St Germain for a bright pink look,
Beauty Uk Pink glitter pressed into the lip.
If your in the UK buy your O.C.C from Love-Makeup.co.uk
Header image credit – Glam uk