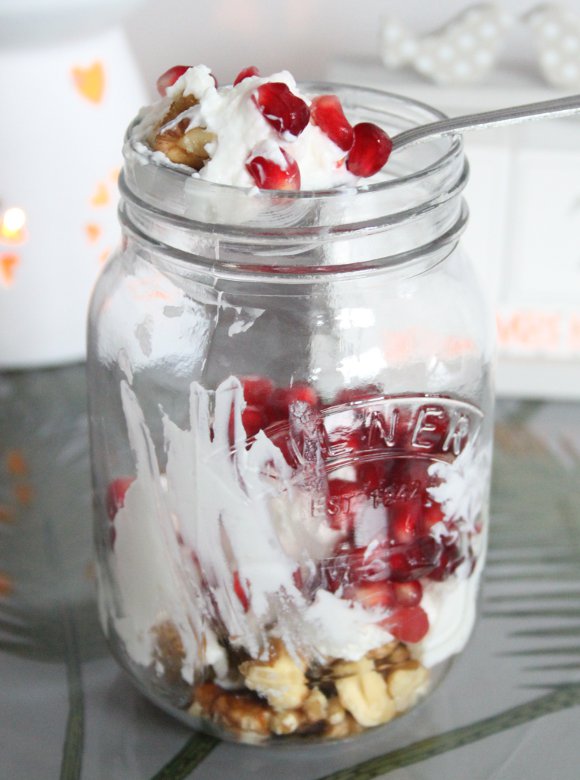 The Healthy Breakfast You Can Take To Work | Nutrition
These days we seem to have less time than ever and favour any thing that is quick, handy and travel sized. What I have noticed is for some this means grabbing the naughty snacks, which to be honest in moderation isn't too bad but it's when you combine it with the sodas (I won't go into this one just yet!) chocolate, crisps, sweets you name it I've seen it and done it!
As a mother I know where you are coming from when you say you just don't have time to prepare food and make different meals for yourself to the rest of the family (as they wouldn't appreciate scrambled eggs, tuna and spinach) so having things as speedy as possible and transportable is key.
Another issue is cost, some of these meals you can buy pre-prepared that are considered "healthy" are a fortune. Sorry Costa but I'm shaming you, I mean how much for a tiny yoghurt and freeze-dried fruit?
I wanted to make a healthy, cost effective breakfast that was high in nutrients as "clean" as could be and could be kept in the fridge. My answer the
Crunchy Walnut and Pomegranate Greek Yoghurt.
Why and what's the benefits?
Firstly the ingredients aren't expensive and can do more than one serving, you can add more fruit or nuts and most importantly you can take it into work (providided you have a cooling bag and a fridge at work) with the bonus of it looking adorable.
The ingredients
Walnuts: This large pack is only half way gone and it is used in my breakfast jar, in my main meals sometimes and occasionally for snacking.
Greek Yoghurt: This 170g does 2 breakfast jars for me and cost 80p
Pomegranate seeds: Bought pre-packed these can work out a little more expensive but 1 pack at £1 lasts me 2 or more jars.
The Nutritional Effects:-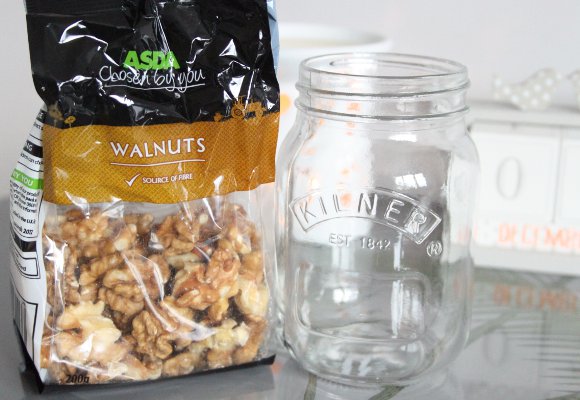 Walnuts
These nuts are rich source of energy and contain health benefiting nutrients, minerals, antioxidants and vitamins that are essential for optimum health.
They're a source of protein, fibre and healthy fat. Healthy fats are what keeps your hair, skin and nails looking healthy and more importantly the body and brain functioning.
They help keep the heart healthy by aiding in lowering the bad cholesterol in turn lowering the risk of heart disease and heart attacks

Greek Yoghurt
This yoghurt differs to others as it tastes a little sour, this is probably down to the straining process as the whey and lactose are removed. Lactose are the natural sugars found in milk but it doesn't all Greek yoghurts are sugar free especially if flavours have been added.
They're relatively high in protein but each brand can differ per gram and although this one contains 0% fat it doesn't mean you can eat as much as you like as they also contain sodium (salt).
Because this is lower in fat but higher in protein it's great for a snack and the probiotics promote a healthy stomach. I found this information from Fitness Magazine about belly fat fascinating
"Fat around your waist produces the hormone cortisol, which tells your body to accumulate even more belly flab," says nutrition professor and lead study author Michael Zemel, PhD. When you eat yogurt, the calcium signals your fat cells to pump out less cortisol, making it easier for you to drop pounds, while the amino acids help burn fat.

Pomegranates
These jewel like seeds are rich in anti-oxidants and polyphenols which help protect the skin against free radicals and UV radiation. The skin is constantly under attack by these which can lead to skin diseases and cancers. The polyphenols which are found in many other plant based products promote healthy cells and prevent DNA damage,regulate DNA repair and aid the immune system.
So you can see how beneficial this breakfast or snack jar is to our body and did I mention it's pretty filling too? Add a little honey if you feel it's too tangy for your taste buds!
I work very hard on my blog so please don't duplicate any images or writing without permission or credit.