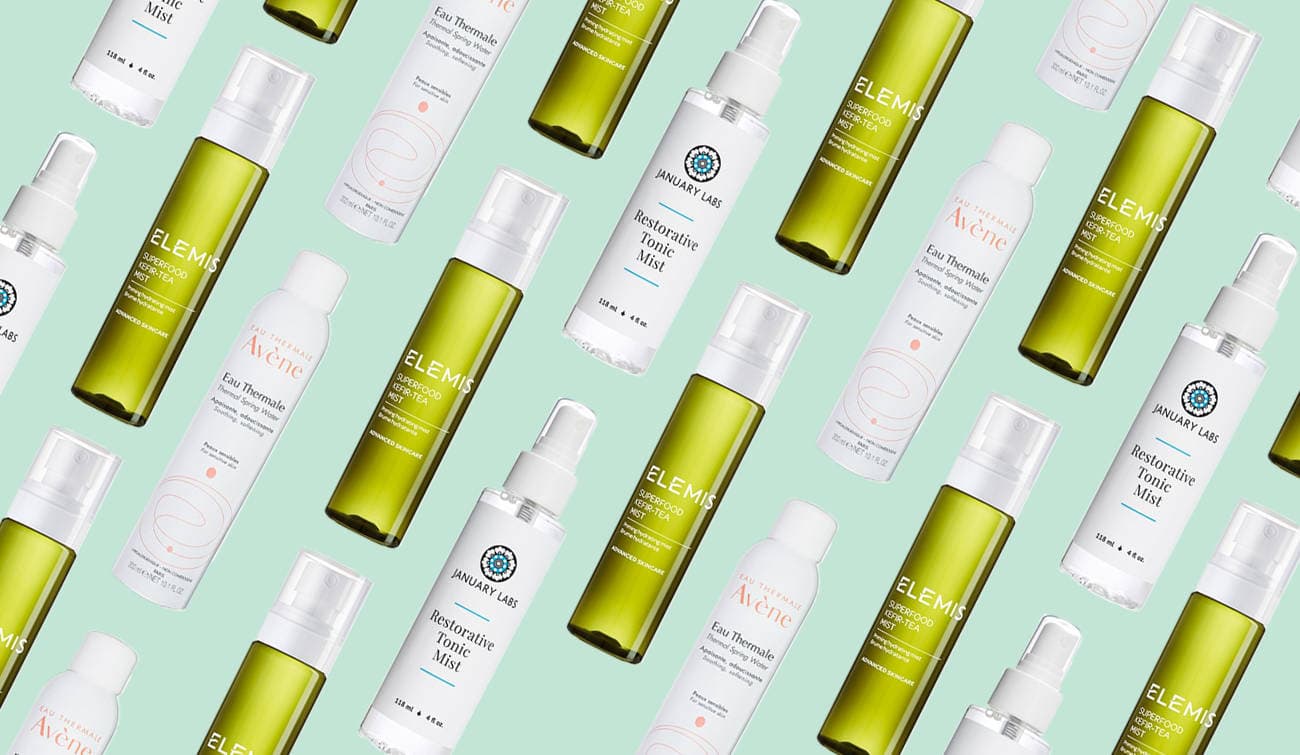 7 Of The Best Facial Sprays To Try Right Now
It seems we're seeing a resurgence of a number of items in skincare that had previously been slung by the way side. Toner was once an essential product in the "infamous" 3-step routine before being disregarded and deemed unnecessary.
Essence is still a little unorthodox in the West, going by the reactions I get when I mention them, but what about facial sprays and mists that have been around for some time?
The number of brands adding them to their line ups has increased, with brands like Elemis and Revolution Skincare creating anti-oxidant and essence infused sprays for multi-purpose use.
What do they do?
For the most part, they're refreshing, hydrating mists but have since become more of a hybrid. Infusing ingredients that treat various skin issues, from dull, blemish-prone or tired skin.
What are the benefits?
This depends on the ingredients, some are infused with anti-oxidants which brighten the complexion, other ingredients balance and soothe the skin. Whilst others add hydration and a glow.
What skin type do they suit?
Many suit all skin types but some are best paired to particular skin problems like oily, dry or irritated skin.
Here's 7 I'm using right now:-
New to my line-up – this superfood mist is infused with anti-oxidants to soothe and brighten the complexion. The addition of prebiotics help to balance the skin, leaving it hydrated with a healthy-looking glow.
It has an energising fragrance so is perfect as part of my morning routine. It can be used as a toner, primer, setting spray and hydrating mist.
It's part of Elemis' new superfood range which I also love.
The ideal post-cleansing product – January Labs' Restorative Toning Mist rebalances skin and strangely provides enough moisture to relive tight skin. This infusion of aloe, witch hazel, hydrating sodium PCA, olive oil, rosa centifolia, liquorice and calendula prepares skin for the subsequent steps in your skin care regime.
It's paraben,fragrance sulphate and cruelty free.
It's made in the U.S.A but is available on CultBeauty
Suitable for all skin types.
A brand I think is highly underrated. The Intelligent Nutrients Purifying Tonic is an antioxidant spray that balances and refreshes.This specially crafted mist is described as "more than a toner, beyond a mere balancer, anything but an ordinary astringent". The Intellimune-powered moisturisation sinks into skin providing the perfect base for serum and keeps skin hydrated.
For all skin types, especially oily.
The CBD Essence Spray is one of five new hydrating facial mists.
Infused with ultra-soothing Calendula flower extract, this formula calms irritated skin whilst providing the nourishment dry skin types require. Did I mention this is only £6!
Need one for your skin type? there's more:-
CBD (Nourishing): For sensitive skin
Niacinamide (Clarifying): For blemish-prone skin
Hyaluronic (Hydrating): For thirsty skin
Superfruit (Replenishing): For lacklustre skin (this smells incredible!)
Caffeine (Energising): For sleepy skin
Made from only the highest-grade organic rose floral water, rå oils' Rose Mist is "gentle, soothing and regenerating" It's skin balancing and packed with vitamins A, B1, B2, B6, C and E. It also reduces redness and inflammation. This luxurious fine mist is ideal post-cleanse and for setting makeup.
The scent is delicate but calming, so makes a great product to spritz throughout the day to provide a little relaxation and of course hydration.
A simple no frills water spray, targeted for sensitive skin for its soothing and anti-irritating properties. The minerals in the natural spring water calm and restore skin balance. The claim it contains an ideal calcium/magnesium ratio: helping to improve skin texture and has a neutral pH: 7.5
Pixi has a range of mists, however their Glow Mist is my fav of the bunch. The bi-phase formula is enriched with 13 natural oils, alongside soothing and hydrating propolis, aloe vera and fruit extracts.
This instantly soothes my skin if it feels tight or irritated and works well before or after makeup
TIP – If your skin is particularly dry, use a soothing, hydrating spray and follow with an oil so seal in moisture. Also, look for mists that don't contain alcohol. I like to use mine after cleansing to rebalance the skins pH level and restore calm before moving onto my other products.
Shop mists we love and ones to try

Disclaimer – Most beauty products featured on BeautySauce have sent via PR for consideration. These are all honest reviews and if there is a collaboration between a brand it will always be declared. You will also find affiliate links however this doesn't costs you (the consumer) extra, it means we take a small percentage of the profit the brand makes from the purchase of a product. This then helps us with costs of running this site.