Style Tips & Wardrobe Essentials
In today's post I wanted to share some style tips inspired by the beautiful French girls across the pond to create a variety of looks, from day to evening or dinner. It's in conjunction with a competition with fashion brand LaRedoute  and I'm very excited to enter as I have been a fan of the French label since I was a teen. I still have a picture of my lavender fine knit sweater teamed with the skirt over trouser combo when I was 15. Remember that trend? yes, one to leave in the past but it is definitely a brand I find reliable for unique pieces and affordable fashion making the French style accessible.
If you want extra tips on dressing à la mode then have a look at the Secrets To French Style page and gather some inspiration. A new trench coat is already on my list!
I may not be French but I do find myself most comfortable in a smart casual outfit which these girls do so well, just think Françoise Hardy. She has a perfect sense of style! Infact she is an inspiration for many of my looks. I also read an article about what French girls wouldn't be without and realised many of them are already in my wardrobe! I correlated all the information gathered on these super stylish folk and condensed it into some handy tips below, so welcome to my guide on French Style
A top tip when it comes to style is have closet classics that you can incorporate each season and get lots of wear out of, below is a list of the must-haves and how to style each piece. To accompany this I also have more tips to assist you in making your sartorial choices easier.
STAPLES
This is something I find most helpful to me, I don't have the luxury of time on a morning so I need a simple, uncluttered wardrobe with classics taking pride of place as I look for an outfit.
My previous seasons clothes are packed away leaving only the relevant items that I will actually reach for. I can't stress how much this has helped when getting dressed. The key pieces below are all items I can mix and match with what I call fast fashion but these are timeless classics that will remain in my wardrobe for years.
– My go-to cover-up, the item that will never date and works with everything!
Smart – Over the shoulders of your evening dress
Casual – With your favourite trousers or jeans and crisp white tee
Suit – Combine with your tux trousers and if you dare, do a Rihanna and go bra-less under the blazer.
Smart/Casual – Add some extra tailoring to an otherwise sporty outfit as I have below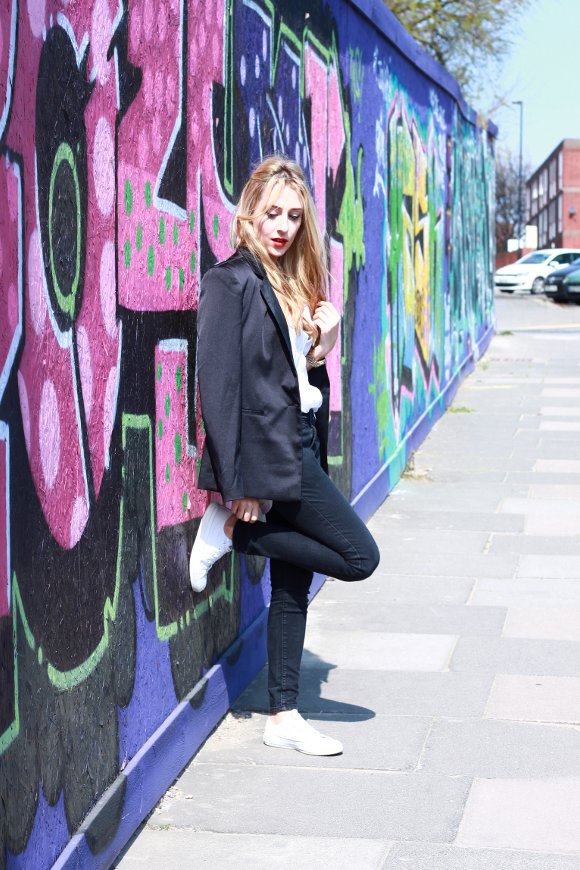 Blazer – ASOS
– AKA The best invention in the World. I'm sure many will dissagree however they offer so much in the way of style, from boyfriend, skinny, high-waisted, wide-leg, patterened, coloured, cropped… the list goes on. There's a style, colour and fit for every shape and age so in my eyes this is the ultimate key piece.
Casual – Wear with flats, a breton top and a blazer
Smart – Add a dressy top and killer heels
Distressed – Worn jeans look better with age, tears in the knees add a carefree attitude to your sartorial style and I like to wear mine with quirky or court heels and a slogan sweater.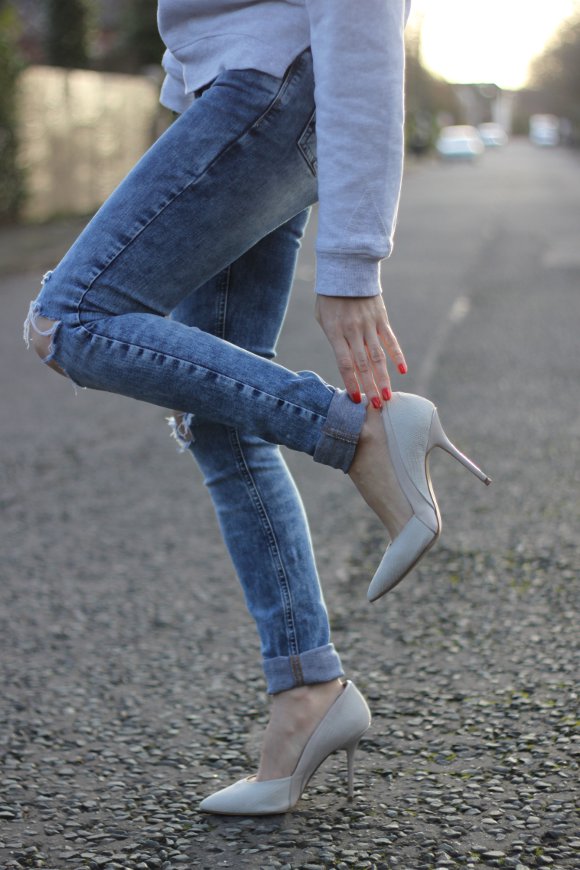 Jeans & Heels – River Island
– Shorts is such a vague term for an item of many variants, I've called my favourite ones Hybrid as I have had so much wear out of them from clubbing, sporty, day-time chic, dinner and more. The sports luxe appearance of the faux leather is contrasted with the lace trim. Below I style them with my blazer and sweater.
Shorts – Topshop
– This universal piece of clothing should be in everyone's wardrobe. Here's how I wear it,
Preppy – Buttoned to the top with a sweater or dress over the top
Masculine – With a tux but remember balance, as it is quite strong so add some femininity by undoing some buttons
Casual – Undone, loose and in a grandpa style. As it is voluminous try skinny jeans as I have below
As a Dress – This has an understated sex appeal, obviously longer in length and pair with high top converse
 Shirt – ASOS
– Another wardrobe classic as they will get so much wear, choose a height and style you're comfortable with. There's nothing worse than a pair of heels that look and feel painful to walk in as it definitely shows in the face.
Heels – Newlook
-This is an item that isn't just reserved for evenings, the statement skirt can be worn during the day too. I'd wear it with a utility style jacket or a chunky knit with my balance method.
Skirt – LaRedoute
More tips…
MIX AND MATCH
Team high-street with designer for a look that says you like fashion but you don't take it too seriously to dress head to toe designer. Even if it is just a piece of high-end jewellery or a clutch it will add that extra touch to an outfit that can be very laid back or plain.
BALANCE
I find that balance is key to looking great, if I'm wearing a very dressy outfit I will play down my makeup and hair opting for beachy or bed-head hair and simple maquillage. Balance dressy with understated and visa versa so if you do wear jeans and a sweater try a worn in smoky eye like  our very own Kate Moss and some heels or a statement necklace.
CONFIDENCE
Don't be trend led. I love drop waist dresses however they look horrendous on my body shape as do A -line skirts so I would never force them into my wardrobe just because it's 'IN'. If you don't feel comfortable you won't look comfortable. Yes certainly try new things, that's how you identify your style, but if you don't feel great in it don't get it!. I've wasted a lot of money following suit then end up retiring to my trusty jeans, shorts and pencil skirts.
I hope some of my tips have helped, be sure to check the Secrets to French Style page for more ideas.