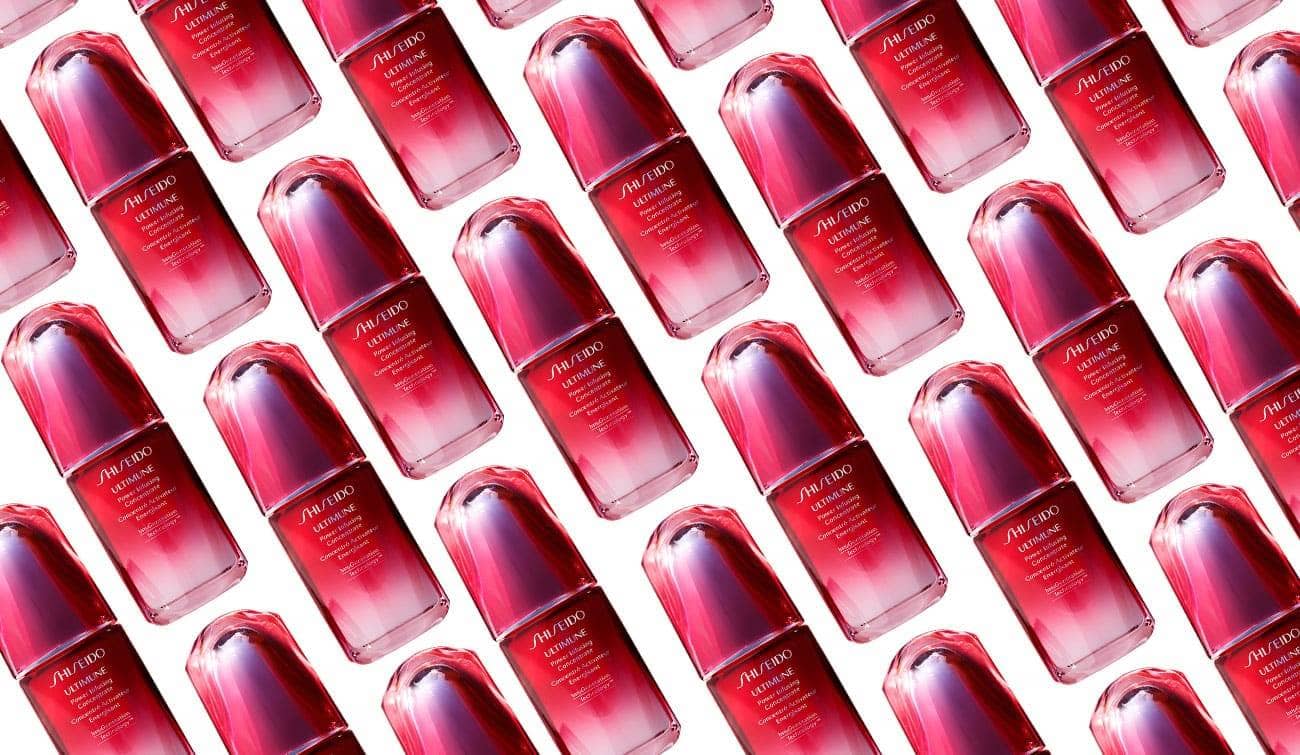 Shiseido Ultimune Power Infusing Concentrate Review
According to Shiseido  "since the launch of ULTIMUNE Power Infusing Concentrate in 2014, a bottle has been purchased every 15 seconds.*
Ultimune serum has received 116 beauty awards globally**—more than any other product in Shiseido's 145-year history and 38 patents."
2 empty bottles later, I can safely say I like the product, but it wasn't until I looked into the ingredients and the studies, did I fully appreciate the formula and the research involved.
With a globally award-winning product, you'd wonder, why are they reformulating it?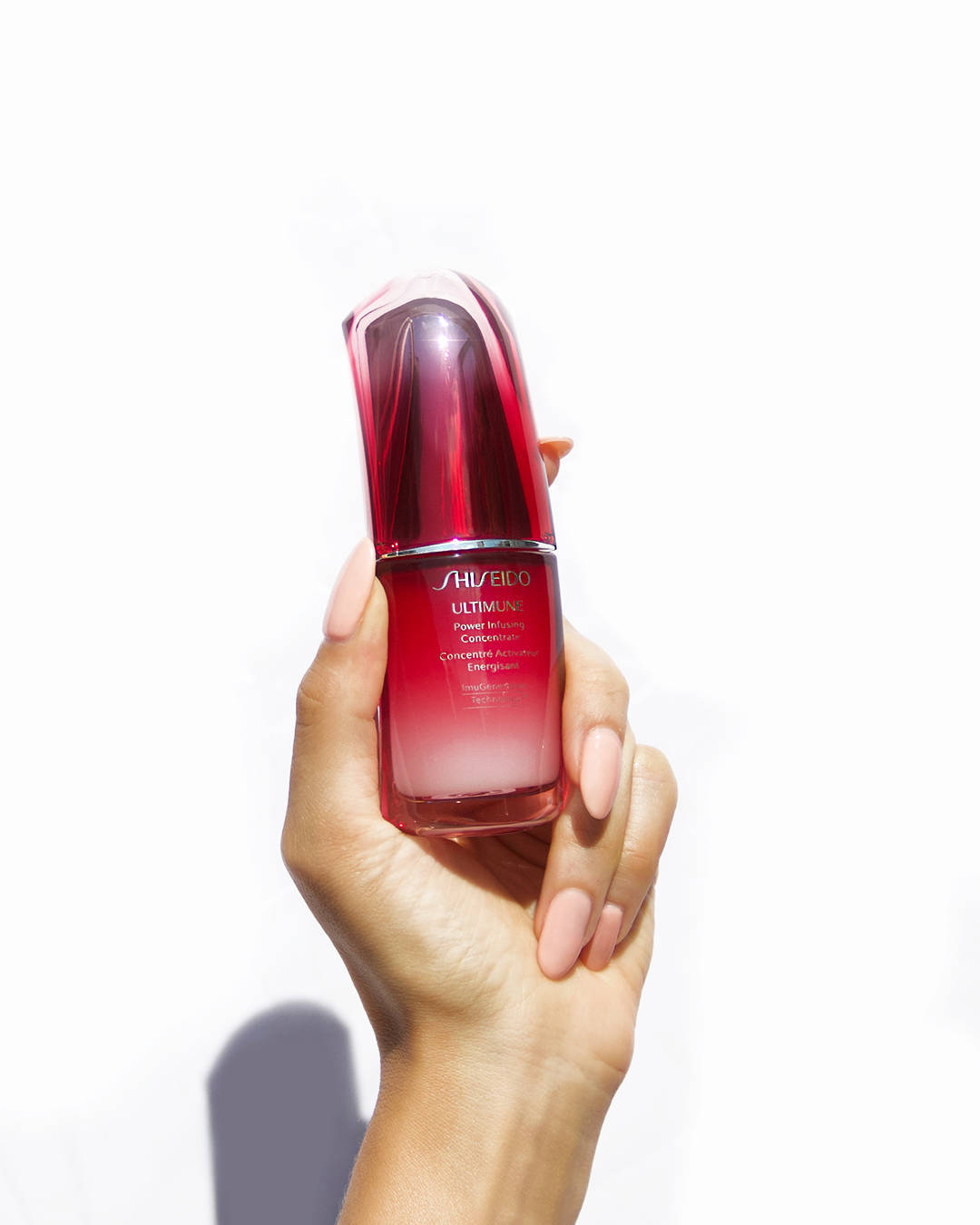 The answer lies within our lifestyles and the constant pressures of our fast-paced lives. I've mentioned it my post Stress and Our Skin the effects a highly stressful life can leave on our body's largest organ – skin.
We may not all have intensely stressful jobs, but many of us certainly have multiple periods of stressful encounters each day.
Shiseido has recognized this – especially with the growing concerns over political and social instability, environmental issues, and an uncertain future. People feel the need to do their best with the things they can control. They want to improve their own bodies and minds.
More and more, people are investing in creating and maintaining a healthy lifestyle. It's about wellbeing and mental health. Looking good now means looking healthy… and to many, it's becoming more important than looking young.
They have found that when it comes to skincare, consumers want proactive solutions rather than quick topical fixes. It's not just about fixing the problem but looking for preventative measures.
Glowing skin has been popular for decades and there's a reason, it symbolises health and radiance from the inside.
To create a product that would improve on their previous formula and also combat the damaging effects of stress, they had to look at the skin's defense and discover what ingredients would encourage the skin to work effectively to clear any concerns quickly and improve the skin's condition over time.
To do this they had to look at the Langerhans cells and stress functions.
What are Langerhans cells?
The skin is the body's main barrier against physical insults and microbial pathogens. Think of the Langerhans cells as our skin's soldiers. Their star-shaped bodies originate in the bone marrow – like white blood cells and platelets. Once they migrate to the surface their long, slender tendrils run around the keratinocytes ingesting unwanted invaders that are wanting to sneak around the skin – like harmful bacteria, etc.
They also defend the skin from external environmental factors by releasing a calming enzyme called  CD39. The enzyme attacks the stimulation response factor directly before damage can be done deeper in the skin.
When skin is exposed to strong damaging factors, its functions decline, and Langerhans cells decrease in number.
In vitro, Shiseido came across a new discovery – Langerhans precursor cells
"Shiseido found that before Langerhans cells develop, precursor cells appear. These precursors are supplied as Langerhans cells, to actively defend the skin against damage-inducing factors in the epidermis."
Their research also revealed that external and internal damage-inducing factors, keep precursor cells from differentiating into Langerhans cells, and cause their number to decrease. This then means the skin's defense system is compromised leading to an increase in skin damage as there's significantly less protection.
So what is the answer?
They created Shiseido's ImuGeneration TechnologyTM to maintain the Langerhans cells and improve their health with a 3 pillar system.
They introduced new ingredients.
Reishi Extract – For centuries, this extraordinary mushroom has been prized for its strong immunity-enhancing powers.
Iris Extract – A plant with strong vital energy. Even after being left in the desert for a year, it will grow buds in the soil.
These were found to promote the differentiation of precursor cells into Langerhans cells, to help to maintain their number.*
They included their Ultimune ComplexTM
A trio of 3 key ingredients:-
Bulgarian rose water – Promotes type 1 collagen production*
ß-glucan – Enhances declined functions of Langerhans cells*
Aqua-in-pool – Maintains moisture in the stratum corneum and reinforces its barrier function,
it is said to increase the calming enzymes that suppress damage-inducing factors on the skin whilst enhancing the Langerhans cells function.
They added botanical extracts
Perilla
Gingko
Thyme
Lotus Germ
Free radicals from the environment damage healthy cells. These botanical extracts have shown to have anti-oxidant properties and create a supportive environment for cells*
*in vitro studies
My opinions
Looking at the studies comparing the effectiveness of Ultimune 1.0 and 2.0 on damaged skin there's a slight improvement in increasing the skin's protection and hydration. In comparison to the skin without either the results are impressive.
Scent wise, it's a delicate fresh/floral fragrance that wear's off quickly. I'm not one for heavy fragrance so I found this pleasant to use.
According to Shiseido, Fragrance design researcher, Dr. Tomonori Ueda wanted to create a fragrance that would have a positive effect on our mood. The comforting scent of ImuCalm CompoundTM contains a combination of soothing fragrance ingredients, including Rose Element and Lotus Element, apparently both known for relieving stress and offering a calming effect.
Ingredients
WATER (AQUA), ALCOHOL DENAT, GLYCERIN*1)*3), DIMETHICON, BUTYLENE GLYCOL,PEG/PPG-17/4 DIMETHYL ETHE, *3, TRIETHYLHEXANOIN, AMMONIUM ACRYLOYLDIMETHYLTAURATE/BEHENETH-25 METHACRYLATE CROSSPOLYME, PHENOXYETHANOL, PEG-14M?METHYLPARABEN,TOCOPHERYL ACETATE, PEG/PPG-14/7 DIMETHYL ETHE, *1) ROSA DAMASCENA FLOWER WATE, *1) ACRYLATES/C10-30 ALKYL ACRYLATE CROSSPOLYME, FRAGRANCE (PARFUM),*2) DISODIUM EDTA,POTASSIUM HYDROXIDE,SILICA,ISOCETETH-10,LINALOOL, GINKGO BILOBA LEAF EXTRACT (GINKGO BILOBA),*3) GERANIO, CITRONELLO, SODIUM CARBOXYMETHYL BETA-GLUCAN,*1) BH, THYMUS SERPILLUM EXTRACT,*3) PERILLA OCYMOIDES LEAF EXTRACT
Many of the ingredients are covered above but I thought I'd highlight a couple that I didn't mention.
Methylparaben– A synthetic compound of the benzoate family.
They are antimicrobial preservatives used to prevent or control the growth of microbes in the finished product.
There's concern regarding preservatives but there's still much research to be done. They are known to cause adverse reactions but less so than colorants and fragrances. I'll be going into this more when I study at Uni!!
Linalool – a fragrance that occurs naturally in many essential oils
It can cause irritation to sensitive skin.
Tocopheryl acetate  – a chemical compound that consists of acetic acid and tocopherol (vitamin E)
Skin conditioning, antioxidant
Glycerin – is known to be a humectant, drawing moisture to the surface.
Looking at the ingredients it's close to alcohol denat which is often used to help products dry faster.
They're effective but can also cause loss of moisture, I'm wondering if that's why glycerine has been placed high up on the concentration?
There's also moisturising and conditioning ingredients included in the concentrate that will increase skin hydration and comfort, but I would recommend layering your skincare and follow this with a serum and moisturiser.
How to use
Although it has the consistency of serum it is a powerful concentrate to be used prior to serums and moisturisers and after cleansing and toning.
The texture is lightweight and sinks into the skin quickly, leaving skin feeling hydrated and without residue or heavy coating.
I looked at some reviews and there seems to be much confusion. As aforementioned, this isn't a serum, so don't expect the same feeling on the skin after use. I use a vitamin C treatment and I always follow with a serum because it just doesn't provide the same moisturising properties. After all, it is a treatment!
Another issue I saw was with the alcohol content. Being second in the list it has higher volumes compared to the other ingredients. Some experienced sensitivity and dryness. This may not be to do with just one ingredient, it could be the linalool or parfum or it could be the products used before and lack of products afterward. It's a tricky one.
It's always difficult trying to single out the reason for skin irritation or adverse reactions.
If you apply a product to the skin and get a reaction instantaneously, immediately remove and use a mask with soothing chamomile. My first experience of this was with a Stri-Vectin product for dark spots. I used it on one small area and it immediately turned bright red and burned.
If you use a number of products and start getting a reaction I would remove them instantly. Once the skin has settled I would test each product on a small area of the face without any other products to find the culprit. It's a process of elimination.
Before spending money on skincare always check out the ingredients and also read the directions for usage as it could affect the performance of the product. Afterall you want to get all the benefits!
I would say this is possibly a good one if you live in cities with lots of pollution or if your job requires you outdoors a lot.
This is a preventative so if you already have lines don't expect this to suddenly take them away. It's a treatment, a one perhaps on the luxury side that has heaps of skin technology which you don't see working.
If you're looking to invest in your skin and up your skincare regime treatments like this are a good choice. If you're looking for something more purse friendly then use a vitamin C, SPF and look for products that contain similar ingredients to this. I may have found a high-street product under £3 which contains quite a few of the same ingredients. Make sure you follow on social as I'll be announcing when it goes live!
Shop Shiseido

*based on global sell-in data collected from January 2017–April 2017, in which 1 day is counted as 24 hours
**total number of awards globally as of December 2016
Disclaimer -Content on this site is not a substitute for professional medical or healthcare advice, diagnosis, treatment, dietary, or safety advice, and may not be used for such purposes. Always seek the advice of your Dr or another qualified expert with any questions you may have regarding a medical question, condition, or safety concern. Reliance on information presented on this site is at your own risk. This site contains the opinions and views of others and does not represent the opinions and views of BeautySauce.com.
Most beauty products featured on BeautySauce have sent via PR for consideration. These are all honest reviews and if there is a collaboration between a brand it will always be declared. You will also find affiliate links however this doesn't costs you (the consumer) extra, it means we take a small percentage of the profit the brand makes from the purchase of a product. This then helps us with costs of running this site.Thank you for supporting us!