Ren Radiance Perfection Serum
Ren skincare developed their new radiance line to provide skin with the products that give a visibly perfect skin tone and leave the skin looking "energized,radiant and luminous".
In the range they have the Micro Polish Cleanser, Glycolactic Radiance Renewal Mask, Radiance Perfecting Serum, Resurfacing AHA concentrate.
Prior to this I had only used the Ren Glycolactic face mask which single handedly managed to make me fall in love with the brand, that and the fact it is against animal testing, free from nasties and British!!
When it comes to skincare I would comfortably admit I'm obsessed, in my teens I had terrible skin due to hormones but this lead to me taking extra care of my skin, building a good routine and really looking into products I was using. It's true when they say take care of your skin in your teens as it will take you into your 20's and beyond. I'm still suprised when people tell me they don't know what serum is, for me it is the essential foundation to a skincare regime. It's like putting clothes on without underwear, I'd feel uncomfortable all day!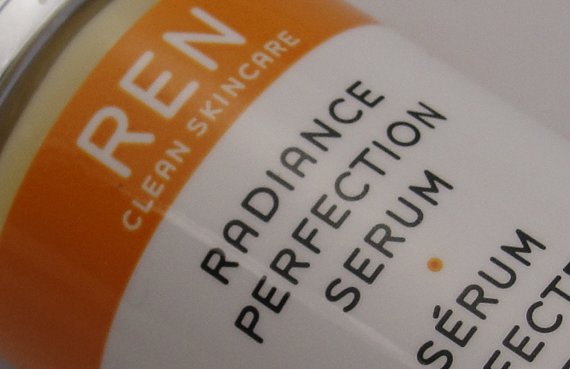 I have been using the Ren Serum for around 2 weeks now and after the first there was a noticeable difference, so much so in fact that it wasn't me who noticed it but my other half. He turned to me and said "what you been using on your face? your skin is looking really fresh" "a Ren serum" I replied. Looking at me confused he said "serum? anyway it's good"
I do feel like my face has brightened up a little, I haven't gone lighter however the pigmentation I have on my cheek has evened out a little and the skin looks healthier overall. It's a very light fluid so don't be concerned that you're clogging the skin with products, depending on your age/skin type you may want a fluid or gel serum. Only a small amount is needed on cleansed skin then you would apply your moisturiser (if you use eye cream apply this before anything)
I have used mine morning an night on my face and neck and I would say I've used around a quarter so this may last around 2 months. I forgot to mention the delicate orange scent, everything is natural though they don't use synthetic fragrances or colours.
Perfect for – All skin types, especially dull, sallow, hyper-pigmented skin.
Available at www.renskincare.com