Look perfectly polished but not over done with Adam Reed's fabulous modern beehive. A hit in the 60s this hairstyle will always remain chic however too much hair spray married with incorrect back combing and you could end up with an unsightly cone head which is helmet heads ugly sister. The modern way is less tamed and feels a little more relaxed, I'm thinking more fashionista than sectretary.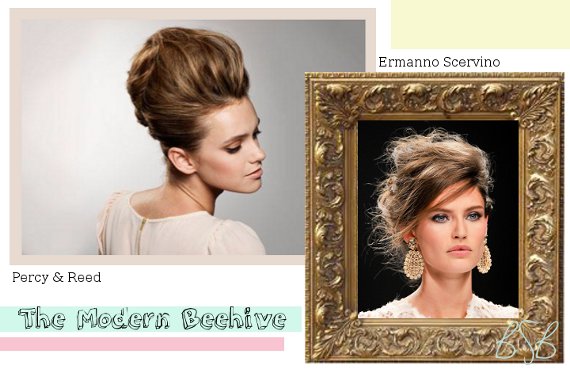 Gucci,Prada,YSL, D&G and Guess are some designers that I can think of right away who love to channel the retro 60s vibe on the runway and whilst doing some research I came across this fabulous designer Ermanno Scervino who also seems to like a more relaxed beehive.
Follow the step by steps to get this timeless look.
1. Firstly prep the hair with Superstar Supersized Bodifying Cream and No Oil Oil for fine hair to give extra body and volume.
2. Back brushing the hair with a comb and spraying with Reassuringly Firm Hairspray to give great hold.Spraying the roots with No-Fuss Flawlessness Dry Conditioner adds texture.
3. Use a dressing brush to smooth the hair once it's pinned up.
4. Spraying hair grips with Ressuringly Firm Session Hold Hairspray means they have greater hold and be more secure.
5. If any of the grips are showing you can use a styling comb to gently manipulate the hair and cover the grips.
6. Finish with Reassuringly Firm Session Hold Hairspray for added hold.