News: Space NK Celebrate 20 Years
NEWS | BEAUTY – 20 Years At The Top.
This year Mrs Space NK aka Nicky Kinnaird will be celebrating 20 amazing years of bringing the best brands from around the World to the UK. Space NK has become synonymous with luxury and for making niche beauty more accessible. Where else can you find noble prize winning products on the highstreet?
Read this interview with Nicky herself
What drives you today?
The same as what drove me 20 years ago when I set up the business – true innovation rather than 'me too'.
I'm interested in learning how we can improve our lives and learning from other cultures. I want the best for our customers so I scour the world looking for products and experiences that will give them the best and I still get a buzz and satisfaction from the beauty industry and from discovering new brands, new ingredients, new innovations.
When I set up the business it was because I believed that one brand doesn't offer a top to- toe solution but that there are true product heroes in each line. We rely on a variety of brands and products to deliver the results we want. 20 years ago there were two solutions for the beauty customer – a mono-brand counter in department stores or the high street chemist where there was bad lighting and no real ability to test or interact with the products. My aim was to bring an unbiased approach and offer a multitude of incredible brands and products – the best brands and products out there – under one
roof. This seemed like an obvious solution to me and clearly something that was missing from the market.
As well as the founder I am also the customer and I want the best. Space NK is all in the edit, we bring together a selection of the best brands and products out there. The very DNA of Space NK is nurturing innovation and understanding niche to ensure we stay at the cutting edge of newness. We have built our reputation on relationships with brands – sometimes these relationships are established years before the brand itself hits the shelf.
Have customer's attitudes changed in the last 20 years?
Absolutely. Customers are much more savvy and discerning today. They walk into store having already done their research online. Also attitudes towards health and welling have changed considerably. It's less of a luxury and selfish pursuit
now and more of an everyday essential 20 years on.
What brands did Space NK Pioneer?
I have always been interested in working with people who are the absolute specialists in their field. And we've been lucky enough to bring brands such as Bumble & Bumble, Stila, Laura Mercier, Dr Brandt, Eve Lom, Chantecaille and Philosophy to the UK.
Space NK has supported Women for Women International for a long time and as it is also celebrating two decades this year! in contribution towards the charity Nicky has hand picked 20 hero products within Space NK – for every one of these products sold, 20% of the net profits will be donated to Women for Women International, helping to provide support and training to women in some of the most volatile countries and giving them the opportunity to take control back for themselves. If this isn't a reason to grab one of these nothing is.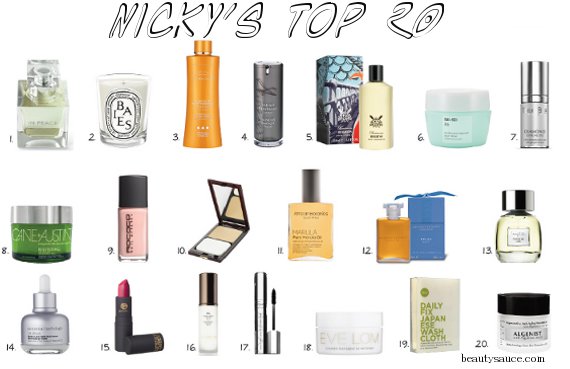 1. In Peace Eau De Parfum £60 • 2. Diptyque Baies Candle £40 • 3. Institute Esthederm Adaptasun £42.50 • 4. Sarah Chapman Overnight Facial £45 • 5. Beautannia Brighton Bath & Shower Gel £30 • 6. Sai-Sei Body Cream £32 • 7. Natura Bisse Diamond Extreme Eye Cream £155• 8. Cane & Austin Retexturizing Treatment Pads £48 • 9. Rococo Nail Polish £12 • 10. Kevyn Aucoin Celestial Powder £34 • 11. African Botanics Pure Marula Oil £60 • 12. Aromatherapy Associates Deep Relax Bath Oil £39 • 13. Laughter EDT 50ml £45 • 14.Elemental Herbology Cell Food £42 • 15. Lipstick Queen Sinner £18 • 16. Hourglass Veil Mineral Primer £52 • 17. By Terry Terribly Mascara Black £31 • 18. Eve Lom Cleanser £40• 19. Life NK Japanese Wash Cloth £18 • 20. Algenist Regenerative Moisturiser £68 •
Visit Space NK