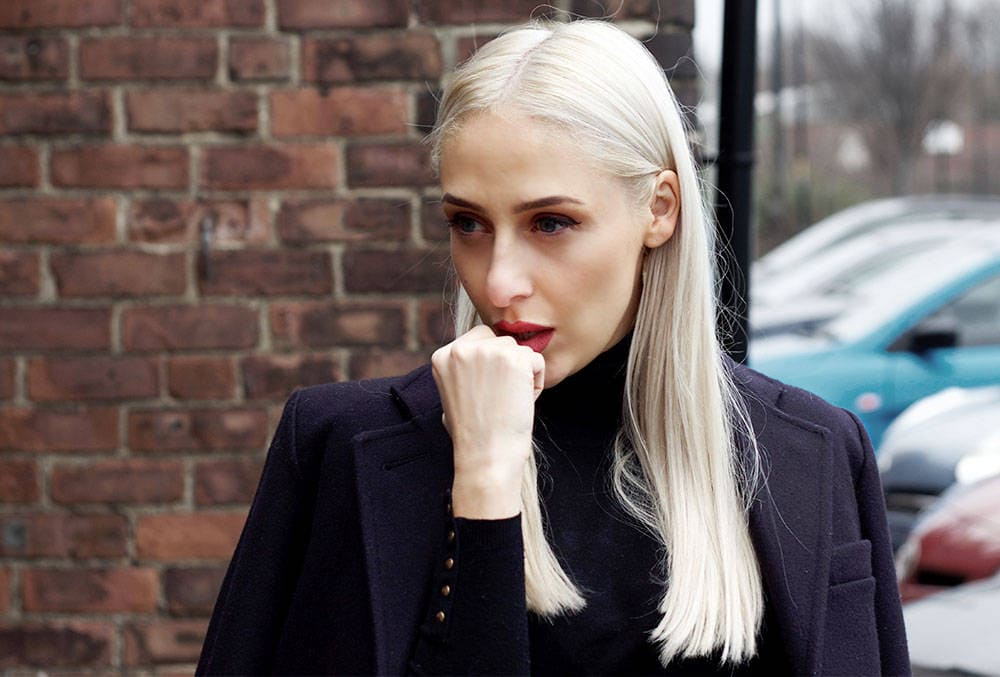 My Platinum Hair Reveal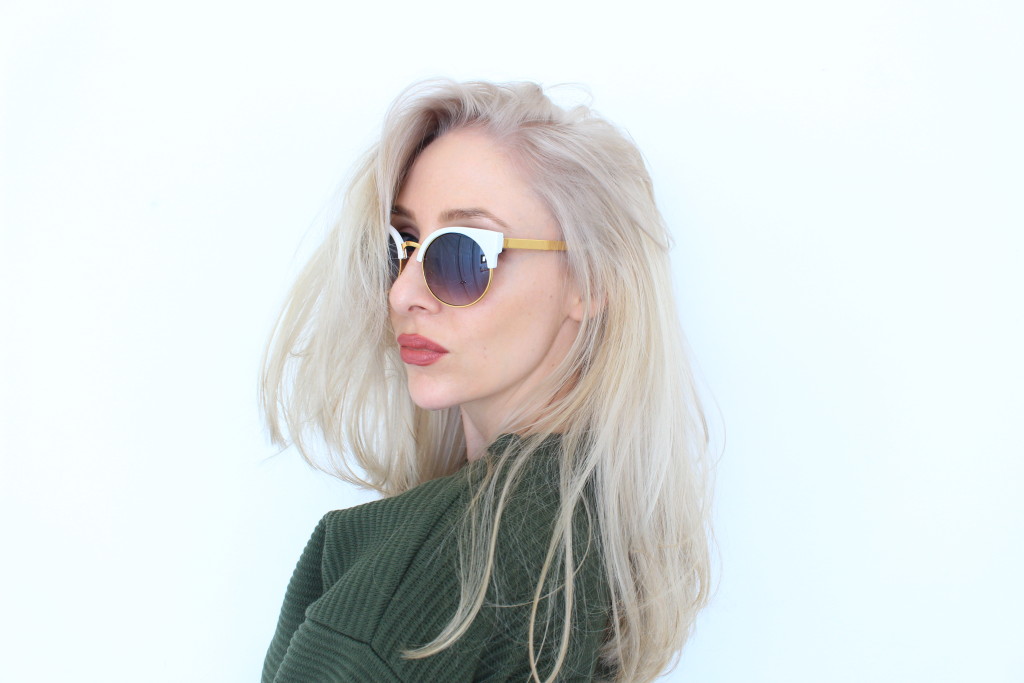 I had it coloured on Wednesday at Hooker and Young by the very talented Stewart who I would recommend to everyone!
went to the salon initially with the bob in mind and regular highlights re-done, that morning however I had a change of heart and decided to have a few inches off but go full head platinum.
My roots were around 1.5 – 2 inches long with highlights throughout the rest which were brassy and white in some areas. It wasn't a mess however I noticed the section that had my previous colour in a lot so wanted it all blended through. Of course the only answer for that was to go full head. Something I've often wondered about but dismissed because, well, it's a pretty bold move. I one dare I say, (for sake of his head exploding), Richard had suggested for some time!
The roots were tackled first with 40% bleach and then meticulously blended into the slightly patchy area of highlights that had been irritating me. The mid lengths and ends were already pretty much full head so they weren't touched. A cap was popped on (see below for hilarity) and it was left to do its thing.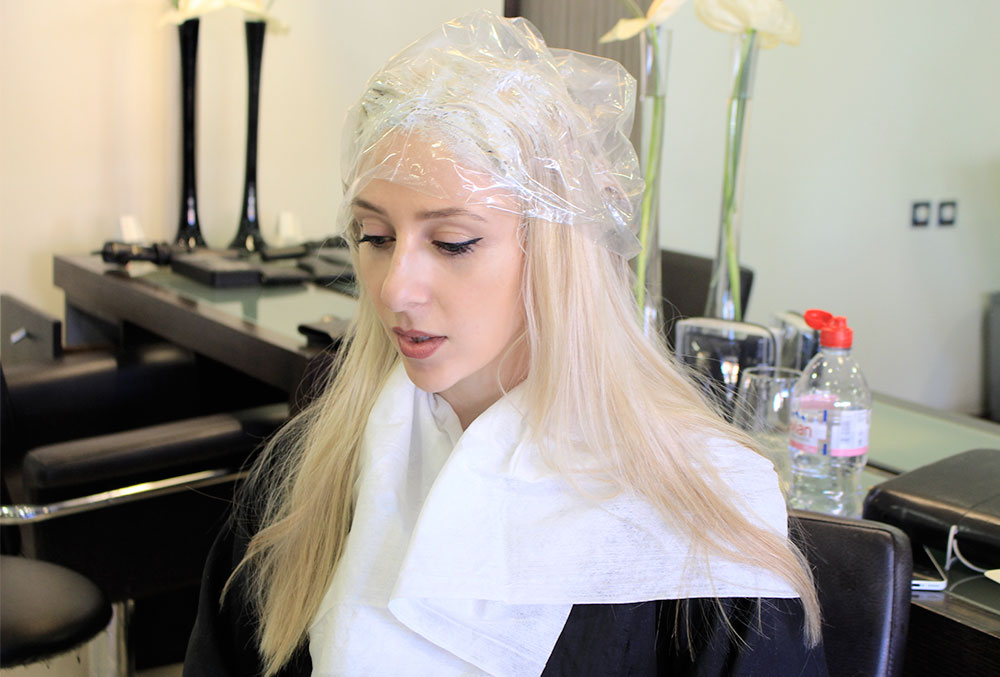 After processing time it was then taken off to reveal a brilliant buttercup yellow. When I say yellow I mean yellow, however, fret not, this is normal. Hair naturally hits this shade whilst making its way up the colour chart from brown. To cancel these tones a toner was placed over the top and massaged into the root before taking it through the rest of the hair. The tones was a mixed concoction with a purple shade to knock out the brassy hue. As you can see it took 2 to tackle the toner and really work the toner into the hair, the root area was left on first before bringing it down to the ends as this is where the hair is most porous.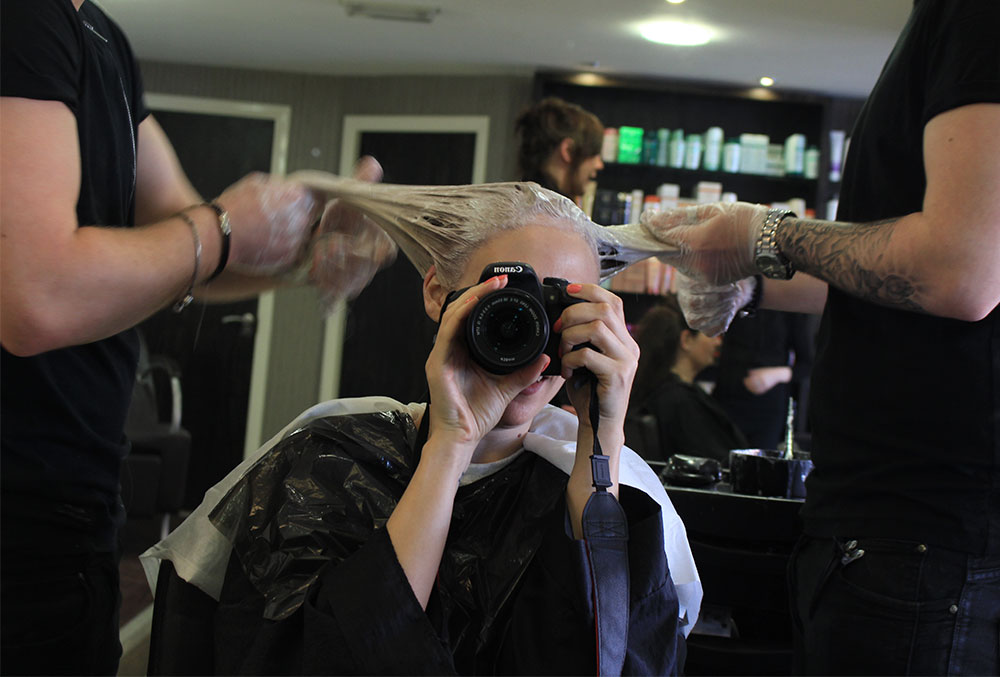 The toner created a beautiful creamy white shade that had a hint of lilac, I knew at this very moment I would love the colour!
After rinsing, they applied an in-salon treatment and Stewart then cut and layered my hair. I had around 3-4 inches off and layers added for more texture. He then blowdried it smooth but leaving movement at the ends as I'm not one for perfectly coiffed hair.
I'm so impressed and pleased with how my had felt immediately after the bleach and still now, it has been washed since so the toner has came out a little so I'm going to head back soon and will definitely be booking in for my root touch up.
Thanks to the guys at Hooker & Young for looking after me, the treatment was via PR to review however I have used H & Y before and will be returning. They have 5 salons in the North East and have won countless hairdressing awards nationally. They really do excel in all areas of hair and that's what you need when letting some give you a full head of bleach.
I purchased some treatments whilst there to keep my hair in great condition before returning.
visit www.hookerandyoung.co.uk