Nanshy Face Brush Set Review
I recently received this brush set* from a brand called Nanshy. I had never heard of the brand before and as they're based in the UK I wanted to show some support so decided to try them out. Having not seen a review or heard any opinions regarding the products I had no idea what to expect. You know sometimes you hear "it's amazing" "I love it" then you get it and you think whaaa. Ami I using it wrong? This is terrible! or visa versa.Luckily I had none of that to rock my judgement.
I wanted to use each brush before I did my March favourites review on YouTube which you can see below but I found myself getting strangely attached to the Angled Buffer Brush. After one use I was hooked and continued to use it 4 days straight. Of course I have since used the rest, hence being able to finally do this review!
The collection consists of 5 face brushes, each foundation brushes has their own purpose.
Nanshy Angled Buffer Brush:


Nanshy: Perfect for creating narrower face effect by applying bronzer/blush to your cheekbones. Can be used with other products.
My thoughts: I found this was a perfect all rounder, I used this to mainly to buff  liquid foundation but found it was also great at contouring with cream bronzer as it has an angled tip.
Nanshy Flat Angled Buffer Brush:


Nanshy:You can now apply your base with a precision. Apply, distribute and blend foundation into all areas of your face. Spread you foundation out over your face easily without any waste…
My thoughts:Another great brush for apply liquid foundation, this is a little different as it has a flat top whereas the angled buffer has a rounded bristle head.This brush gives a great airbrushed effect by stippling the product on.
Nanshy Pointed Brush: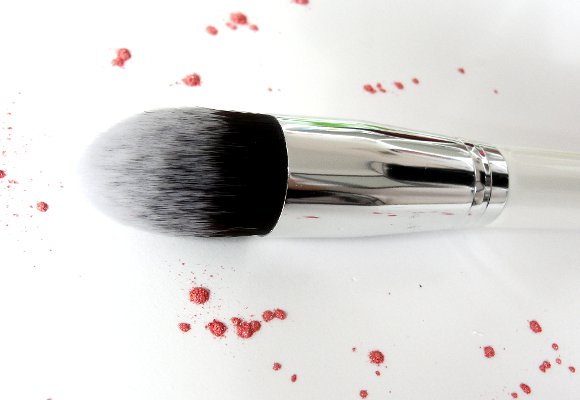 Nanshy: Unique pointed brush with soft rounded tip can be used in specific targeted areas to apply and blend any concealer, foundation, or tinted moisturiser.
My thoughts:I found blending cream products and concealers was easy and contouring was simplified with this. It does pretty much most the work for you with it's shaped bristles.
It's also ideal for areas around the nose which can sometimes be missed with larger brushes.
Nanshy Round Buffer Brush:
Nanshy:Dome shaped soft synthetic bristles, fluffy, dense and still makes applying foundation a dream. Cream, liquid and even mousse is not a problem any more. Possibilities are endless…
My thoughts:Another one of my favourites as this really buffs the product into the skin making it look pixel perfect. It buffs and blends with easy and as with the other brush feels super soft on the skin.
Nanshy Flat Top Buffer Brush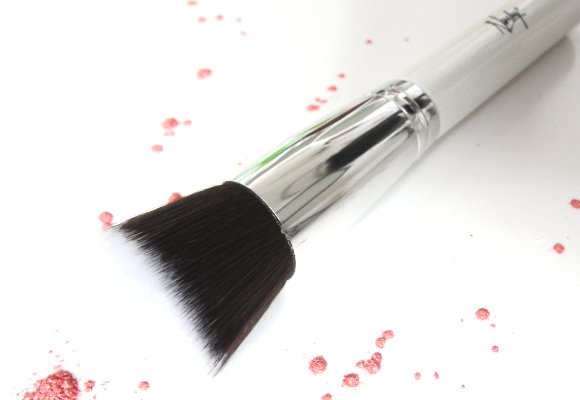 Nanshy: Perfect flat shape allows for apply, blend and buff foundation, powder, blush and bronzer. It allows for easy application of cream, liquid or powder formulas.
My thoughts:As mentioned above this brush works well will any formula and is ideal for powder foundation, I like to use this to go over the foundation to make sure it's all pressed into the skin and there's no uneven parts or streaks.
The handles are a pearl white colour and feel comfortable to hold with a lightweight feel
They're 100% cruelty free and vegan approved, not only that but they are part of PETA.ORG
Overall I'm very pleased with them and I'm sure they'll be appearing on more tutorials.
Website www.nanshy.com