Making A Wave With Enrapture
HAIR | THE BEAUTY LOUNGE – Natural Looking Waves Quickly.
Enrapture is a fantastic hair tool brand that is definitely growing a huge fanbase, I'd say one of the most talked about tools from their range is their Amplify Jumbo Waver.
I have already used the Heated Rollers so can say I'm a fan of the brand, the hair waver would be easier to use than the rollers especially if your not used to applying them.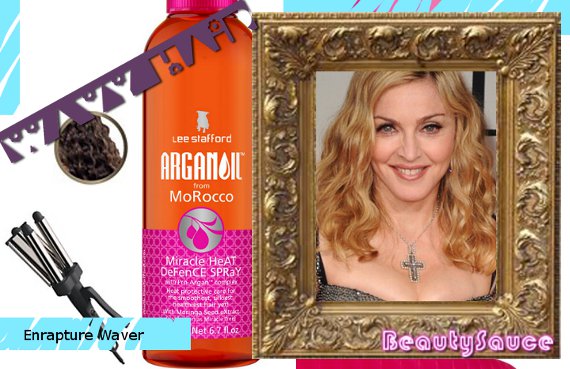 The image above is Madonna at the Golden Globes 2012 looking as fabulous as ever. You can re-create a similar look to this with the Jumbo Waver. Since the tool has large 25mm barels the waves are deeper creating more of a realistic wave but not only that it cuts time in half as the sections of hair don't have to be as small as other brands.
What makes this unique is the Titanium plate technology, the 25mm barrels as mentioned and polished plates making them snag free.
See how it looks on my hair, it looked like I had extensions in as it made my hair look super thick.
The Gallery
The waver has settings for all hair types and a guide on what temperature is recommended for each type. I found when I used this the curl lasted until I washed it and was great for braiding as it makes the hair thicker which holds each sections in place.
PRODUCTS USED
Enrapture Jumbo Hair Waver
Lee Stafford hair protectant
L'oreal Mythic Oil
Tutorial
Shop at Enrapture Hair
It will list a number of stores that stock the Jumbo Waver
Price – £74.99
Visit them on Facebook