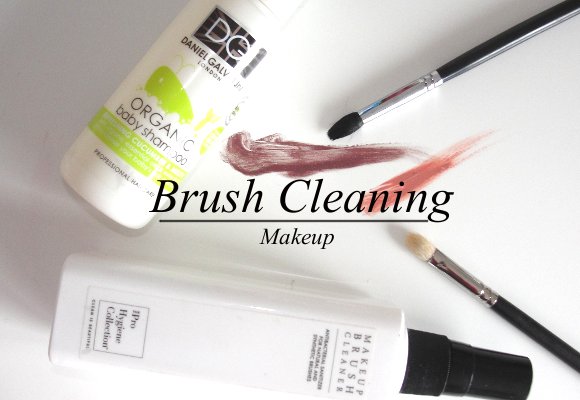 Makeup: Brush Cleaning – My Guide
So confession time, how often do you clean your brushes? it's not the best task in the world and an utter nightmare for a makeup artist, especially if you have had a very creative shoot involving creamy shadows and glitter.
It's important to wash brushes to remove grease, germs and build up, basically it's a beauty tool deep clean. It's a personal preference on how you clean your brushes, and I'm going to explain my method.
Once weekly, usually a Sunday I give my brushes a double clean.
I start by using a gentle shampoo to wash the bristles, I squirt a small amount into my palm and wet the brush under water.
[toggle_box]
[toggle_item title="TIP!" active="true"]Don't allow the water to get in between the metal part and the handle, it will loosen the  glue which will then detach the brush head from the handle. Only wet the bristles, NEVER submerge the whole brush[/toggle_item]
Then swirl the dirty bristles into the shampoo using a little pressure on the palm of your hand, you will begin to see the dirt emerge within the shampoo.
Hold the brush tip under water to remove the suds and if it is particularly dirty repeat the shampoo stage again.
Rinse again then mould the brushes into their usual shape as sometimes they splay a little.
On a table or bench lay some kitchen roll or a towel, rest the brushes flat with the bristles hanging over the edge of the table/desk. This will stop one side of the brush becoming flat whilst drying .
[toggle_box]
[toggle_item title="TIP!" active="true"]Never place brushes up-right to dry either on the brush head or handle, you will either distort the brush shape or if handle down will cause water to run into the handle again loosening the adhesive.[/toggle_item]
Once dry I like to spray with an anti bacterial spray to ensure they're squeaky clean, during the week I can then spot clean with the anti-bacterial spray.
My go to products
-Daniel Galvin Organic Baby Shampoo available from Savers
-Pro Hygiene Collection Makeup Brush Cleaner available at love-makeup.co.uk