The Dupes: Bobbi Brown Concealer
DUPES | REVIEW – MAQ Pro Concealers.
I recently tried the Maqpro Fard Creme Trio shown here in my Jennifer Lawrence tutorial and immediately saw a resemblance in shades to the much coveted Bobbi Brown universal palette.
The trio I used was in T6 which comprises of 3 orange based colours from quite a mellow orange to a peach and light peach.
What is the consistency like?
The Maqpro is opaque and quite creamy if warmed onto the hand first, it's perfect for concealing blemishes on the face as it has a thick consistency which tends to hold well on the skin but with that you find it can be a little on the dry side for under the eyes.
If my skin is feeling a little dry I apply eye cream and tap a little of this on top or if the eye cream is light I even mix it in with the concealer but this might not work for you, it's all trial and error. The Bobbi Brown correctors and concealers are in my top 3 for concealer products so to find something cheaper and very similar is an absolute Brucie bonus.
See the images below to compare products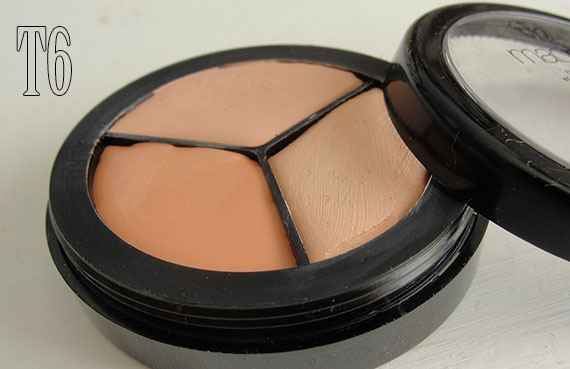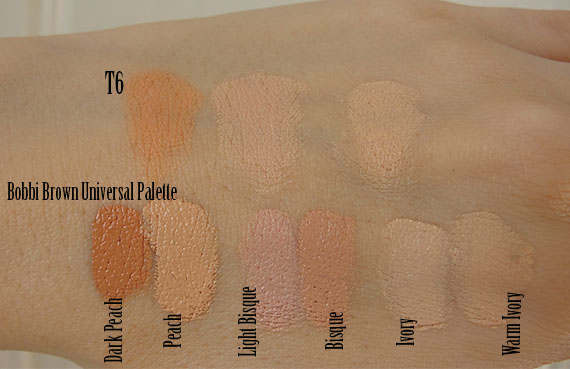 You can see some of the shades are a close match to the MAQpro palette,
My matches – Bobbi Brown Dark Peach and Warm Ivory, the Light Bisque is a similar tone but there's a touch too much pink to be a perfect dupe for the middle shade from the T6 palette.
Why orange shades?
Orange is the colour which neutralises blues, which is found under the eyes. It's also is a great shade for those with darker skin tones as often the pink or yellow shades of concealer can look ashy. If you have cooler skin tones it's more than likely you may have pink undertones so oranges will look too warm on you unless you're pale and have more yellow undertones like me.
These can be purchased for £7.50 at Love-Makeup.co.uk