Kiehl's Pure Vitality Skin Renewing Cream
Earlier this year a brand new launch from Kiehl's landed on my desk. Their latest cream claims to nourish, help skin resist hydration loss and oxidative damage, recover from existing damage whilst improving texture and making skin appear more radiant, phew!
They proudly claim to be the first to create skincare that includes two of the world's most powerful traditional medicine ingredients combined in a 99.6% naturally-derived cream. A first-of-its-kind to combine sustainably-sourced New Zealand Manuka Honey and Korean Red Ginseng Root.
The anti-inflammatory and antibacterial properties of the New Zealand Manuka Honey fused with the protection and cell stimulation of Korean Red Ginseng Root equates to one powerful formula designed to create skin that performs healthily and support cell renewal.
As we age skin functions slow down meaning cellular turnover also slows creating a surface that can appear dull. The barrier is no longer as efficient and as a result oxidative stress increases, causing a number of issues.
My initial thought after using this for the first time was how unusual the texture was, it's unlike anything I have used before. Consistency-wise it looks like a regular light cream in the jar however as you massage it into the skin it feels balm-like and leaves skin feeling nourished. It's not a sticky or greasy residue, it's hydrating and soothing. I used some on my dry hands and the skin instantly feel relived and no longer dry or tight. I have been using it day and night alternating between treatments in my skincare and I can honestly say my skin feels more supple and lines less visible – especially around the eyes.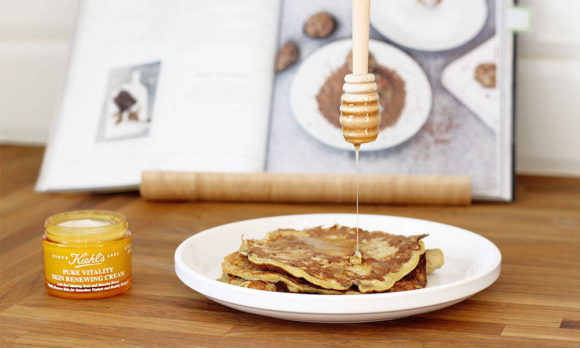 Reading through all the clinical trials the cream seems impressive. It shows test of women ages 40+ having skin with the same or higher levels of softness, smoothness and radiance of those 20+ after 8 weeks of usage.
At £49 it's not cheap however this is not a superficial cream, the ingredients have long been used as traditional medicine and as a result they assist with the performance of the skin.
Will I be purchasing in the future?
YES! It ticked all the boxes for me.
Find out more www.kiehls.co.uk
As it's pancake day I thought it was fitting to incorporate my 2 ingredient healthy pancakes (my recipe here) with a drizzle of New Zealand Manuka Honey, yep the same honey used in the cream! Head over to my instagram (@CarlyMusleh) to see my motion image of the pancakes. Try not to drool.