The 2-in-1 we're loving!
Highlighting has been the buzzword in beauty for some time now.What started as the "JLo glow" has slowly morphed into a high beam glare – so intense, it's soon to be visible via space satellite!
I champion the importance of skincare, as the foundation for great looking makeup. If you have a good base layer, everything that follows will apply more flawlessly – therefore skin texture will look smoother and radiant.  It will appear hydrated and brighter, making skin look fresh.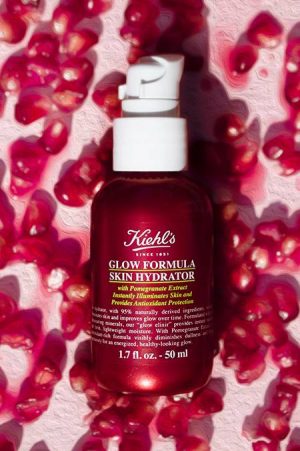 Kiehls have recently launched the Glow Formula Skin Hydrator. Think of it as your 2-in-1. The vitamin infused skincare is combined with light reflecting pigments to make skin look plumped and recharged.
Texture
It has a lightweight texture that melts into the skin without leaving residue. Skin feels and looks noticeably softer instantly after application.
Benefits
The skin elixir is filled with skin loving ingredients to brighten, protect and hydrate.
Tocopherol – numerous forms of vitamin E
Squalene – antioxidant and emollient
Glycerin – humectant – hydrating
Punica Granatum, also known as Pomegranate, known for its high levels of Vitamin C and antioxidants, which can help prevent cell damage.
Acerola Fruit Extract – contains Vitamin C
Going on holiday|? take this and mix with a CC cream or tinted moisturiser and your skin will have an enviable glow.
Application – 3 ways.
1 – Before moisturiser
2 – Mixed with foundation
3 – On top of foundation as a natural finish highlight
From the first use I was impressed, skin feels hydrated thus providing the perfect base for foundation. It instantly delivers a realistic glow – as if you're well rested and just returned from a spa.
F.Y.I if you want to see this in action head over to my instagram @CarlyMusleh and check out a video on my 'SKIN PREP' story highlights. You can really see the glow in all its glory!

If you're interested in more Kiehls, check out our review of their Midnight Recovery Oil