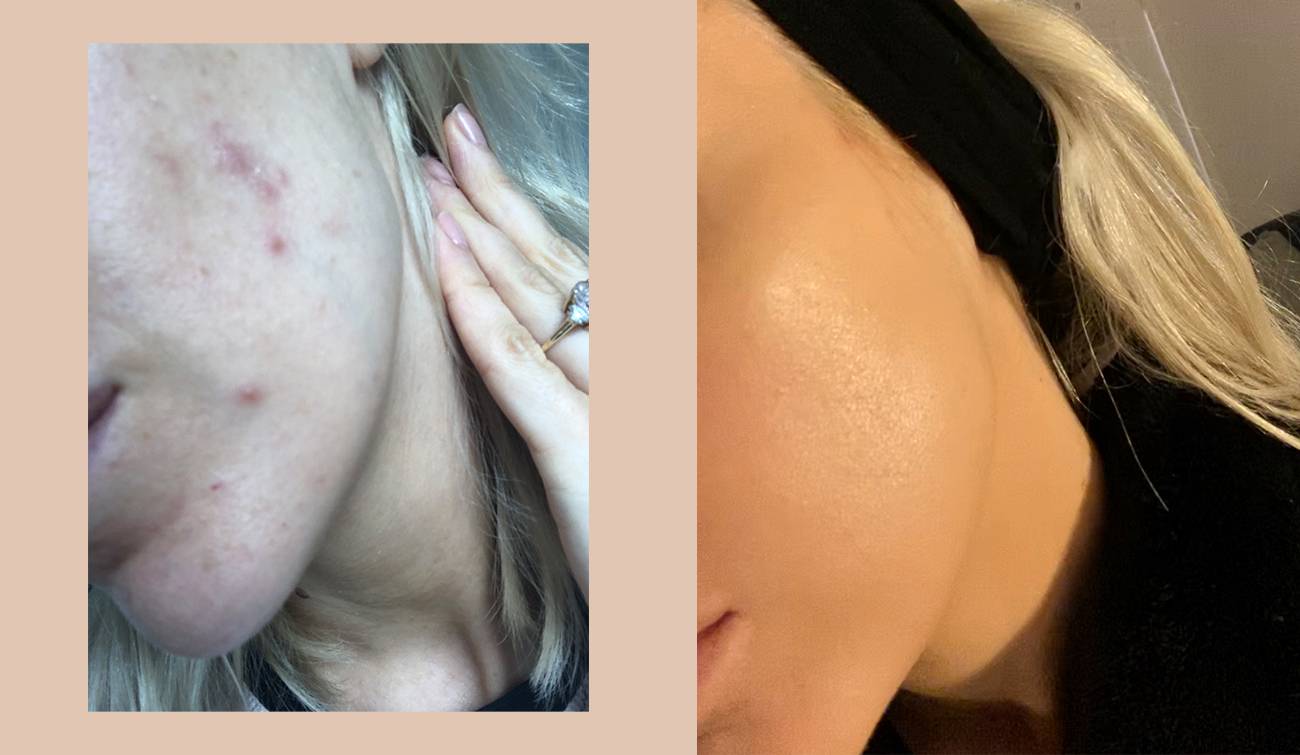 How I Cleared My Acne
Before I get into the nitty-gritty I wanted to share a brief history of my skin. Before the age of 15, my skin was clear, I never had any issues but as I crept towards the mid-teen range I slowly started to see a rash-like appearance on my forehead and chin. I initially thought it was a mild reaction so paid it no mind but watched as it progressed into more aggressive spots and before I knew it I had acne. Uneducated skincare purchases from my parents coupled with a lack of professional advice led to the condition worsening and it lasted into my early 20s leaving scars as a reminder.
I went on the pill at the age of 16 once my periods began as I suffered terribly with the pains – I now know I have adenomyosis.( Read more on this condition).After trial and error with various pills, I settled on one that helped my skin but was awful for my mood so decided after my first child I was no longer going back on oral contraceptives. My moods improved and my skin remained acne-free.
Fast forward to 2019, my skin was clear and had seldom breakouts however towards the start of Summer I suddenly started to develop small milia type spots on my cheeks which rapidly developed into very large swollen cysts, it was odd because although I'd had acne they never appeared in this area. They became red and each took weeks for the swelling to subside whilst still leaving a small solid blockage at the site. I was pretty sure it was cystic acne so made an appointment with the Dr who confirmed my suspicions and asked to do a hormone level check – all came back normal.
Some were extremely swollen and painful to touch, they were so deep within the skin that I knew those would take the longest to clear leaving PIH (post-inflammatory hyperpigmentation)
There were some points where it was quite bad and I felt somewhat embarrassed so I didn't start properly documenting until September. I went on holiday in June and remember it being very inflamed then but have no images. It began to show improvement then flared up again mid-September before clearing up quite quickly.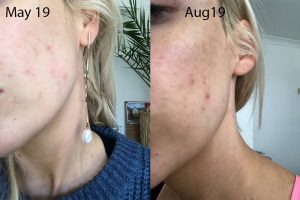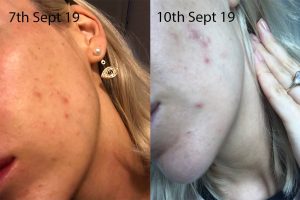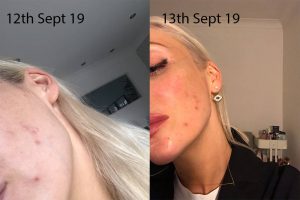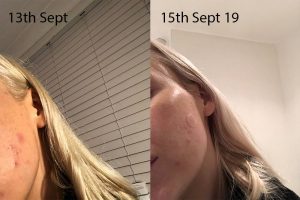 \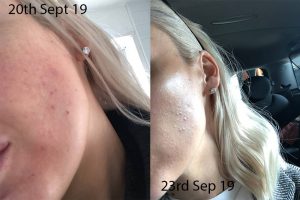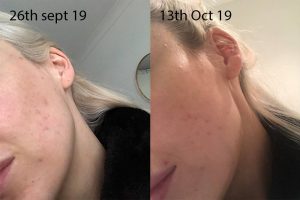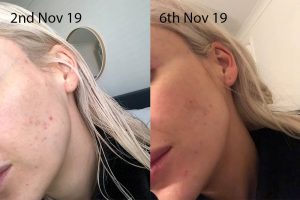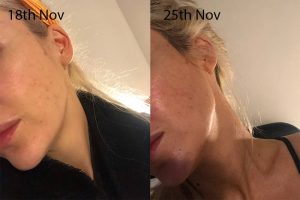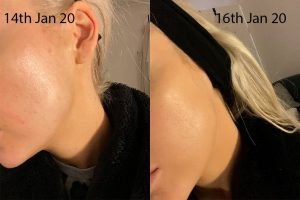 I made the decision to strip back my skincare entirely and focus on repairing the skin barrier and treat the acne spots individually.
I'd been sent a few CeraVe products months before but hadn't used a selection of them as they didn't suit my skin type. Now, however, my skin had changed so I began my routine with the foaming cleanser for normal to oily skin followed by a simple serum and moisturiser.
A common misconception I have come across time and time again within my time in the beauty industry is that those who have oily or acne-prone skin believe they shouldn't moisturise as it will make skin oilier. Contrary to this belief, it can actually make the condition of the skin worse and is important to moisturise regardless of skin type, however choosing the correct product is key.
So aforementioned I stripped back my routine, mostly to remove any products that may be irritating or exasperating the condition.
My simplified routine (AM + PM)
TREATMENTS
3 – 4 times a week I would use a liquid exfoliant that contained a BHA after cleansing and before serum. Salicylic acid is perfect for acne and blemish-prone skin as it helps cleanse the pore which breaks down blockages and reduces further breakouts.
Mask 1x per week which contained salicylic acid.
Those were my basic steps, I found it calmed my skin reduced them slightly but seemed to take a long time so I added more arsenal to my collection which really transformed my skin. I purchased both the Acnecide 5% w/w gel benzoyl peroxide cream and Acnecide 5% face wash and with a little trial and error, I established the best way to use it.
It is advised to use the wash followed by the cream to the affected areas. It began to work but it dried my skin terribly and started to crack the surrounding skin. What I realised was I hadn't let my skin acclimatise to the product, I used too much too soon. I also wasn't moisturising the area so it was becoming irritating.
Undeterred I decided to use it every other day on an evening then progressed to every evening. That way it had the moisturising properties from the products in the AM to stop it from drying out. I also made sure to only use the wash on the affected areas not on the whole face and then follow with a pinpoint application of the cream on the spots only.
When using the wash you apply it to the area of concern then leave on for a minute or so before rinsing off, don't be tempted to leave it on longer than is advised.
If I noticed the skin texture was becoming scaly and dry I would stop for a day, make sure to moisturise the area and then apply the following day. This ensured the skin wasn't broken or irritated and I began to see a huge difference, quickly.
I kept up the routine until I felt my skin was in a place where I was rarely getting new breakouts and the skin looked and felt healthy with zero irritation.
It's coming up to a year since the acne started and my skin has been great, once my CeraVe cleanser and moisturiser ran out I started using Paula's choice of gentle gel to milk cleanser and moistuiser.
This is my new routine:
AM
PM
TREATMENTS  
Paula's Choice 2% BHA exfoliant 3 times per week
The ordinary BHA + AHA peeling solution once per week
Benzoyl Peroxide on any blemishes that appear (these are usually gone by day 2/3 after using this)
NEW I'm late on the retinol as I wanted to research a little more before using but I have just introduced this to my routine and use every other evening in replace of the vitamin C and (This will probably replace that step entirely and I'll continue to use an antioxidant in the AM.)
THINGS TO KNOW
Build up tolerance to new products that contain actives. If you are using BP try every other evening. Don't be tempted with twice per day every day if it's your first time using.
Don't over-exfoliate. DON'T OVER EXFOLIATE. Yes, I said it twice, mainly because I see people use a liquid exfoliant and then treatments that contain exfoliant, and honestly, it's a recipe for skin barrier damage thus leading to inflammatory skin conditions and leaving the skin open to infections.
Apply your BP a few hours before bed, it contains peroxide therefore has the ability to bleach your clothing and bedding. It's good practice to apply your evening routine earlier so your products have longer to work and don't transfer onto your pillow.
Simplify your routine, tailor one to you. Regardless of what others are doing find products to suit your skin type, condition, and issues.
Cleansing too much will strip the barrier from lipids, wash with a gentle soap-free cleanser each morning and then double cleanse on an evening if you wear makeup, are outdoors a lot, or reapply SPF frequently. If these don't apply to you then cleanse thoroughly.
If you use a muslin cloth use a fresh one each time due to the spread of bacteria.
Don't pop or pick at cyst type spots, they're often buried deep and because they're large there's damage beneath the surface which you cannot see. A BHA will help exfoliant the dead skin and clear the blockages. It will take time but they do reduce in size. Forcing the impurity out can lead to significant damage which leaves scars that have an indented appearance.
Don't panic. There's lots of help out there, I understand it's easy to feel overwhelmed but avoid the temptation to try lots of new products.
 Despite what you've read you can use these combos together however it increases the risk of irritation in some as it can mean the actives are able to penetrate deeper. – Vit C + acid / Vit C + retinol / retinol + acid
Clean your pillowcase frequently, keep hair and hands away from the face, and sanitise your phone.
Do you get the odd blemishes but don't need a whole new routine? I found that the Zitstika patches work great on spots that are under the surface but aren't as severe as cystic acne. (More info on these soon)
Neutrogena red and blue light pen. These reduced the inflammation in spots but weren't an effective as the Zitstika. The light therapy works in two parts; red light assists cellular renewal, blue light targets the bacteria inside the blocked pore.
I'm still unsure what caused the breakout in the first place, it looks around 6 months in total to clear. The Drs took blood to check hormone levels but they can back normal. Possibly stress?, maybe using a few new products within a close time frame? I'm not entirely sure.
Don't be impatient, The first two months it didn't seem like it was improving much then afterward it began healing and responding positively to the products I was using. Cellular turnover takes 28/30 days but realistically you need longer to identify if the products are having an impact on the condition. Dermatologists recommend that topical skincare can take up to 12 weeks to gauge an effect.
If you notice a reaction immediately or within a short period after using a product it's best advised to wash it off and avoid as your skin is likely to be having a reaction to one or more of the ingredients.
Shop the post