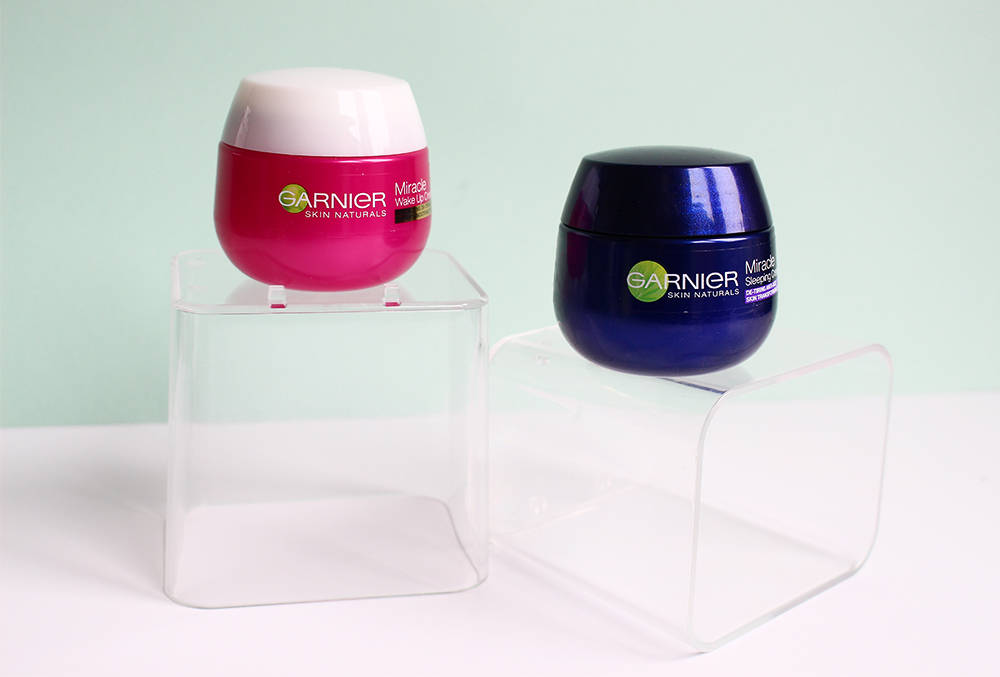 Garnier Miracle Wake Up & Sleeping Creams
There's a new addition to the Miracle range from skincare brand GARNIER. First there was the Miracle sleeping cream which created a buzz for having the properties of a mask but lightness of a cream, inspired by Asian trends. There's now a product to compliment said sleeping cream, promising to create smooth and firmer feeling skin from morning until night.
Let's take a look…
Miracle Wake Up Cream.
Claims – "Results worthy of a miracle" The tinted Miracle Skin Cream targets the look of tiredness throughout the day, while Miracle Sleeping Cream works to replenish and revive tired looking skin over night.
Miracle Wake Up Cream, de-tireding formula, rich in powerful rapid diffusion actives, that fights the signs of fatigue and acts as a perfect smoothing base for makeup. Re-awaken the look of tired skin from morning until night.
Ingredients 
Dimethicone – silicone, hydrating barrier, fills lines.
Glycerin – Humectant
Rice peptide – amino acids peptides and proteins – studies show it's regenerating.
Palmitic Acid – fatty acid found naturally in skin, good emollient.
Retinyl Palmitate – retinol (pure vitamin A) + Palmitic acid – an anti oxidant.
Personal opinion 
Pros – Fills in lines, makes skin look smoother and even.
Cons – Left skin feeling dry and matte. I feel although skin felt smoother I was also left with a slight powdery residue.
Tip – Maybe more suited to oily skin types or used as a primer to smooth skin prior to foundation.
Miracle Sleeping Cream
Claims – "From the first morning skin looks de-tired" Its innovative, self-smoothing texture envelops the skin and visibly helps reduce the appearance of signs of fatigue during the night.
Visible results from the 1st morning:
• Skin feels intensely re-hydrated.
• Skin looks less tired.
• Complexion looks fresh and radiant.
NIGHT AFTER NIGHT: SKIN LOOKS VISIBLY YOUNGER
When used every night, the formula helps reduce the appearance of the signs of ageing and tiredness.
The formula helps stimulate surface skin cell renewal for skin that looks refreshed and less tired. Skin looks smoother, wrinkles appear reduced and skin feels firmer, as if transformed.
Ingredients
Dimethicone – silicone, hydrating barrier, fills lines.
Simmondsia Chinensis Seed Oil – (jojoba oil). Heals, protects, is a rich source of fatty acid and stimulates collagen.
Hydrogenated Castor Oil Dimer Dilinoleate – Good skin emollient.
Salicylic Acid – (BHA) exfoliant
Sodium Hyaluronate – Powerful humectant.
Personal Opinion
Pros – Skin feels lightly hydrated but I'd expect way more from a night cream. Pleasant light floral scent.
Cons – Skin didn't feel "intensely re-hydrated" it looked a little more radiant than before application but sadly skin didn't look fresh or features "less tensed" – I'm not quite sure how a cream would have the ability to relax features?
Overall I had high hopes for them both but didn't get much of a moisturised feeling from either. It supports some of their cosmetic/superficial aspects however as hydrating creams they sadly disappoint.