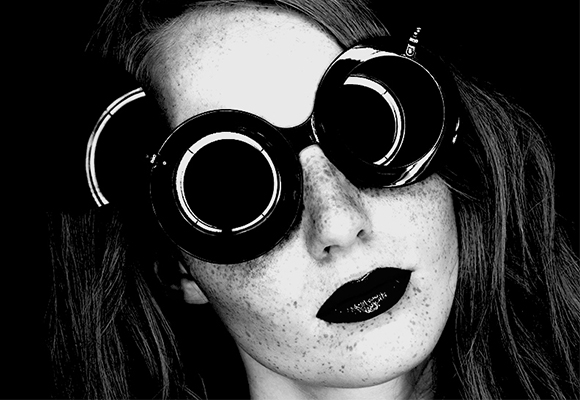 Gallery Update
I wanted to share some images from a shoot I did with the brilliant photographer Marie Harkness. This was a S/S13 trends project with gorgeous model Emma Townsend. We chose the fuchsia pink inspired by Donna Karan S/S13, Bronzed beauty's with a 70s twist (always a summer look) and neon lips at Giles.
Look 1
Neon Liner,  as mentioned above this was inspired by the look at Donna Karan that Charlotte Tilbury created. At DK the paint was taken onto the lashes and under the lashline but I decided to do something a little different. People always tell red haired girls "don't wear pink, you can't wear red" which drives me nuts!
So I wanted to break the "rules" with this neon liner but intentionally left it looking a little unfinished with no mascara, a clean base, soft pink lips and gentle contour.  I wanted it to look more artistic than everyday wear much like Runway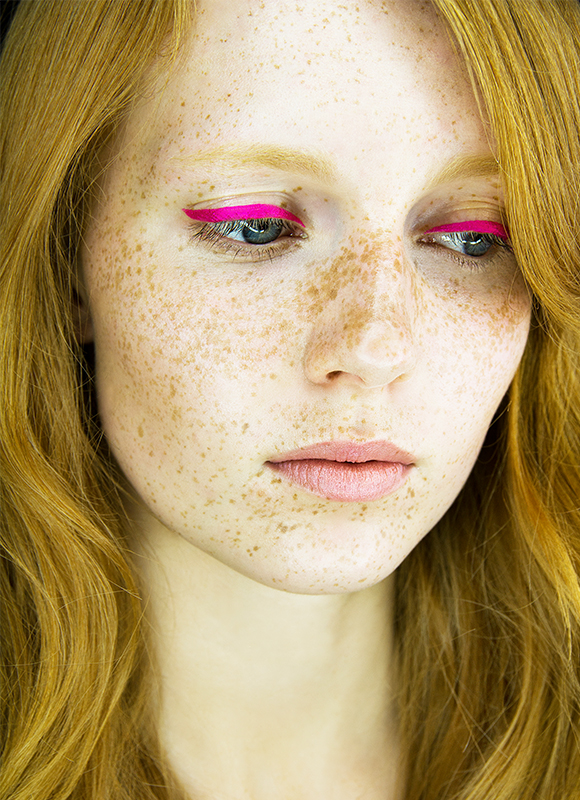 Look 2
My favourite, it was inspired by the bronzed beauty backstage which returns every Summer but I added a little 70s Jerry Hall vibe in exchange for the 50s look that was on trend. It works so well with Emmas complexion and hair.
I wanted it to look defined and sexy but not over done, the lashes are fuller on the outer corner with a dark brown contour. The skin was skimmed with the lightest touch of Illamasqua skin base mixed with a few of my potions and lotions to allow the stunning freckles to show. The lips were given the glam treatment with a pink nude lipstick and slightly deeper lipline so that lips took the focal point.
(the white ring light on her nose and the two white flashes on her chin are from the beauty light)
Look 3
Was inspired by the neon flashes on the lips at Giles. I swapped the vivid pink for a fluro orange and made it extra glossy to completely 360 the matte look on the Runway.
We added a playful nature to the image with these mickey glasses to make the lips feature prominently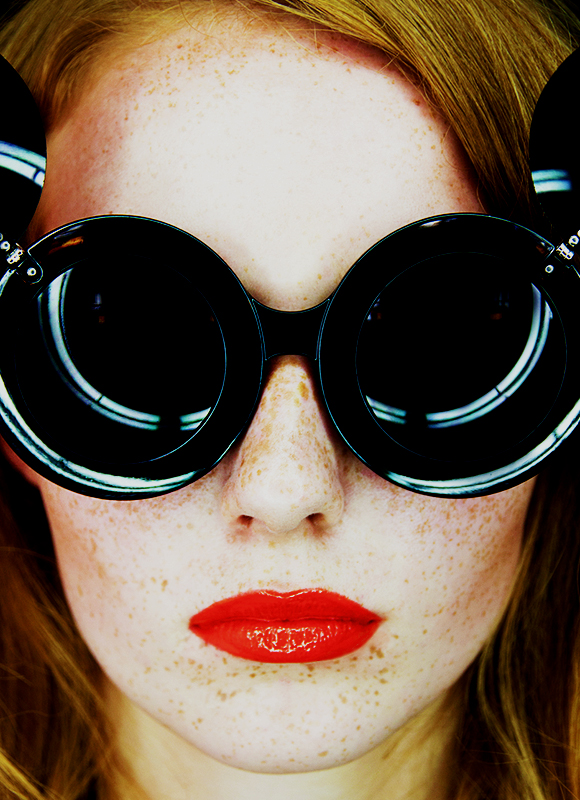 My tips for pale skin – there's no one shade fits all. With almost every model I makeup I custom blend my colours. Some times I need a touch more pink (cool tones) or warm (yellow tones) or it may need evening out so lighter in some areas and deeper in others. I always try to mix like for like so similar consistency and watch out for the mixture. If something is water based it may separate if mixed with an oil based foundation so just bare that in mind.
This I wasn't taught at college, I just played with textures and found things out through trial and error, yes sometimes things  go wrong but that's what practice is. If you don't make mistakes how can you perfect? I'm a perfectionist so I hate doing anything wrong and I hate looking back at images to find I didn't quite blend something seamlessly or I missed a tiny mark but that's what makes me even more particular the next shoot. I prefer my work to need as little photoshop as possible other wise I feel have cheated myself. Cropping, brightness/contrast etc is understandable but I hate if a retoucher had to totally re-do my eye makeup or foundation. I think it's a crime that some people rely on photoshop so don't cut yourself short by doing this.