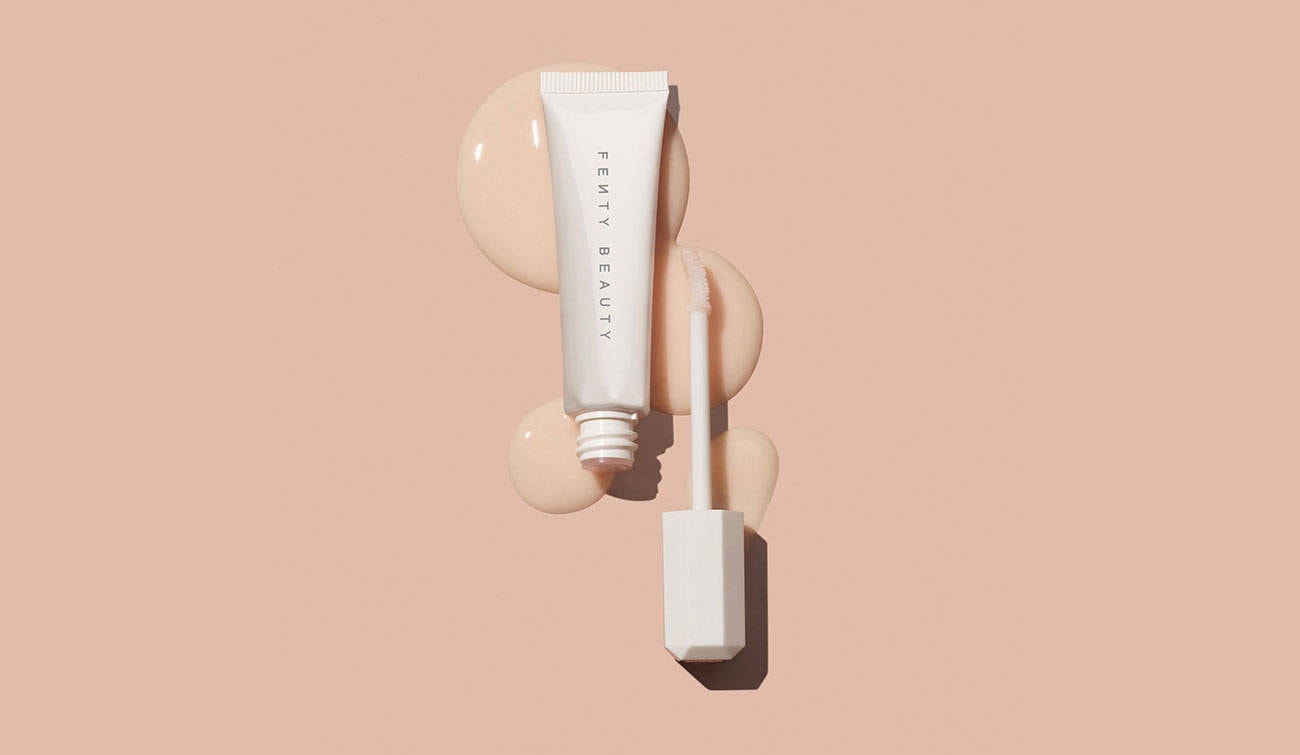 Why RiRi's Pro Kiss'r Lipbalm Beats Luxury Brands
When Rihanna launched Fenty Beauty we all knew she wasn't playing. She went straight to most problematic area in cosmetics – shade diversity. She didn't just tip toe into the door, she blew it off, leaving the brands with various shades of "beige" even more exposed.
In her latest launch, Rihanna has introduced the Pro Kiss'r collection which features a lip balm and lip scrub. It's a step in the right direction as an introduction to skincare, as it remains a part of the brand with the signature styling but the ingredients are quite surprising.
I'm giving one away so keep reading to find out how to enter.
Fenty Beauty Pro Kiss'r Luscious lip balm caught my eye as a real stand out product as I scanned the ingredient list.
What they say
"Unlike most lip balms, Pro Kiss'r has an ultra plush doe-foot applicator that treats lips to an addictively luxe experience with every swipe. Made with rich yet non-greasy shea and mango seed butters, this lip balm soothes and nourishes while making lips instantly softer, smoother, and ready for lipstick application. Plus, the non-sticky formula delivers a universal invisipink sheen, with a light peach-vanilla scent you just can't get enough of"
Let's dive into the ingredients – F.Y.I the products listed first have the highest quantities.
Ingredients overview:
RICINUS COMMUNIS (CASTOR) SEED OIL, OCTYLDODECANOL, CANDELILLA CERA/EUPHORBIA CERIFERA (CANDELILLA) WAX/CIRE DE CANDELILLA, SQUALANE, CAPRYLIC/CAPRIC TRIGLYCERIDE, HYDRATED SILICA, ETHYLCELLULOSE, ARGANIA SPINOSA KERNEL OIL, BUTYROSPERMUM PARKII (SHEA) BUTTER, TOCOPHEROL, MANGIFERA INDICA (MANGO) SEED BUTTER, PRUNUS ARMENIACA (APRICOT) KERNEL OIL, VANILLA PLANIFOLIA (VANILLA) FRUIT EXTRACT, THEOBROMA CACAO (COCOA) SEED BUTTER, STEVIA REBAUDIANA LEAF/STEM EXTRACT, GLYCINE SOJA (SOYBEAN) OIL, CITRIC ACID, TITANIUM DIOXIDE (CI 77891), YELLOW 5 LAKE (CI 19140), RED 30 LAKE (CI 73360).
Fill Weight: 0.4 fl oz/ 12 mL
Stand out ingredients
Antioxidant: Tocopherol, Glycine Soja oil
Skin-identical ingredient: Squalane,
Nourishing: Ricinus communism seed oil, Argania spinosa kernel oil, Glycine Soja oil,
Ingredient breakdown
RICINUS COMMUNIS (CASTOR) SEED OIL
The most abundant constituent of castor oil is Ricinoleic acid – which is an unsaturated omega-9 fatty acid and a hydroxy acid.
Omega 3+6 are essential fatty acids as the body cannot make these on their own. Omega 9 is non-essential but still beneficial in moisturising. There's 11 omega fatty acids but 3,6,9 are most vital for skin.
OCTYLDODECANOL
 Octyldodecanol are long chain fatty acids and appear as a clear colourless liquid.
Its moisturising properties act as a lubricant on the skin surface for a smooth appearance.
It is used as a viscosity adjuster and prevents formulas from separating into oil and liquid components.
CANDELILLA CERA/EUPHORBIA CERIFERA (CANDELILLA) WAX/CIRE DE CANDELILLA
Euphorbia Cerifera (Candelilla) Wax, also called Candelilla Wax, is obtained from the plant Euphorbia cerifera, which is a plant that grows in North Central Mexico and the Texas Big Bend area. (1)
Plant waxes prevent an emulsion from separating into its oil and liquid components. They act as a film former and can be used to increase the thickness of the lipid section of a stick product like a balm or lipstick.
SQUALANE
The human body produces squalene, it's our own natural moisture that keeps our skin hydrated. Over time, the amount our body can produce and retain decreases – so our skin becomes drier.
Squalene is an unstable ingredient, so to use it in cosmetics it is hydrogenated to convert it into a skin-friendly version Squalane.
CAPRYLIC/CAPRIC TRIGLYCERIDE
A combination of coconut oil with glycerin. It smoothes skin, binds other ingredients together and works as a preservative. It keeps pigments evenly distributed without leaving a sticky residue. It's also said to be an antioxidant which great for the delicate skin of the lips.
It's a very common emollient that makes your skin feel comfortable and smooth. It's light-textured, clear, odourless and non-greasy.
HYDRATED SILICA bulking, absorbent / mattifier
ETHYL CELLULOSE thickening agent
ARGANIA SPINOSA KERNEL OIL
Argan oil comes from the kernel of the Argan fruit, found on a tree which only grows in Morrocco.
Argan oil contains nourishing and moisturising unsaturated fatty acids and a large amount of antioxidant vitamin E. It also contains a small amount of antioxidant phenols as well as rare sterols which contain soothing anti-inflammatory properties. (2)
(Paula's Choice gives this a BEST rating)
BUTYROSPERMUM PARKII (SHEA) BUTTER a vegetable fat obtained from the fruit of a tree indigenous to Africa. Moisturising and nourishing
TOCOPHEROL  – Vitamin E, nourishing, antioxidant
MANGIFERA INDICA (MANGO) SEED BUTTER – Rich source of fatty acids and skin-conditioning
PRUNUS ARMENIACA (APRICOT) KERNEL OIL – contains a high content of unsaturated fatty acids. Easily absorbed by the skin and leaves the skin feeling soft.
VANILLA PLANIFOLIA (VANILLA) FRUIT EXTRACT – Fragrance (not artificial vanilla)
THEOBROMA CACAO (COCOA) SEED BUTTER – Improves the consistency of emulsions and act as a skin soothing barrier which in turn preserves skins moisture balance.
STEVIA REBAUDIANA LEAF/STEM EXTRACT
Study showed that stevia can act as a source of antioxidants. (3)
GLYCINE SOJA (SOYBEAN)OIL
An emollient plant oil coming from the soybean, rich in fatty acids it has antioxidant and skin-conditioning properties.
Its fatty acid profile consists of 48-59% barrier-repairing linoleic acid, 17-30% nourishing oleic acid and also some (4.5-11%) potentially anti-inflammatory linolenic acid. (4)
(Paula's Choice gives this a BEST rating)
CITRIC ACID
Used to balance the pH levels of the product, chealing agent
Citric acid is an alpha-hydroxy acid (AHA) used to exfoliate the skin in larger quantities. Citric acid can enhance the effectiveness of some antioxidants which can in turn reduce the amount of these chemicals added to cosmetics.
TITANIUM DIOXIDE (CI 77891) white colorant, used in white and light coloured products, often used as a UV filter.
YELLOW 5 LAKE (CI 19140) Yellow colorant
RED 30 LAKE (CI 73360) A synthetic colour, vegan friendly.
Opinions
I'm a fan of the applicator. As they say, the doe-foot tip is incredibly plush and makes applying the balm easier, as it flexes with the contours of the lips.
The product itself is the perfect middle ground of a moisturising balm and a gloss. Lips feel comfortable and the hydrating feeling lasts. It contains a delicate vanilla scent (I can't smell the peach) and you don't get a waxy feeling in the mouth like other lip products.
Packaging wise, it's sleek, unfussy and slimline. It can stand upright or laid flat and won't roll away.
Affordability maybe the only concern holding it back, it's £15 for a lip balm essentially. However there's a lot of bang for your buck. Some high-street brands are charging £6 for a pot of balm that's nothing more than petrolatum, fragrance and pigments.
Think about it, your lips require as much, if not more attention as your face. The skin is thinner and because of this, it becomes more visible when our collagen and elastin levels deplete. Keeping the skin 1- moisturised and  2-protected should be standard procedure whatever your budget.
Over exfoliating is an issue so avoid the temptation to scrub your lips daily. Again, treat them like your face, you wouldn't scrub your face daily – or at least you shouldn't!
I think this will last me a couple of months, maybe 3-4, and that's me using it daily. If you're a real obsessive when it comes to reapplying you're going to use it quicker but that's stating the obvious.
Do I think it's worth it? personally yes.
If you want to win one of the new RiRi pro kiss'r lip balms simply click HERE and enter your email address.
We will use a generator to randomly select one winner only
We will contact you via the email you provide so make sure it is correct
If the winner does not respond in 48 hrs a new winner will be selected
Give-away closes 9th June 2019 11.59pm EST.
Open world wide. Must have permission to provide a postal address.
BeautySauce is not liable for any products that are lost or stolen whilst in transit and a replacement cannot be guaranteed.
BeautySauce is not responsible for any products that are broken or cause irritation.
All products are new and unopened.
All decisions final
We will never give your email address to 3rd party as we all know they're annoying AF.
Shop The Products

Disclaimer -Content on this site is not a substitute for professional medical or healthcare advice, diagnosis, treatment, dietary, or safety advice, and may not be used for such purposes. Always seek the advice of your Dr or other qualified expert with any questions you may have regarding a medical question, condition, or safety concern. Reliance on information presented on this site is at your own risk. This site contains the opinions and views of others and does not represent the opinions and views of BeautySauce.com.
Most beauty products featured on BeautySauce have sent via PR for consideration. These are all honest reviews and if there is a collaboration between a brand it will always be declared. You will also find affiliate links however this doesn't costs you (the consumer) extra, it means we take a small percentage of the profit the brand makes from the purchase of a product. This then helps us with costs of running this site.Thank you for supporting us!