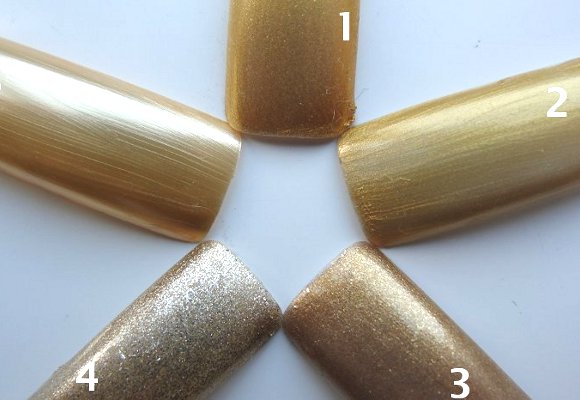 5 Gold Nail Polishes
It's that time again, I have selected five of my favourite shades of gold nail polishes. I have chosen a mixture of brands and most of them are easily accessible in the UK. If you are overseas you should be able to get hold of these online.
Lets start with pictures!
The Gallery
The shades numbered in image 5 of the gallery
1-Beauty UK AZTEC
2-Stargazer 231
3-Barry M 289
4-O.C.C Cruising
5-Myface Cosmetics Lil Bling in Gilt-y

O.C.C Crusing is my pick of the bunch, it has sparkle so it hides any sins on the nails such as bumps and ridges. As it's a cool shade of gold it goes with more outfits.
Shop
Beautyuk
Stargazer
Barry M
O.C.C Cosmetics
Myfacecosmetics.com
Do you have any good recommendations?