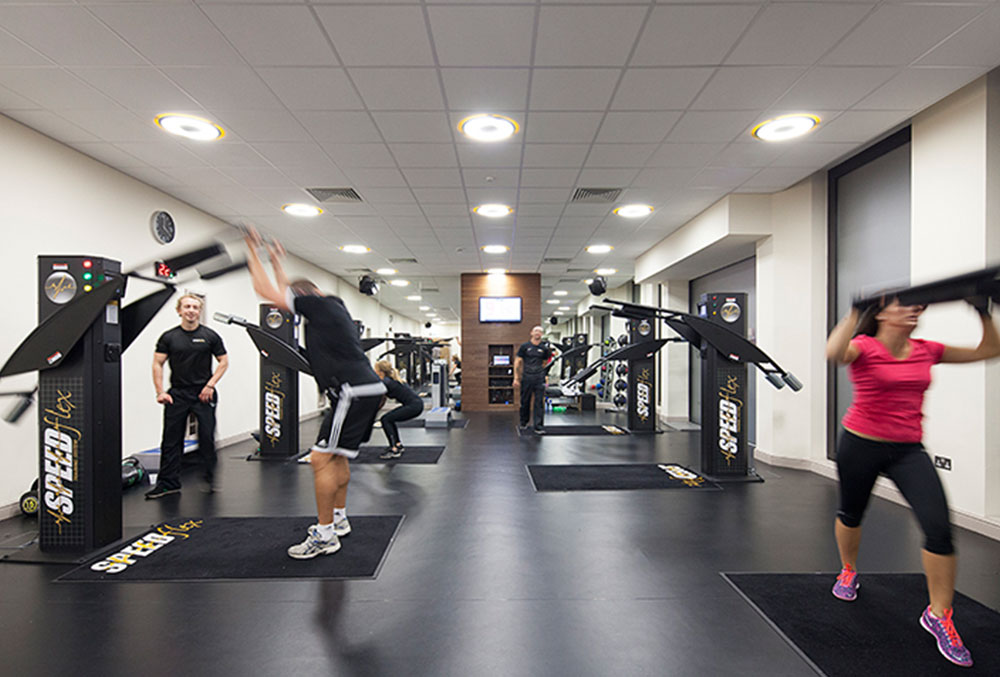 We're all familiar with the concept of regular run-of-the-mill gyms, you turn up, often wait for machines, do the same routine (unless you're an experienced) and expect big changes.
Now is the perfect time to start getting healthier and in shape for the impending bikini season. Traditional gyms are only as good as your determination so if you need some additional motivation and guidance try Speedflex.
Fairly new to the UK, Speedflex is an innovative way to exercise and allows users of Athletic stature to train alongside those less mobile. Using sophisticated resistance technology the high intensity session works with your own levels so the intelligent hydraulics will respond to your force, so as the saying goes "you will only get out what you put in"
So as you get stronger the pressure will increase, but you can never out perform the machine. There's a variety of units used to create different exercises which work multiple muscle groups. From squat drives, to bent over rows, you are guaranteed to work the whole body but the unique system of high intensity and low impact training means there's no damage to muscles and little to no pain afterwards.
I wanted to experience a session for myself, so began with an induction with Helen Storey, Helen has been with the company since it arrived in the North East 3 years ago, initially as a client but was so impressed with the results she trained as a PT and has been with them ever since.
Helen took me to the medical room to have a few tests done before starting which is all part of the induction process. A machine sends a current through the body to calculate lean balance, muscles mass and visceral fat – apparently this will determine how much fat is in the trunk area! clever.
Afterwards a heart monitor is strapped around the chest which will indicate the heart rate as you train. As you work out the heart rate will rise, as you move quickly around each machine and free weights (i.e. medicine ball etc) you begin to burn calories. You can choose one-to-one class or a group session with up to 15 members per class. Each heart beat is visible on the screen and the trainer, who keeps a watchful eye of everyones technique and HR, can see if anyone needs any assistance.
As mentioned earlier the class can be a mix of fitness levels. Helen told me a client with limited mobility came to train and it has since meant she can now park further away from the door when shopping and, walk to the entrance unassisted. Paralympian Stephen Miller trains at the Jesmond fitness centre, getting ready for 2016 games!
To get an effective workout you should keep your heart rate in the red to orange, but it all depends on your fitness levels and effort. After a 45 minute class you can burn up to 900 calories, obviously this would alter with body type, strength etc but if weight-loss is your goal this is incredible. I asked about alternative goals, for instance I want to increase muscle mass, Helen told me each client can have the machine customised and if you wanted to do pull ups or dips the machine arms can be locked or weight added if that's your aim.
I'm thoroughly impressed by the whole concept and welcoming atmosphere of the fitness suite, you won't hear any idle chit chat or see people lurking by the machines. This is a place people want, and get results.
Find out more and visit the site.
Speedflex
Drake House
Fleming Business Centre
Burdon Terrace
Jesmond
Newcastle upon Tyne
NE2 3AE
Telephone: 0844 543 3630
Email: reception.jesmond@speedflex.com
Twitter: @SpeedflexNCL @helenstorey0