The Dupes: Chantecailles Concealer Dupe?
So I attended the recent launch of the Benefit fake up event and immediately noticed that the concealer is very similar to the Chantecaille Bio-Lift Concealer. They're both moisturising concealer sticks with the concealer and moisturiser in one however the visual difference is the moisturising core is in the centre of the Chantecaille.
Now getting into the nitty gritty of the properties and benefits of each product.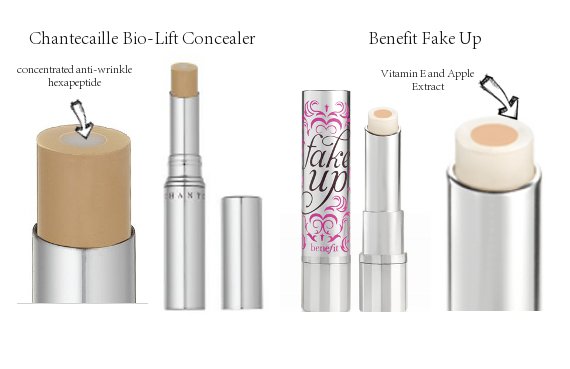 Chantecaille Bio-Lift Concealer
Contains a concentrated anti-wrinkle hexapeptide that relaxes existing lines and prevents new ones from forming.
Formulated to contain a moisturising treatment with botanical Squalane (a natural lubricant and protector), Soybean and Vitamin E.
The surrounding colour stick seamlessly covers dark circles and blemishes, smoothes uneven texture, and offers SPF 10.
£57
Benefit Fake Up
This hydrating crease-control concealer – with Vitamin E & apple seed extract – hides dark circles & diffuses fine lines for a silky smooth, ultra-natural look.
£18.50
They both claim to conceal and moisturise simultaneously however Chantecaille contains the concentrated anti-wrinkle hexapeptide and more of the concealer which makes the price justifiable. I can't actually call this a dupe as it goes further them being the same. Aesthetically yes they're very similar but the Chantecaille is more involved with skincare but I would highly recommend the Benefit concealer as I use it daily and would say it's Chantecailles affordable younger sister.
SPLASH – Chantecaille
SAVE – Benefit Fake Up