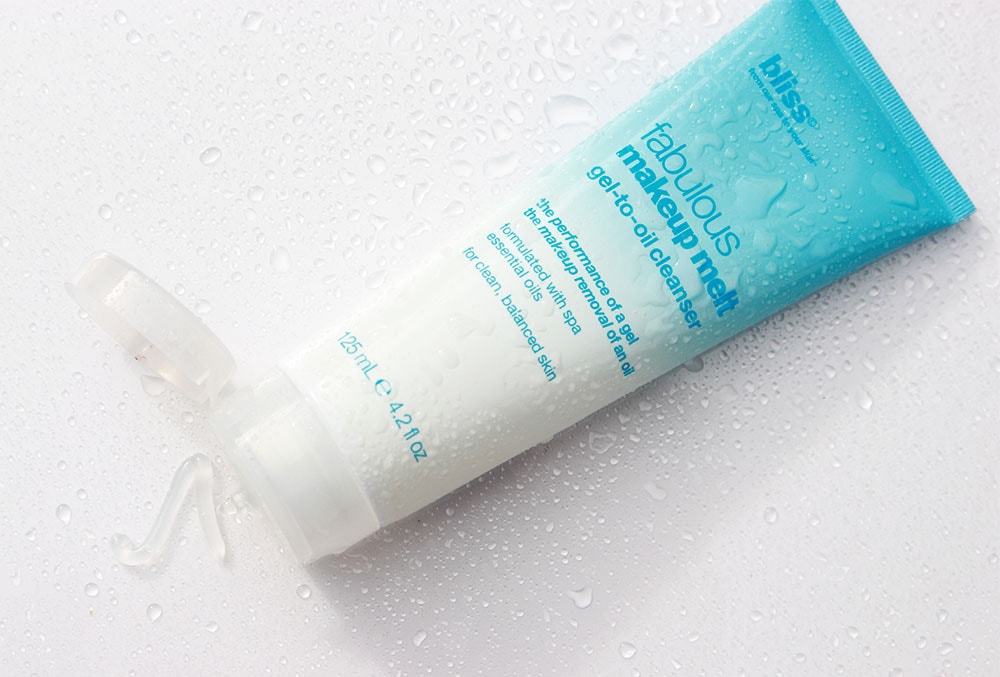 Bliss Fabulous Makeup Melt Gel-to-Oil Cleanser
Skincare brand bliss introduce a brand new cleanser that as they claim is "a cleansing breakthrough straight from the spa"
I love my oil cleansers and overall they are the preferred choice so it was interesting to see if and how this gel-to-oil concept worked.
To activate the all important oils you must massage the gel into the face, no need for water at this point you just apply to dry skin and massage until you feel the smooth gel transform into a lightweight oil. The oils remove impurities and tackle the toughest of mascara, I put it to the Benefit Roller lash test aka the biggest pain in the butt to remove, and it removed with ease.
Finish by rinsing with water, however this alone won't remove the makeup traces and oil residue, so use a muslin cloth. The mascara comes away effortlessly and skin looks completely clean. Due to the oil infusion the skin doesn't feel tight afterwards, it feels lightly moisturised and ready for the next steps in the skincare routine.
It contains 7 essential oils-
Tamanu oil: known for anti-bacterial and anti-inflammatory properties.
Mirabelle plum seed oil: helps to leave skin feeling conditioned and soft.
Abyssinica seed oil: helps protect skin from dryness and dehydration during the cleansing process.
Oilive oil: anti-oxidant and skin softener.
Orange oil: soothes dry skin.
Sage oil: helps remove excess oil.
Lavender: soothes and calms skin.
The oils haven't irritated my skin in the slightest however if you have very sensitive skin you may want to sample some first. It's gentle and didn't sting when placed on the eye area.
This has now become my evening cleanser, currently piping the post of my previous beloved cleansing oil!

£24