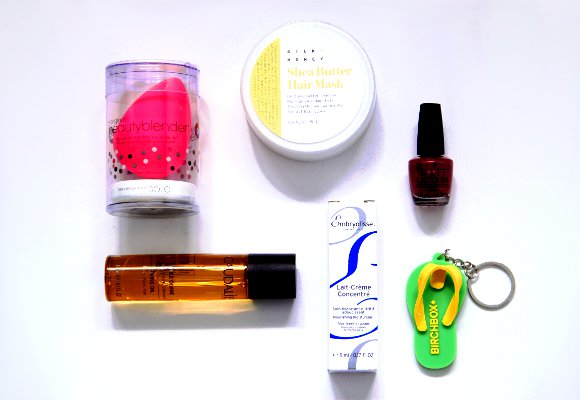 Birchbox June 2014 Review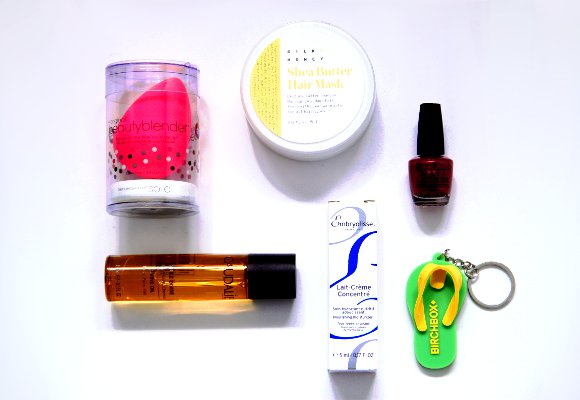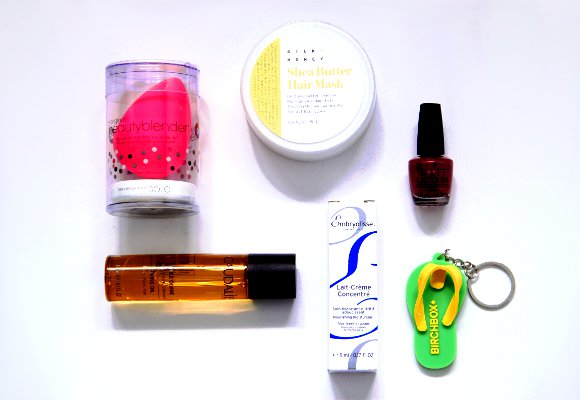 You may have noticed the football fever circling the globe right now, the World cup is getting ready to kick off and Birchbox have brought you some of their star players on the beauty field. They've gathered cult products from different countries to create a dream team and I'm reviewing the June 2014 box.
BEAUTY BLENDER
Does this need an inttroduction? well, in case you'd like one, this cosmetic sponge has been making waves since its launch. The unique qualities lie with its egg shaped latex-free body, the tip is used for the tighter areas and more delicate skin whereas the lower section is used to create a seamless application of foundation.
Loved by celebrities and makeup artists alike this tool has made permanent residence in many makeup bags and pro kits. I have heard great things about these and that none of the similar products on the market compare.
Did I mention this also comes with the blendercleanser?! For best results wash after each use using the cleansing soap.
EMBRYOLISSE
This has been my personal moisturiser for weeks now. Ever since I had a large breakout on my cheek I decided to simplify my routine and added this product which is ideal for sensitive skin.
Not only is this in my makeup kit but it's in every other makeup artist's across the globe. I spotted Lisa Eldridge use this when I was backstage during fashion week. It's recommended by dermatologists and lets face it, the French know how to create effective skincare.This particluar product soothes, moisturises, hydrates and can be used as a cleanser or mask. Talk about multi-tasking!
I find it's not greasy, it sinks in but leaves a dewyness to the skin and if you want extra oomph in hydration mix with serum or an oil and you will have a glow JLo would envy.
CAUDALIE
It's no secret that I love Caudalie, I have written many posts featuring the brand. Most recently the Divine Parfum was featured in my 5 Summer Beauty Picks and mentioned in the new Elixir design they created in collaboration with the late L'Wren Scott.
This is now my fourth bottle of the Divine Oil, I literally use it for everything. Looking for Naomi Campbell-esque limbs? mix some oil with a highlighter and apply to the center of the arms or legs . Skin will shimmer and the highlight will create an elongated effect making legs look leaner and longer. Skin feeling dehydrated? apply a layer of oil then add your evening moisturiser on top, heck if you're really dry try a hydrating mask over the oil.
O.P.I
Undoubtedly one of the worlds most popular nail brands, the shade range is phenomenal, the formula is fantastic and the launches are always coveted. In line with the World Cup, Birchbox have chosen shades from the Brazil launch and I have a super summery glitter fuchsia shade which will off set white linens perfectly.
SILK + HONEY
This is a brand I was previously unfamiliar with, its simple ingredients list packed with vitamins and proteins make this an ideal holiday hair mask. With a delicate scent and generous sized sample, Silk + Honey have me impressed. I can't wait to give it a try!
EXTRA
As a little extra Birchbox have included a Brazil-inspired keyring
I'm sure the BeautyBlender will feature in some of my future videos, I'm looking forward to trying some extreme contouring with it and creating a dewy finish.
You can purchase the latest box at birchbox.co.uk