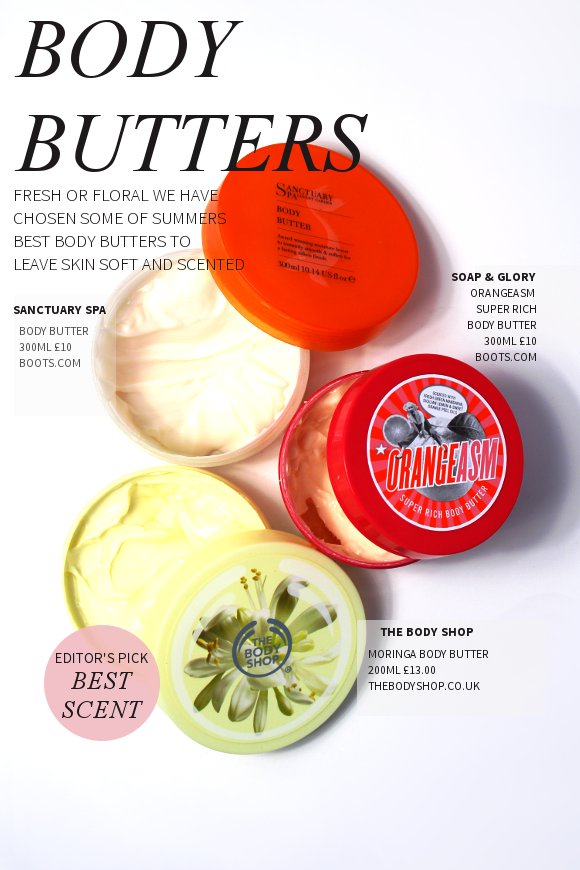 Best Body Butters This Summer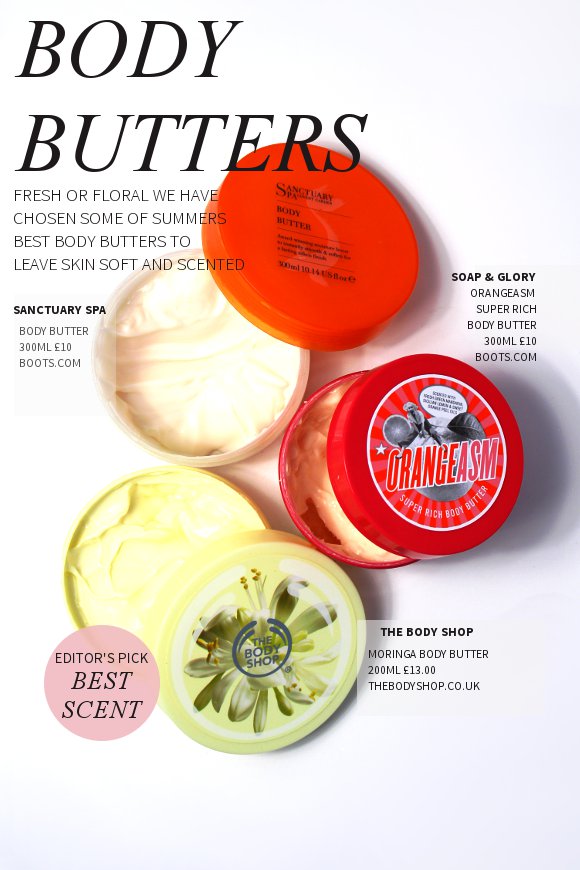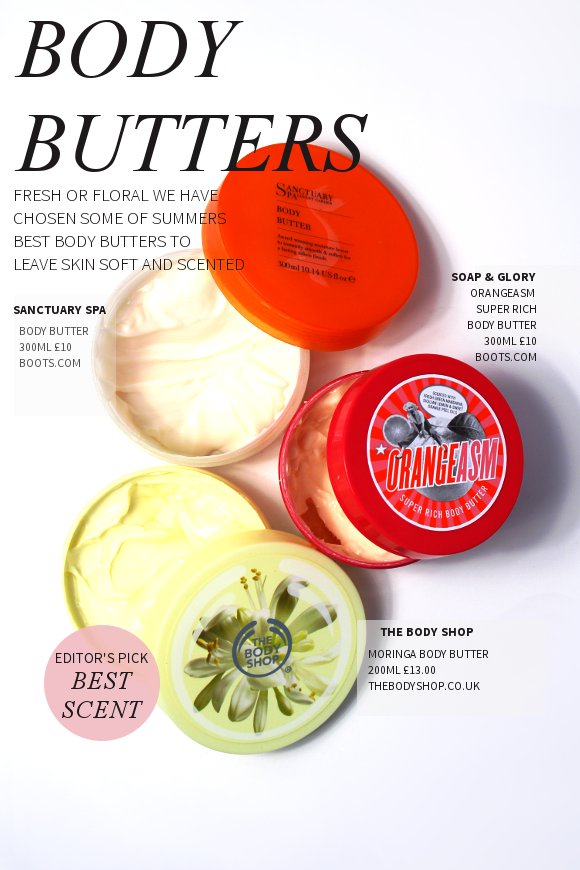 Prep your skin for Summer now with my pick of rich body butters. Containing nut and floral oils these moisturisers make skin feel soft for hours.
Containing both cocoa and shea butters along with macadamia nut and  sweet almond oil skin feels hydrated. Vitamin E protects making this a deeply moisturising product with anit-oxidant properties. The scent is not my favourite as it is a little heady for me but the texture is light and sinks into skin quickly.
SOAP & GLORY ORANGEASM BODY BUTTER*
Enriched with shea, mango and cocoa seed butter, sweet almond, grape, orange peel and olive oils, this intensely rich body butter feels creamier on the skin taking a little longer to sink in. The added massage balls don't add much benefit as they're not firm enough to perform any relief however they do melt into the skin without much pressure.
The scent is fresh with the tangy fragrance of orange making this the perfect morning shower companion.
THE BODYSHOP MORINGA BODY BUTTER*
Promising 24 hydration for dry skin this body butter feels like it has a little more substance, it is firmer in the pot and less lotion like than the previous two. Containing shea and cocoa butter from Ghana, Brazil nut oil from Peru, sesame seed oil from Nicaragua and honey from Ethiopia, this product not only moisturises but provides support to community fair trade.
The scent is delicate and floral created with cold-pressed moringa seed oil from hand-picked moringa pods. The sweetness from the honey keeps it light and not too musky.
Please note that these are scented body moisturisers and not recommended for the face and although the Soap & Glory is classed as dermatologically tested it doesn't mean you won't have a reaction of you are sensitive to perfumed products.
[message_box title="IMPORTANT" color="white"]Please note that these are scented body moisturisers and not recommended for the face and although the Soap & Glory is classed as dermatologically tested it doesn't mean you won't have a reaction of you are sensitive to perfumed products.[/message_box]