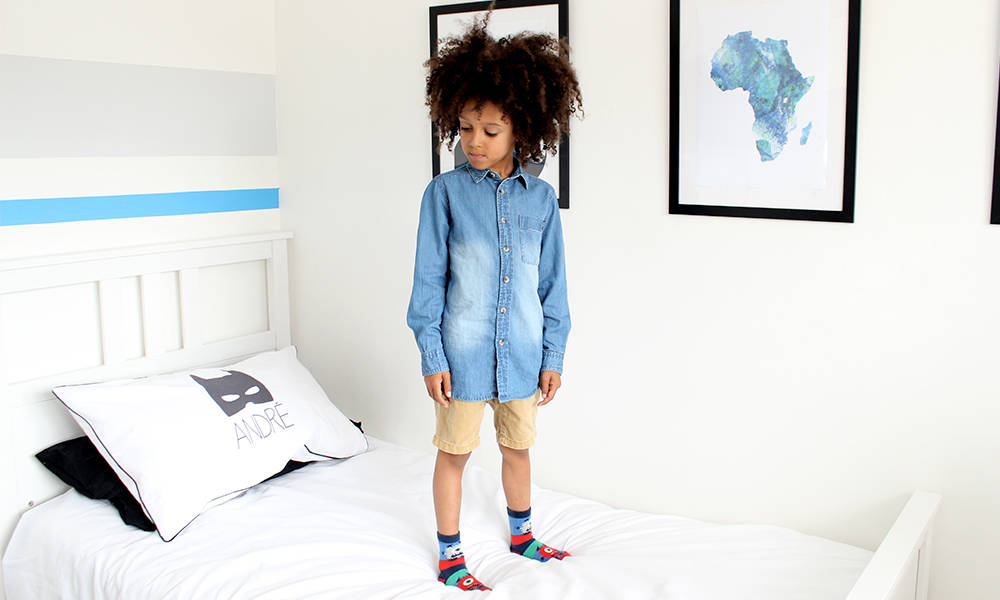 Bedroom Makeover & DIY – Kids Room Edition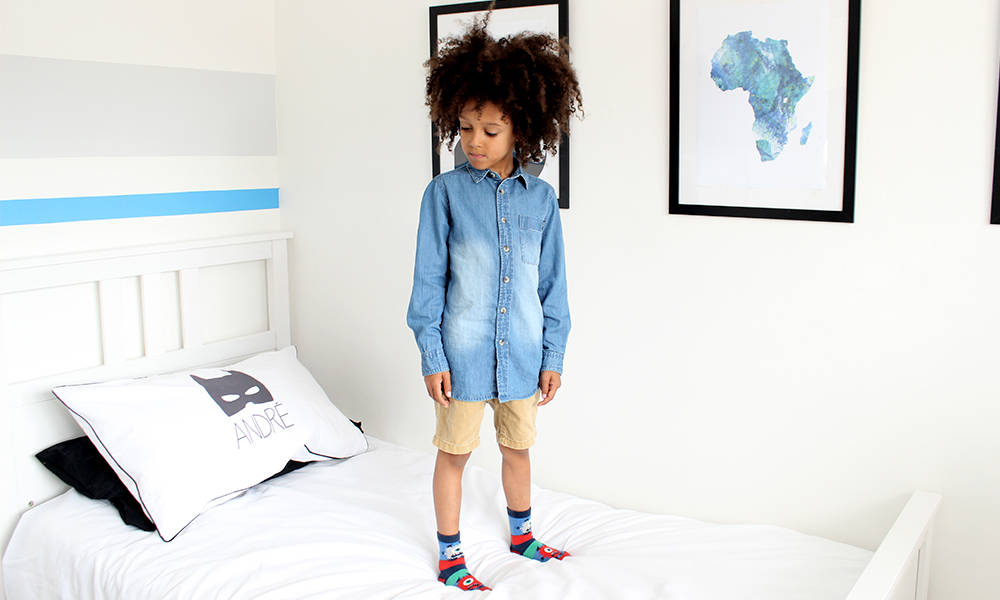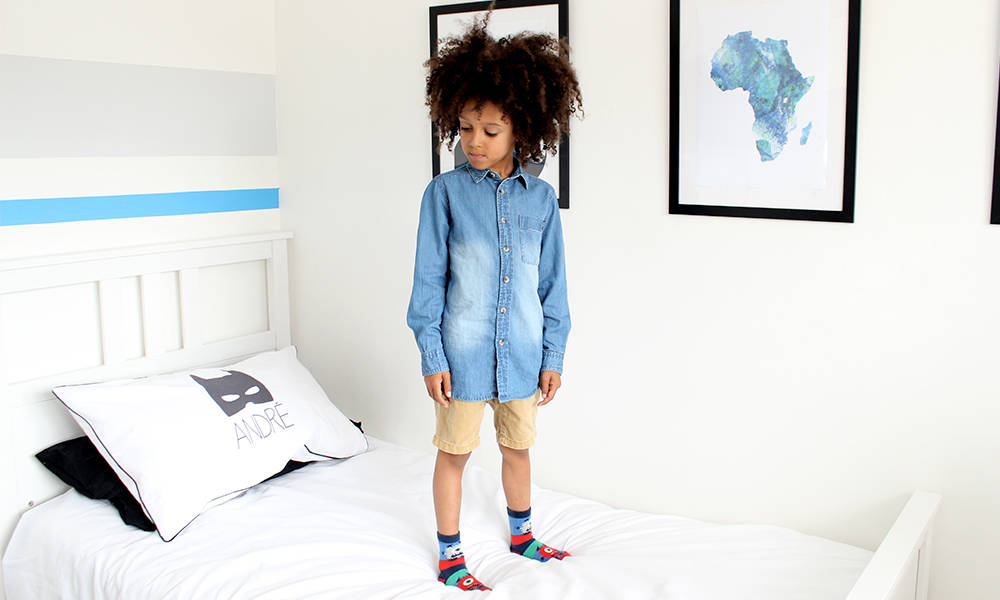 There's a lot of change happening in our household at the moment, from renovations causing major disturbances to our normal routine, to one of the biggest changes, a new baby. As Andre (our 7 year old son) is incredibly mature for his age and excited about the impending arrival we wanted to give him a room a big brother deserves. We felt it was important for him to have something to be involved in,  a project that he could have some creative control on and feel inclusive in.
I wanted to give him a space that had uniformity and most importantly a cosy area that he would want to spend time in.We discussed ideas and I made a moodboard. I wanted to know what colours made him happy, to which he said blue, but not just any shade of blue, "a type of aqua" he said. So I gave him all the blue options and asked him to point out his favourite. I could see how giving him the freedom to select his own accent shade gave him the feeling of pride and ownership of his little domain.
Watch the video below to see all angles of his room before hand and how were changed up each area. I also demonstrate how mark out horizontal lines and get them perfectly even. André even picked up a roller and helped paint, which he thoroughly enjoyed.
The Plan
Keeping with the flow of the rest of the house we wanted a light spacious room with quirky details and personalised elements. The room felt a little cold so to create a snug space we added carpet and white wooden blinds, I also added a plain teepee in the corner for that "fort" feeling all kids love. Infact the first thing he did when we surprised him with his new makeover was run to the tepee and play inside.
Before the makeover he had a couple of things in the room that represented him as an individual, his medals and framed football cards of his dad. We've kept these, OF COURSE, but stored away safely within André's reach just incase he wants to randomly look at them.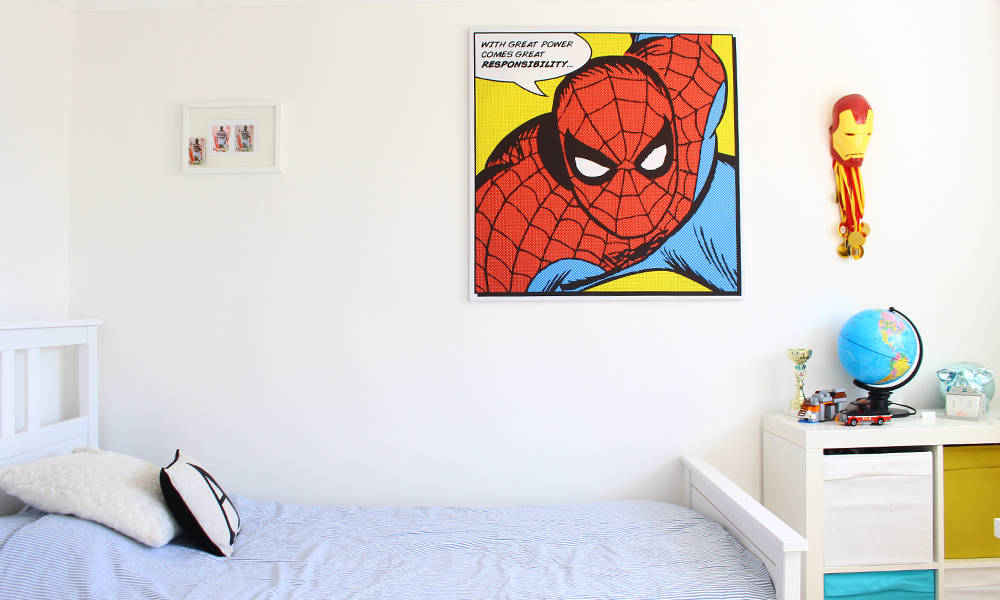 I searched online for prints for his wall, I didn't want quotes or anything too kiddie as this is a room he's going to grow into. I sourced the Africa print (one of Andre's favourite pieces)  from Etsy and the personalised superhero print from NotOnTheHighStreet. The & print was a little humorous touch purchased online (sadly we can't remember the store) that is a playful nod to his older self.
The bedding was surprisingly hard to find, I searched the high-street and premium stores and neither stocked plain white covers. I eventually found this from Argos and paired it with a black pillowcase and a personalised André pillow case from NotOnTheHighStreet.
As he loved the optical illusion trick of my hanging himelli orb (see my DIY here) I made one especially for him in a slightly different style, painted it black and added a succulent. We then suspended it from the ceiling with clear wire.
[pipdig_left]


[/pipdig_left]
[pipdig_right]
[/pipdig_right]
Adding to this theme I picked up a cactus illustration from etsy and again gave the illusion the print was floating mid air.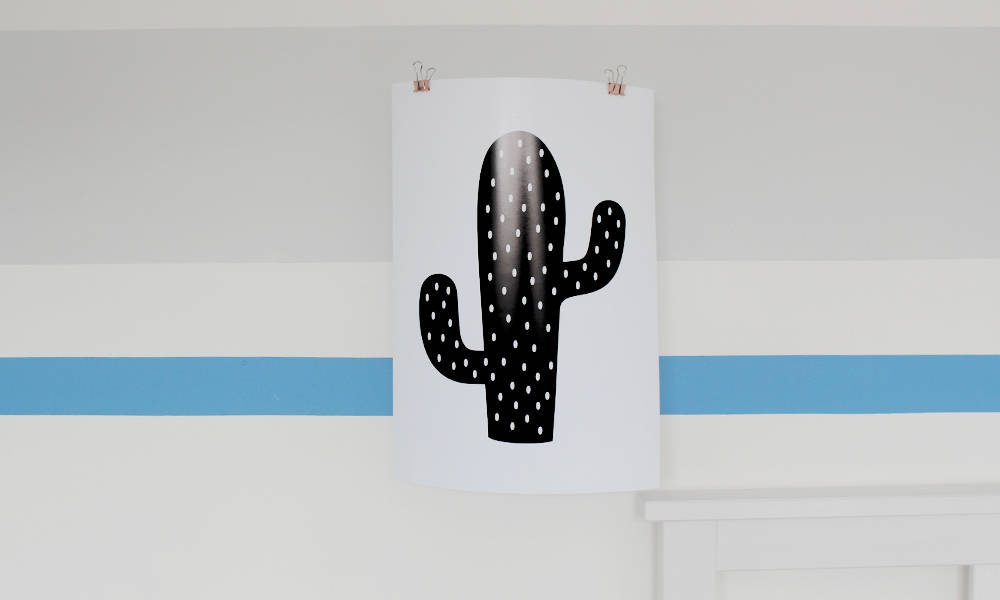 Another item I found hard to find were neutral but playful cushions that weren't targeted to nurseries or adults. Feeling frustrated I made my own using some of the grey hessian material I used to cover my headboard – see that D.I.Y here. A plain teepee was also difficult to source but I came across this one from Hobby Craft that you can customise yourself. I chose to add pom poms which I made using wool in the same shades as his room. If you're not so crafty then I'd suggest the ones from NotOnTheHighstreet as they look adorable, just a bit more pricey.
To add some more plant life I went back into D.I.Y mode and made these dino planters (below), I made and filmed these over a year ago but didn't know if they would be well received on my channel so never uploaded it. I've since asked the lovely people of instagram who all said they'd love to see so I guess I should get editing 🙂
The cinema lightbox was purchased from NotOnTheHighstreet bought together with the extra symbol pack as I wanted the batman mask character to go with the print and pillowcase.
What do you think of his makeover? I totally want the cactus print for myself and must admit that some days I lie in his teepee on the soft faux fur rug, it's insanely relaxing!
Let me know what you think of these interior posts and creative D.I.Y's. I adore interiors and design and as my life is changing I feel my channel and blog will naturally evolve with it but will always listen to the opinions of my readers and viewers.
INFO – This is obvious stuff but don't let young children have access to paint and keep impractical plants or objects out of reach. Andre loves cacti and knows not to grab them so it's an issue having them in his room. Also make sure anything you suspend from the ceiling is out of harms way. I am sharing my ideas but if you recreate anything do so with your own child in mind as your are solely responsible.