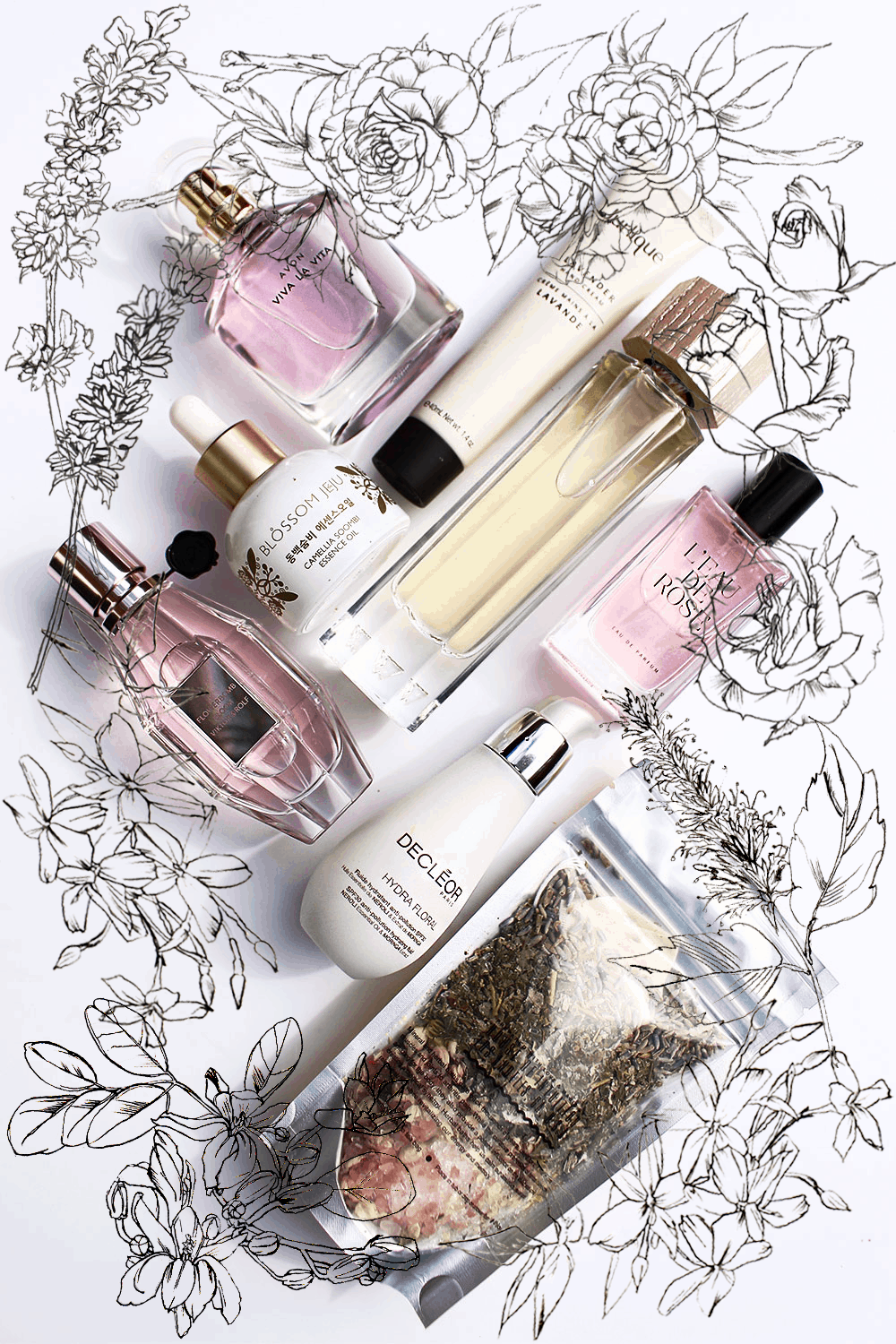 Beauty in Bloom

Illustration –  Julie @juslesmemories
AVON – Viva La Vita
A lightweight fragrance that manages to combine fruit, floral and sweet notes in a beautiful scent.It's warming but also crisp with delightful marriage of pink apple, mandarin, pink grapefruit mixed with floral notes of rose, mimosa and magnolia and a delicately sweet base of vanilla bean and warming sandalwood and cashmere wood.
I'm pleasantly surprised  by the fragrance. It scent doesn't last as long but for £15 for 50ml I think it's well worth a try.
Shop – www.avon.uk.com
JURLIQUE – Lavender Hand Cream
A nourishing, instantly calming hand cream that soothes dry, itchy hands without leaving a heavy residue. It sinks into the skin leaving skin feeling hydrated and smooth. The lavender scent is relaxing, wearing off to a subtle smell once rubbed into skin.
Shop – www.jurlique.co.uk
BLOSSOM JE JU – Camellia Soombi Essence Oil
Made in Korea, the Blossom Je Ju essence is packed with skin-nourishing plant extracts – "sourced from the Island of Jeju (hailed as the 'Hawaii of Korea'), which produces some of the world's most antioxidant-rich vegetation – this soothing, skin-conditioning and age-defying 'essence' is the secret to a dewy, plump and contented complexion."
This anti-ageing essence contains grapeseed oils,roseship and camillia seed oils and vitamin E to nourish and hydrate.
I use this after my toner on slightly moist skin then apply my serums and creams afterwards. I adore it so much so the pipette can't reach the last few drops, so I'm having to tap out the remaining product. I'll be repurchasing for sure.
Shop –  www.cultbeauty.co.uk
BELLE BY WORTH – Belle
Inspired by the new Beauty and the Beast film, House of Worth have created Belle by Worth. A beautiful blend of Bulgarian Rose, aromatic woods and fruits. The fragrance is presented in the couture house's original octagonal weighty glass bottle, which is inscribed with 'W' of the House of Worth. The fragrance is packaged in a hollowed out book inspired by Belle's love of reading and available in three collective colours.
It's not overly powerful on the rose scent, the initial burst is floral but then you start getting a warm citrus and slightly sweet scent coming through.
Shop –  amazon stockist
VIKTOR & ROLF – FlowerBomb Bloom
The latest launch from one of my favourite fragrances – Viktor & Rolf, have released Bloom. They wanted to keep it closely connected to the iconic Flowerbomb scent but was mostly inspired by the idea of a burst of fresh flowers and Spring air.
"Flowerbomb Bloom was developed from our desire to create an airy fragrance with a burst of fresh flowers, one that was synonymous with the bloom of spring" – Viktor&Rolf
Containing top notes of pomegranate accord, bergamot and mandarin oils. Pure air molecule and thousand-flower heart mixed with a memorable base of musks, vanilla and patchouli.
It's lighter than the original Flowerbomb, it still has the depth but is elevated with a sweeter floral fragrance.
Shop www.johnlewis.com
JEANNE ARTHES – L'eau De Rose
Upon my very first spray of this I thought of Diptique Rose, it has that similar delicate sweet rose scent that is quite addictive. I was never a lover of rose fragrance until I used Diptiyque, I always associated it with an older audience and their heady, floral scents. Unlike the others you continuously get the rose notes coming through, it doesn't seem to fade in a variety of scents.
I came across this in a recent Glossy Box, surprisingly. I've done a little research and you can buy this separately on Glossy Box's site for £20.30. Other than that it's a little tricky to get hold of which isn't particularly great.
Shop www.glossybox.co.uk
DECLEOR – Hydra Floral
A hydrating and anti-pollution fluid containing SPF30, the Moringa Oleifera extract is said to act as a protective film against pollution particles and helps reinforce the skins barrier. Its lightweight texture leaves a soft veil, delicate floral scent and healthy glow to the skin. Perfect for the no-makeup makeup look.
This has been a daily go-to, especially for the makeup-up free days where I still want a radiant complexion and UV protection.
Shop – www.johnlewis.com
HOUSE OF INTUITION – Moonlight Bath Bag
A very new brand to me, House of Intuition found in LA's Silverlake district, the destination for Tarot readings, astrology, aura readings, healing practices and chakra balancing – right up my street!
They created a line to be the spirit of HOI that you can take home with you, it's a range of apothecary items that harness the healing power of herbs, crystals and essential oils, to repair, rejuvenate and revive. Balancing the body and soul. (Can I marry this brand?)
The Moonlight Bath Bag – a cool concept, is like bathing in a big cup of herbal tea. You pour 1/3 of the ingredients into the bag and leave to brew in the bath or shower floor. You get a mix of the lavender, raspberry leaf and jasmine flowers for a deeply relaxing scent. The epsom salts and himalayan salt relive sore muscles and joints whilst the minerals are reparative and healing.
Shop – www.thisisbeautymart.com
With thanks to Julie for the beautiful illustration featuring some of the flowers that are found in the products. You can find more of her work on instagram @juslesmemories and Facebook https://www.facebook.com/Juliesillustration/