Proenza Schouler Launch Its First Fragrance And I'm Here For It!
Introducing Arizona – the first fragrance, created by the design duo – Jack McCollough and Lazaro Hernandez – founders of the luxury fashion house Proenza Schouler.
Arizona eau de parfum captures the true essence behind the brand, marrying the raw beauty of nature with modern day technology. The combination of white cactus flower, jasmine, orange flower and solar accord are blended with expensive creamy orris accord, musk and cashmere. This luxurious cocktail creates a sensual, unique scent that evokes the senses and gives a feeling of calm and internal warmth.
The attention to detail in the creation of Arizona is inspiring and goes way beyond just a fragrance. Each part of the process has been meticulously thought out, displaying a true representation of the brands ethos.
The bottle has been designed with the desert in mind, the glass body is smooth, with asymmetric lines and a sand dune like slope inside. In contrast, the stopper has a modern, artist feel with its sharp edges and straight lines, however nature and art is brought together with the ridge carved out of one corner – like a chipped stone.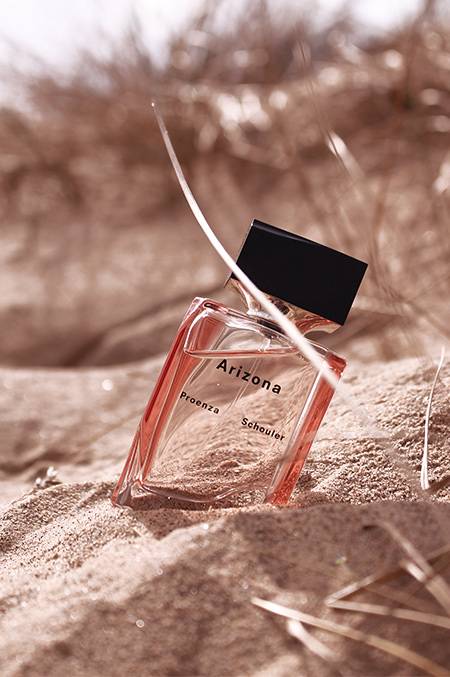 The colours are subtle with the pale liquid inside warmed up by the sunset hue at the edges of the bottle. This is more than just the natural elements, they've also managed to create a sensorial experience, with the look, touch and smell of this fragrance.
"Reconnecting to things that really matter most feels both extremely personal and universal. In today's world, this feeling of wanting to connect to something more real feels right to us. The sense of the outdoors, of unexplored nature, of a kind of universal energy." Jack McCollough and Lazaro Hernandez
As well as the visual side there's also the incredible technology that goes into creating this scent. The bloom of the Torch Cactus blossoms at most, once a year. Being the first to ever use this in a fragrance, Proenza Schouler used twenty-first century technology to capture the scent of the rare desert flower without harming nature.
If you have been reading my blog a while you will know how I love juxtaposition – contrasting elements that seem to merge so naturally despite being from opposite ends of the spectrum. Proenza Schouler seem to do this so effortlessly and beautifully. Creating a deeper feeling beyond what's presented at the surface.
I can honestly say that I've never felt so connected to a brand or fragrance before. This would definitely be my signature fragrance. It encapsulates so much and smells incredible.
Shop The Post