Exclusive Interview With…Kay Montano
EXCLUSIVE INTERVIEW – The Makeup Maestro.
Kay Montano is one of make-up's veterans, she has had a hugely successful career taking her across the globe working for well respected fashion houses and movie stars. Recently Kay has started a blog KayMontano.com which gives a detailed and honest look into the world of a professional make-up artist. I urge you to read it as it contains lots of references to the history of beauty and fashion.
I think the foundation of make-up is understanding it's origins and seeing how it has progressed/evolved and then you can dissect it and modernise it with your own interpretation. Kay's blog is just as insightful as my make-up history classes were so get yourself over there, after you read this of course!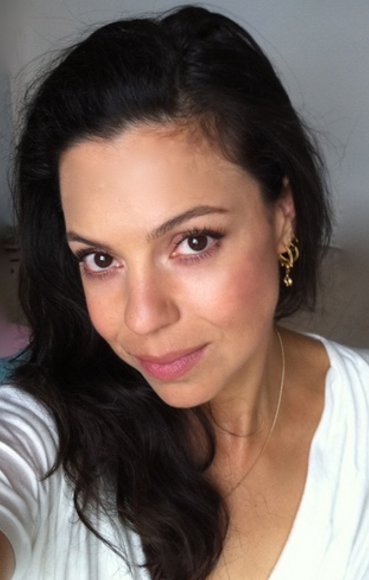 What's the best aspect about being a make-up artist?
The freedom to determine your own career.
Are you a fan of the bleached brow look that has been around for quite a few seasons and if you have to quickly blank out a brow what's your technique?
I love it on the right girl-always blondes where it looks like a heightened, edgier natural rather than totally alien. Beauty is NOT one size-fit's-all. It takes some self-knowledge to learn what suits you, how you want to express yourself, not about fitting into someone else's facial characteristics-they work on them, not necessarily you. I say this because the archetype for women these days has got rather narrow again. Not enough individuality.
Although there are no "rules" to make-up directly what important pearl of wisdom could you advise the BeautySauce readers?
In a broad sense, be yourself, do your best to ignore the narrow stereotypes in magazines. On a more cosmetic level, choose foundation in daylight, don't over-pluck and exfolliate every night with a muslin cloth.
I love Myface mymix foundation as it gives almost an in-between finish for me that looks more natural but leaves a radiant appearance, do you have any high profile clients that also love the product?
I use it on Nicole Kidman, Salma Hayek, Keira Knightley, Freida Pinto and many more. When I want an even finer veil I use Chanel Vitalumiere Aqua.

What is/are your favourite products to achieve a glow to the skin that looks expensive rather than disco?
Mymix gives a gorgeous 'dewy' look which is youthful & healthy-looking and makes strong make-up elsewhere (a smoky eye, a bright lip) look more fresh and modern.I also add Neils Yard Wild Rose Beauty Balm (see my post on healthy looking make-up) onto the top of cheekbones for added dewiness.
I used to LOVE Revlon Skinlights in Warm but it discontinued here.
If you could go back in time and be a make-up artist for a certain decade which would it be?
The mid-late 70;s where I could show off my blending skill without photoshop! The late 70's separated the men from the boys in the mua dept. You had to be bloody brilliant to blend so fabulously and paint lips perfectly-all without photoshop.

How do you think books will describe the make-up of the noughties?
Cross referenced! Multi-trend… there is every trend, put together in a different way every season. Journos need to say there are trends, but there aren't real trends anymore, the retail world responds so quickly now that a 'look' can never be rarified enough to become one trend anymore. For that you need desire and exclusivity. Sorry it doesn't make such digestible copy!
What do you think of short make-up courses? Do you get enough out of them to be able to go out immediately as a working MUA?
Not really. It's probably something to do to convince your parents that you're trying! If you know absolutely nothing about make-up they may teach you the basics. It really depends what kind of mua you want to be-there are SO many paths! To be a fashion mua, the most important thing to have is an aesthetic point of view. It's not about making someone pretty. It's about constant re-interpretation, de-constructing trends, not copying them, being one step ahead, being creative. There is a difference between appreciation of something, and having the ability to bring something new to it.
The best way to be a fashion mua is to have an appreciation of iconic references. This you find in the great film auteurs of the 20th century, and from photographic greats like Richard Avedon, Helmut Newton, Bruce Weber, Irving Penn, David Bailey, William Klein, Guy Bourdin……and all of the people they photographed… these references are not found in mainstream media as they were in my childhood, so you have to seek them out. I often say you'll learn more about make-up from a bookshop than from a make-up counter/course.

How would you describe your make-up style?
I've been in it since I was 16 and I have lived through many trends..part of the reason I'm still around is knowing what is right for the picture. Sometimes it's nothing at all. That can be a strong statement. I have done so many looks, I think my strength is that, being able to become part of whatever shoot I'm on and understand what's needed.

For those building a portfolio what tips would you give for creating a really impressive book?
Great application, not sacrificing beauty for the sake of a strong make-up look. If in doubt, bring out a woman's BEAUTY, don't CHANGE her.

Angela Pole asks– what's a good under eye concealer for dry mid thirties under eyes…x
Touche Eclat is both light and colour corrective. Clinique have creamy ones too, Laura Mercier Secret Concealer is great for getting rid of 'bluey-grey-nes)

Carina Cantrill asks – Who and what inspires you as an artist? And what trend, if any, would you love to bring back
All trailblazers inspire me. Smart and brave people who don't live by the rules, but are both liberated and liberating. Solange Azagury Partridge, Thandie Newton, Gloria Steinham, all the women who speak at TedTalks, Bruce Weber, Tavi Gevinson, Amanda De Cadenet, Carre Otis, Caryn Franklin, Erin O Connor, filmakers like Susan Bier,Steve McQueen, Camilla Batmanghelidjh from Kids Company, independent cinema, there is SO much, I could go on and on..
The trend I'd most like to see come back is the anti-trend!
Individuality is my favourite trend!

Sharleen Ali asks – What's the new look for spring?
Pastels, pretty…
Hope you all enjoyed this!
Read Kays amazing Pinterest it has some great images and perfect inspiration. View her Pinterest