Exclusive Interview With…Caroline Barnes
EXCLUSIVE INTERVIEW – Top Tips From A Top Make-up Artist.
Get a pen and paper ready!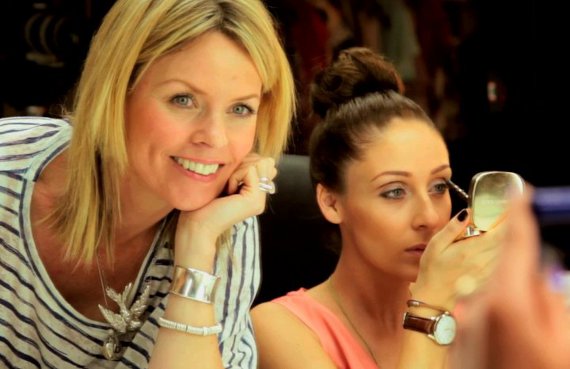 I am so pleased to bring you an EXCLUSIVE interview with celebrity make-up artist and Maxfactor UK Ambassador Caroline Barnes. She has a wealth of experience and wide insight into the life of a successful make-up artist.

1-How do you decide on a look for a shoot?
First it depends on what we are shooting and the story. Then you need to look at the clothes and get a feel for the style of the shoot. The stylist will already have quite a vision for the story as they would have been gathering the clothes for a couple of days. With the model in mind you need to be able to interpret how the make-up should be and also work alongside the hairstylist.

2-How do you keep your kit organised?
Err it's such a bore sometimes but I never leave the studio until everything is clean and sparkling. Sometimes you are really tired but it's very unpleasant for a model or celeb to see you open your kit and it filthy dirty!
3-What is your signature style when it comes to make-up?
Soft beautiful skin with a modern approach. Bringing out girls natural beauty without painting away their features is my forte!
4-For any aspiring mua's how would you suggest approaching make-up agencies?
Be tough and don't take rejection personally. It's fierce competition out there for assistants but be polite, consistent and do anything for free and it will soon pay off! Phone email and keep your name in the bookers heads that way you'll be first in their mind when they need someone fast!!
6-What skincare products do you swear by to use on clients and models before shoots or events?
Bioderma Crealine cleanser, Yonka facial spray, Ila Spa moisturiser and Origins ginger Souffle for the body, the fragrance is just wonderful!
7-What is the new look for Spring?
Glossy skin, shimmering pastels set against a bright lip!
Beckie Ray asks – When looking into a new makeup brand, what do they find to be the most important quality?
Not sure what you mean, but brands should focus on the feel of the product and the quality of the pigments.
Lainey Lulu asks – Can shimmers or even glitters ever work successfully on mature eyelids? x
Now yes as the sparkles are now so much finer than they used to be. Just keep the glitter to the centre of your lids and avoid the crows feet.
Corrina West asks – What make up product is worth spending more money on?
Foundation foundation foundation!
Sharleen Ali asks – What is your favorite product/brand and why?
I currently love all things Tom Ford but you don't have to spend a fortune, Max Factor is an amazing make-up brand with great foundations, nail range and high performance mascaras that lots of makeup artists use in their kits!