I have been wanting to write this post for a little while now but alas I've had my hands full with a teething baby who refuses to sleep and a 7 year who has an envious amount of energy.
Shortly after birth Oliviér had very dry skin, a common condition that can mean the hands and feet peel. I didn't bathe him for the first week, instead we 'top and tailed' him which to simplify is just cleaned his bottom and face with wet cotton pads (separate ones may I add) It allows the skin to climatise to a new environment preventing any skin irritations.
After a week I used a very gentle baby wash by Aden + Anais and moisturised his body and scalp with coconut oil. Many creams aren't suitable for newborns, so it is advisable to use caution when applying lotions to their delicate skins. Natural oils are recommended, such as coconut or sweet almond however olive oil is thicker and not advised incase it is digested.
Oliviér was born with a thick head of hair but unfortunately he also suffered with a lot of cradle cap. At 14 weeks old it is almost gone, it has taken a lot of dedication and massaging to rid him of the scaley surface. Coconut oil was massaged onto the scalp after every bath and then the days in between, I have noticed since using the Weleda that it's speeded up the process and an added benefit has been incredibly soft hair.
Another part of his bath time routine is the body massage, yep I know, WHERE'S MINE? He's a lucky chap. After we've had a little cuddle in his towel I make sure he's relaxed and lie him on his back. I then lightly massage his body paying attention to his tummy (to help with wind etc) and also his arms and legs for further relaxation. Speak to your midwife about local baby classes as some include free baby massage courses. Finishing the bath with a massage signals time to wind down and helps him sleep. It's a great idea if your child is older and in more of an established routine and has a proper bed time.
Nappy rash is the bain of theirs and our lives, it's incredibly sore on their poor skin and in turn makes them understandably grumpy. Now with André we had a few bouts of this and it was not a good time. Airing out helped but little boys and no nappies don't mix, especially if you lie them on your bed for just "a moment". Thankfully we've only had one episode so far and the Pomade Divine cleared it up in less than 24 hours. We put it on during the night and by the morning it was gone. No wonder it's been a hero product so long!
Below is a list of what I've been impressed with so far
A creamy formula containing a moisturising blend of organic calendula oil, sesame and almond oils and glycerin. It has a mild floral scent and lightly lathers. I saw a significant improvement of Oliviérs cradle cap using this, it didn't cause his baby eczema to return and left his skin feeling incredibly soft. I'd highly recommend this if you're looking for a gentle wash!
A non-greasy oil suitable on baby's from 1 month old. A relaxing massage oil infused with conditioning botanicals including Daisy, Echinacea and Chamomile to help with a restful sleep.
This sinks in leaving skin feeling moisturised whilst the aroma calms.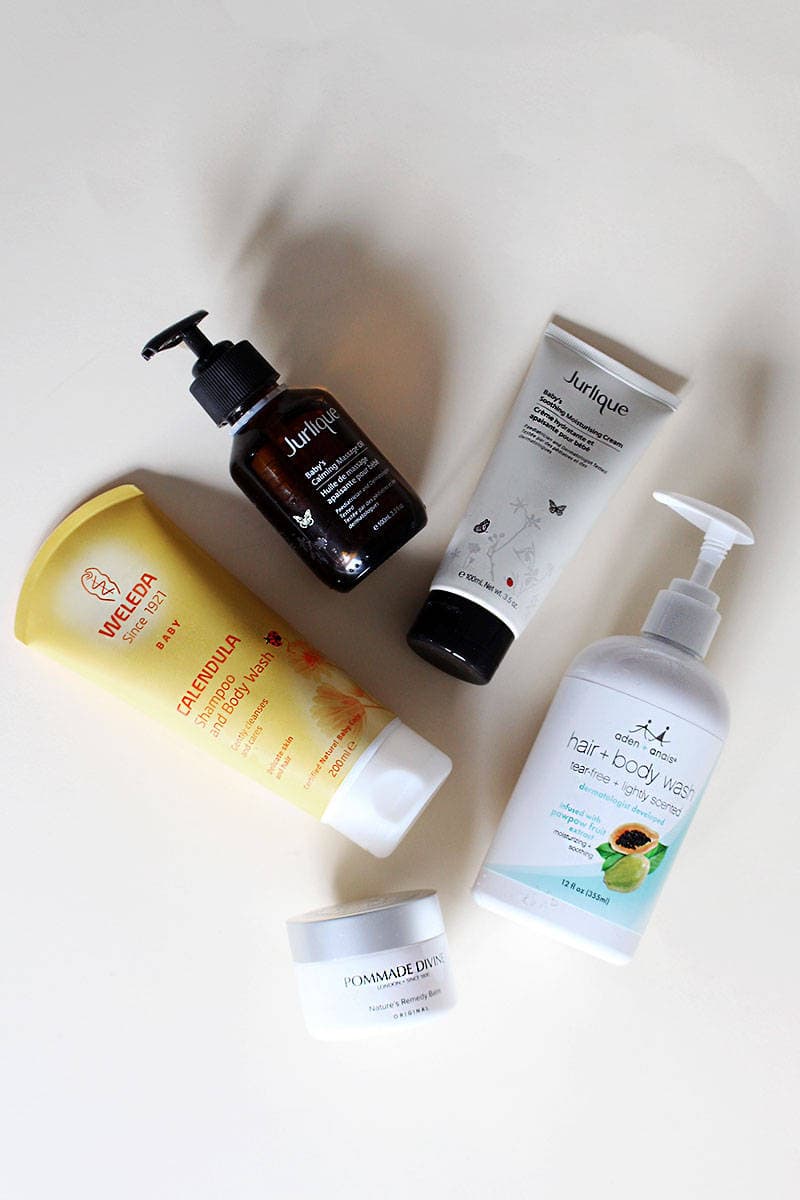 A lightweight cream containing extracts of Calendula, Roman Chamomile, Echinacea and Marshmallow to gently hydrate and comfort baby's delicate skin.
This is perfect for dry skin, I have been using it on my hands after washing them and find they soothe the skin, keeping it feeling moisturised long after it sinks in.
Aden + Anais hair and body wash
A moisturising liquid wash, lightly scented with Sandalwood and Papaya Fruit Extract which is said to be highly moisturising and packed with anti-oxidants.
I love the scent of this particular wash however I found the Weleda was more moisturising and improved the cradle cap more. 
A nappy rash game changer, this balm has a multitude of uses. Uniquely formulated using 97% natural ingredients to quickly repair and deeply nourish dry, damaged skin.
The fact it has been around since the 1800s and is adored by beauty experts and celebrities speaks volumes, especially as they're exposed to so many products continually.
What makes this product great is it's not for any specific age or condition. It can be used on the whole household for minor scrapes or burns to skin issues like eczema and psoriasis.
The balm contains natural antiseptic and anti-inflammatory ingredients with the blend of benzoin, cloves, cinnamon and nutmeg.
"Benefits and uses:
Fast, soothing relief for minor skincare injuries such as bruises, burns, cuts and scrapes, and insect bites
Soothes and protects sore, inflamed skin, even on young children and babies
A deeply moisturising protectant for dry, itchy skin, cuticle care, rough heels, and chapped lips & hands
Can help to relieve long-standing skin conditions including eczema, dermatitis and psoriasis
Helps reduce the likelihood of scarring"
This does have a particularly strong scent but WORKS, and works well. It's a must-have in our baby bag and I use a little on André's face when he gets dry cracked areas around his mouth.