The Malmaison hotel in Newcastle Upon Tyne is undergoing a whopping 1.2 million refurbishment. It has always been known as a more prestigious place to stay in the North East, with its prime location on the Newcastle Quay side and incredibly popular restaurant.
With lots of modern development currently happening in the area it seems the Malmaison wants to keep up to date whilst respectfully maintaining the history and culture behind the brand.
Having stayed and dined before the refurbishment I can tell you it's a vast and welcomed improvement in my eyes. The entrance and reception area is no longer dark, there's now a Starbucks to the left and the purple has been all but replaced with a demure grey and, where there was traditional there's now luxury with an artistic touch. What they say:-
"The decadent décor of Chez Mal will draw you right in with its perfect balance between classical extravagence and modern apartment chic" and I completely agree.
The biggest change is the relocation of the restaurant and bar, previously the dinning area for me was a let down as it was very dark with tables very close together and tired decor. Now it has been moved to the front of the hotel, over looking the quayside with huge feature windows and a feeling of intimacy, whilst in a calm and beautiful space. The decor is incredibly chic with exposed brickwork at the window and playful paintings of Napoleon and Josephene covered in 60s style bright dots. A play on the name Malmaison which means Bad or Sick house, dating back to the 1800's.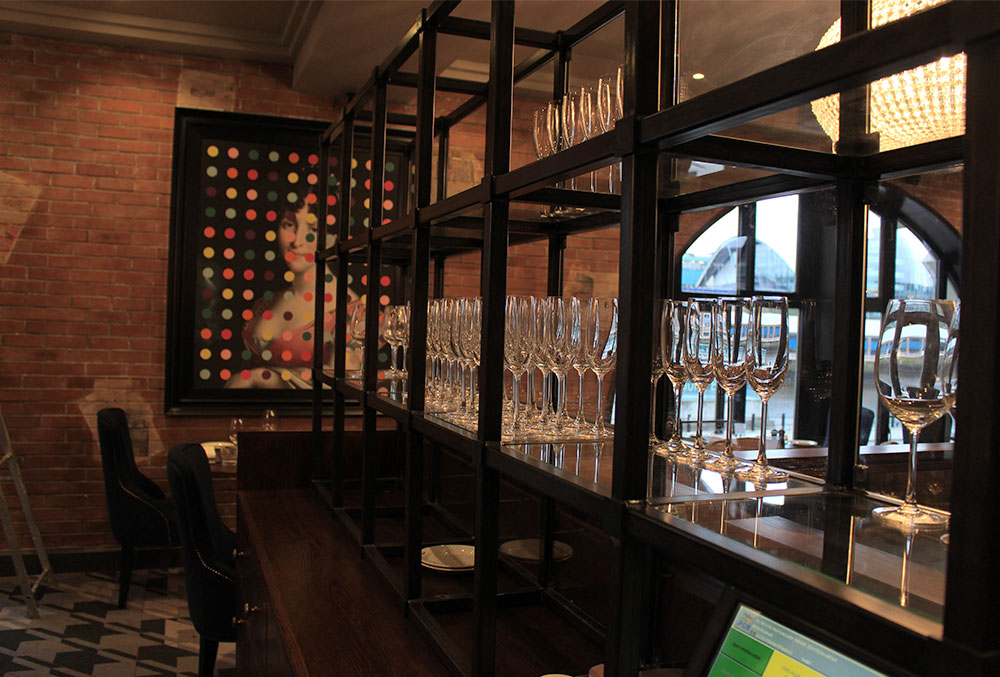 These dots appear in design all around the hotel, above the staircase is a wall of shimmering discs with Chez Mal illuminated in the centre looking very opulent.
So if you have been before you're wondering , where has the bar gone then? well, Chez Mal switched places so the bar is now situated at the back of the hotel also having had a revamp.
It has been given a Cafe Del Mar feel with booths along the wall and tables with stools making it feel less formal. Adjacent to the full stocked bar is the DJ area, here they have some of the regions hottest talent playing. It has gone from feeling like the last venue to go to for 1 drink before heading home, to the place I want to start my night. The energy has completely changed!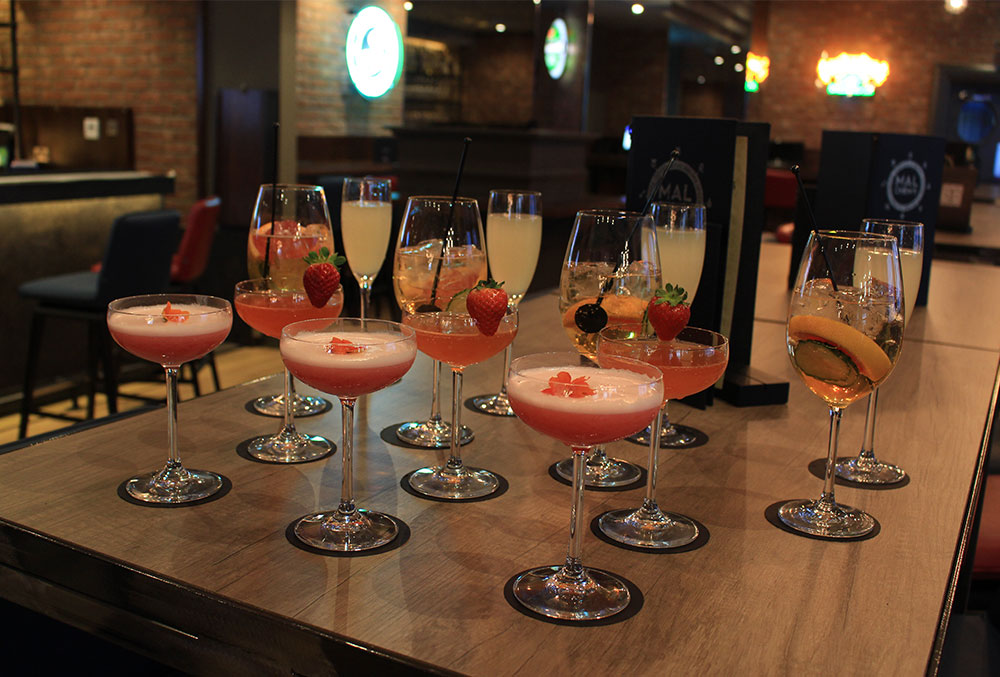 With an extensive cocktail and drinks list you have plently to choose from and the prices are in keeping with the rest of the bars around.
P.S If you're not drinking try the non-alcoholic Mojito, it's delicious and doesn't look any different to a regular cocktail!
Below is CLOVER CLUB – Hendricks gin, Litlet Rose Vermouth, Raspberry, syrup, lemon juice, eggwhite.
Having sampled the drinks we then moved to Chez Mal for lunch, we chatted to the head chef prior to dining so I knew we were in good hands.His passion for creating great food is paramount, his main objective is not collecting rosettes, (which he still thinks is important) but foremost, putting out incredible food that his customers can enjoy and return for.
Now, as a person who doesn't eat meat I can sometimes struggle in restaurants, thankfully I didn't here, but already knew from my previous visit that they have a great menu anyway. It still took me around 10 minutes to decide mind!
Starter – Goats Cheese Salad  with apple, poached pear, walnuts & raspberry dressing.
Delicious, fresh, crisp, creamy, crunchy, the texture list goes on as do the flavours. The presentation is just beautiful.
Main – Smoked Haddock Fishcake with spinach, poached egg & grain mustard sauce
Another delicious meal that was filling and packed with protein! I also added a side of Bok Choi with ginger & chilli dressing which I highly recommend.
Desert – Creme Brulee
By this point I was bursting and, as you can see, this is a very generous sized pudding so I could only manage half. It was so flavoursome with the perfect amount of vanilla. I would have liked a thicker top to crack but other than that it was very tasty indeed.
I'm highly impressed by the renovation and will be back to dine for sure, the service has always been outstanding but combined with a new decor and atmosphere I think this is the new place to be!
If you're interested in paying them a visit you can book via malmasion Newcastle or call 084469 30658
They have some interesting campaigns happening soon so keep an eye out for more info!