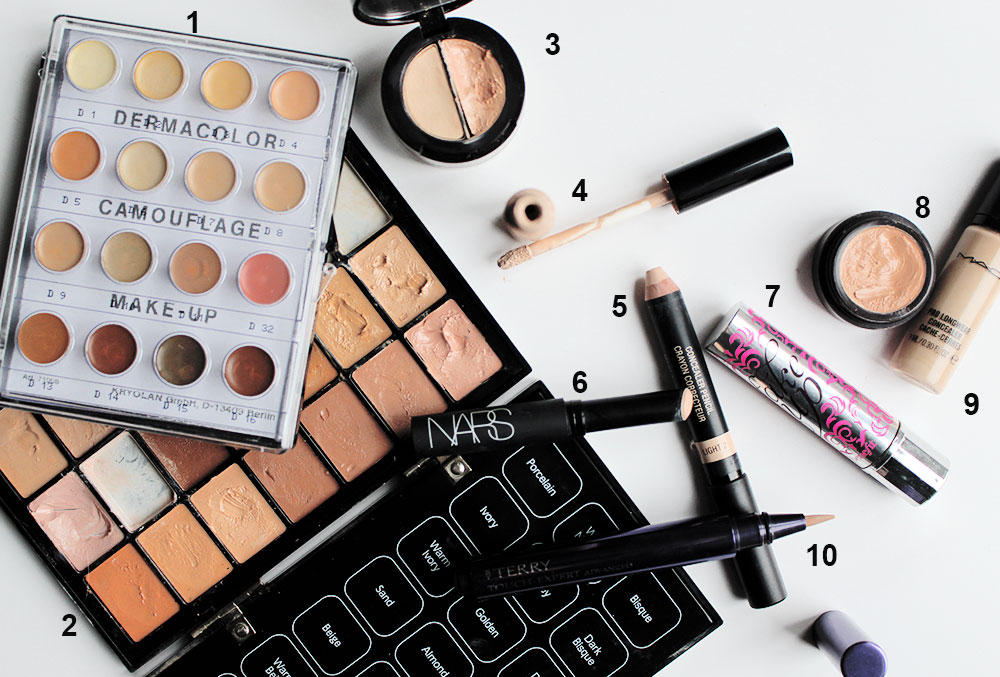 I've complied a list of concealers that I think would work for everyone, there's a variety of textures that benefit different skin types and a mix of brands from High-Street to Professional
Some are more beneficial than others depending on your reqirements, maybe you want to brighten, maybe you want a light veil or you might even be looking for a super opaque coverage that lasts.
1 –
Dermacolor camouflage
This refers to the latter (in the conversation above). If you are looking to cover a scar or birthmark, this concealer is the one to choose. It is a makeup artist favourite and is used by MAC backstage at fashion week. It's used to cover any bruises or scars on models legs and because of its firm texture it sticks to the skin and stays. However, because of this I wouldn't recommend it for under the eye as it's too heavy and dry therefor it would make any lines look worse.
This has been part of my kit for a long time and I wouldn't be without one, just keep refilling the compartments and you have all the correctors and concealers in one palette. Its creamy consistency makes it a good choice for the eye area, it blends well and is great for correcting colours like blues, or sallow complexions by adding some orange.
Another kit essential, this duo is the beauty equivieltent of the swiss army knife. It conceals and corrects under eyes with the lighter texture side and for skin imperfections simply use the drier concealer with an eyeliner or lip brush, to create precision concealing.
Then the set it all in place you have the loose powder in the bottom. It's the ideal perfecter perfect for any handbag.
4 –
Collection Lasting Perfection Concealer
This is the budget buy that proved its worth. The Collection lasting perfection lived up to its name and made my list. I use this myself almost daily as it is light enough for my pale skin to actually lighten the under eye area and stays. It blends well and is under £5. Gerrin!
5 –
Nudestix Concealer
This is a new one to my concealer draw. I've never been one for facial sticks or pencils so never give anything like this a shot, but I do really like this as it's not drying as you'd assume being in pencil form. I wouldn't put it in my kit as I get better precision from a brush however if I'm concealing larger areas of my face (like around my mouth that can look a little dark) then this is ideal. It sits very naturally on the skin too which I always look for.
This concealer is great for covering any blemishes or marks on the face which is why I've added it today. I have a dark spot on my cheek which appeared 2 years ago and although I stopped  going to tanning salons 8 years ago the damage has been done and slowly made its way to the surface. Obviously I'm quite annoyed but I did the crime so now my skin is doing the time! This concealer sticks to the skin and blends well with the fingertips, using a patting motion. It does look quite dry under the eye so if you do use this there then for the love of God don't powder on top.
If you suffer from dry skin under the eyes and need a little extra help try this by Benefit. It has added moisturising and vitamin E to work with the skin as well as conceal. It's not amazing at covering dark circles but does keep the area looking hydrated.
This is one concealer I reach for if I have a model with dark tones under the eyes and requires a heavier coverage. It's similar to the Bobbi Brown creamy concealer in my opinion but I can just play with it a little more and really push it into the skin.
If you're after longevity this is your stop, this has serious staying power and being liquid means you need a minuscule amount. If you have oily skin good news – it's great for you! it sets in place and resists the slide. I have found on drier skin however it can start to look crepe-y and enhance the lines you were probably wanting to hide. It's also a better alternative to the pro-longwear foundation if you're looking to cover larger areas.
The luxury buy, basically this is doing more than just hiding dark circles. It contains plant extracts to brighten and hyaluronic acid which plumps out fine lines. It has one of the most natural concealer finishes I've ever seen and moves with the skin rather than sitting on top. If dark circles aren't your main concern you'd probably like this, it looks natural and sets without looking dry.
Another I'd highly recommend but don't have right now is the Laura Mercier Secret Camouflage and Nars Radiant Creamy Concealer