VIDEO – The Blacker The Berry The Sweeter The Lips!
This video was inspired by the new Rihanna loves MAC collection due soon with those gorgeous blackberry coloured lips and golden eyes. This is a great look for fall to wear with leather mini's slouchy jumpers and beanies, I can picture it now. Delicious!
Watch the video below to see how I created the look.
If you can find the lip colour you want to match an outfit or accessory then just create your own. I often customise my own colours if I feel something needs more punch or a red needs that sharpness taken out. Think of products like paints, create different textures, colours, layers and most of all don't be afraid. It washes off.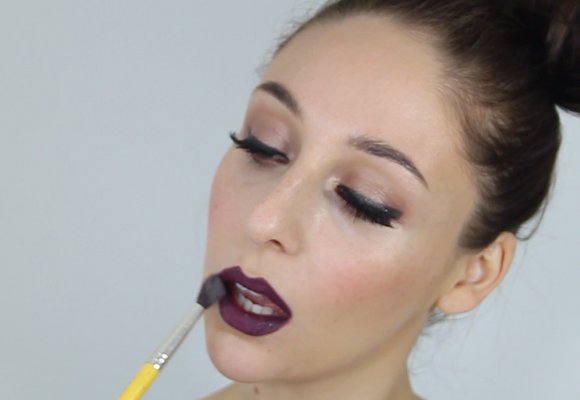 Products Used
MAC Face and Body foundation C1 & N3
Bobbi Brown concealer Porcelain Bisque
Bobbi Brown concealer Warm Ivory
Youngblood powder
Daniel Sandler slim and sculpt effect
Myface cosmetics Lady Monaco blusher
Barry M 36 pigment (I think)
Maybelline colour tattoo on and on bronze
Prestige bronze eyeliner
Zoeva graphic eyes skyline pencil
Ardell lashes
DJV mascara
Prestige Bordeux lipliner
Custom blend lipstick – see end of video
OCC liptar in rhythm box