After filming the 'How to Apply Thick Eyeliner' tutorial I wanted to post a feature on some of the liquid liners I use and mention some good ones I highly recommend. I find liquid liners are the easiest of all forms to use as it glides easily and doesn't scratch or pull the skin. This is medium I use when I want sharp clean lines and for the liner to stand out, it's not the one I'd go to for a smoky eye unless I was drawing a very thin line at the root of the lash for thickness.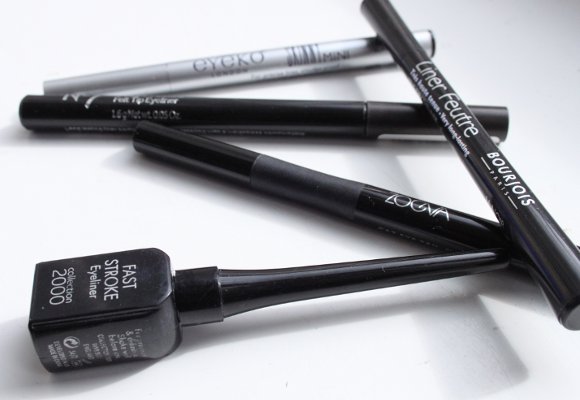 Here's the ones pictured about and my thoughts on them, some are good, others not so!
Eyeko Skinny Liner
When I first got this I thought it was the bees knees, it went on great, the nib was a good, the product lasted well on the skin but after around 2 weeks it dried out completely so I'm not sure if mine was faulty or not? It's a shame as I really liked it.
£10 at Eyeko
Bourjois Liner Feutre
This eyeliner is fantastically pigmented, the nib is quite long and has a good amount of firmness to help with control. I find the firmer the nib the straighter the line for me personally. If you're a beginner to liquid line this would be a good starter product. It's not waterproof but it wears well, once it dries it stays put.
£5.99 at Boots
Zoeva Cat Eye Blackest Black.
This is one of my favourites as it is super black and applies smoothly however the nib is a little longer and more flexible so if you're just starting off this may be slightly harder to get a straight line.It stays put and looks great as long as you're not rubbing the eye area. Again it's not waterproof but long lasting, I would say if you can't get Zoeva the Bourjois is a good replacement.
£4.95 at Love-makeup.co.uk
No7 Stay Precise Felt Tip Liner
This eyeliner is the firmest of all, it has good pigment however you need to go back over the line as it fades a little towards the end of the line you make. Other than that it's a good drugstore purchase that I'd recommend.
£8.00 at Boots
Collection 2000
This is my go to liquid liner when I'm in a hurry, it's narrow shaped handle makes it easy to use and it's small enough to fit into my bag. The difficulty with this one is that if you apply too much it dries and cracks which creates gaps. It's a great product for the price, highly recommended!
£2.50 at Superdrug
If you're looking for longevity try the ByTerry Ligne Blackstar, this stuff is incredible and doesn't move. It's waterproof, highly pigmented, doesn't smudge and is easy to use. It's everything you can want in a pen.
£25 at Space Nk