Veruschka von Lehndorff is a German model and actress who was hugely popular in the 60s and 70s. She had that bombshell look but was also a cosmetic chameleon as I discovered from reading a book I recently bought called 'The Beautiful Peoples Beauty Book' by Luciana Avedon
Luciana writes – 'The Beauty who has been everywhere and back with make-up is Veruschka, who substituted cosmetics for clothes and launched the nude look a few years back.
Veruschka – "Two years ago, I could have spent hours in front of a mirror trying colours"
"I had fun gluing on strange eyelashes and drawing on designs. My face wasn't a face any more, it was a shaped canvas" '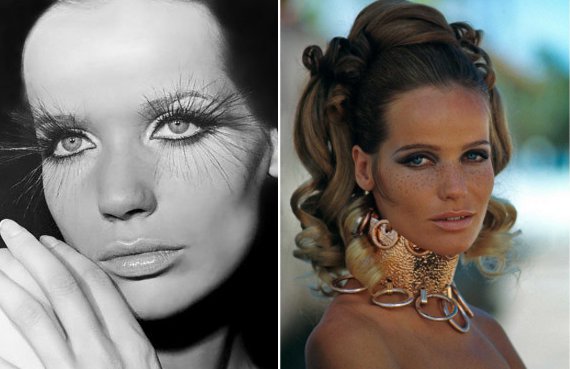 I wanted to re-create one of her many looks so decided on a beautiful 60s eye with bronzed skin, a combination I think works beautifully.
The Video
Products Used
MAC Scene
MAC Typographic
Eyeko skinny liner
Ardell wispie lashes
Bobbi brown foundation skick in Sand and Honey
Laura Mercier loose powder
Myface Lipliner
Sleek pout paint in minx
You could use any colour combination you like with this just use the same concept of the lighter hue of the colour on the lid and darker in the crease.  Subscribe to the YouTube channel to see all my tutorials first .