VIDEO | MAKEUP – A Lip Cocktail.
Monica Belluci is a gorgeous Italian actor who's style oozes class and sexiness. Looking through her images I found she definitely had a particular style, her eyes are defined and her lips are usually quite soft however I came across an image I was really inspired by which she wore an intensely bright orange/red lip.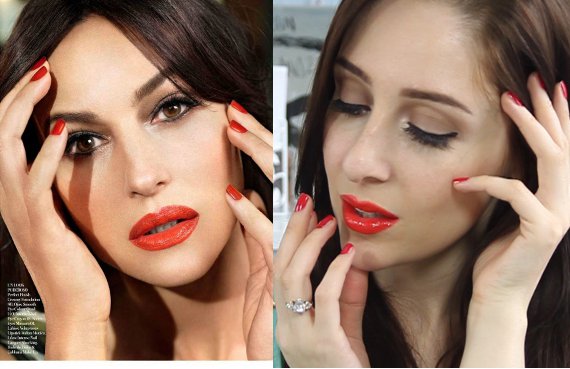 For this look I haven't used any extremely expensive products nor brands that many are unfamiliar with, the more affordable MUA and BeautyUK can be found in Superdrug the rest in stores or online.
The Products
Benefit Hello Flawless foundation*
BenefitCosmetics.co.uk

Benefit FakeUp concealer*
Laura Mercier Innocent peach blusher
HD brows
MAC Omega
MAC Kid
MAC phloof
Make-up Atelier eyeliner
Sleek Matte palette (orange brown)
Ardell Wispies lashes
MUA brighg orange eyeliner
Nars Heatwave lipstick
BeautyUK cocktail lipgliss.
If you want a good base for your primer try the Benefit Porefessional, I have this and use it all the time especially if going out as it mattes my t-zone and makes the pores look smaller.
I just thought I would mention neither the video or this post is sponsored in any way. I went to a launch this week for the Benefit Fake Up concealer and won the foundation as a prize! the rest of the items I bought. Even this porefessional 🙂