Of course I was going to re-create this look! I was inspired from the get go, the colours, the textures the image in my mind of a Butterfly in a rave. It's all fun!
Pat McGrath is on another planet, a beautiful, arty – not so weird version of Salvador Dalí's The Persistence of Memory planet and I want to go there. Her vision and creativity and not to mention talent is light years ahead in terms of make-up. I don't think she really cares about trends at all why? because she's setting them then smashing them with one swoosh of a MAC 217. She's my kind of MUA, I have loads of faves which I simply don't have room to write about and I've noticed with them all it's SIMPLE. They don't fanny about with a million different eye shadows for a simple brown smoky eye, they work quickly and little loosely as if they were holding a paint brush and adding a dab here cotton bud smudge there.
This Techno Butterfly as McGrath called it is bold, feminine and modern. Similar to the Pop ART look she also masterminded but this is more ravey davey.
Below is only 2 of the many different variations of this look.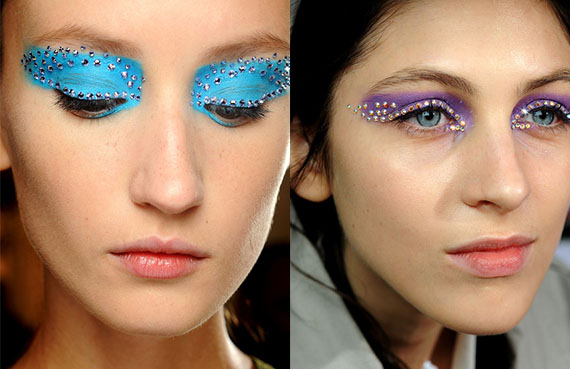 I chose to pair a purple crystal with a bright blue cream eyeshadow, backstage they probably used a paint or pigmet with some kind of mixing medium but I liked the gloss effect of the cream.
What I used
Figs and Rouge lipbalm
Purple Crystals Ebay
Nars Bang on Blue eyeshadow they may not have the cream eyeshadow anymore. I got mine from Space NK, if they don't have it try Nars China Blue, it's darker but gorgeous