Zaggora HotPants are fast becoming the outfit of choice whilst exercising, with a pair being sold every minute Globally! They have also attracted a celebrity following with models Denise Richards (pictured) and reportedly Natalia Vodianova wearing them during workouts.
Their technology-enhanced fabric helps women get the most from their exercise and lose weight four times faster, the report below shows difference HotPants make compared to standard fitness-wear.
Zaggora commissioned independent research on the effects of HotPants at the Chelsea School of Sport, University of Brighton, who compared HotPants to a standard fitness-wear garment when worn during 30 minutes of exercise. The research revealed:
· Weight loss was shown to be around FOUR TIMES GREATER in HotPants after 30 minutes of exercise
· HotPants increased the metabolic rate after exercise by 23%
· HotPants increase energy expenditure in the resting stage after exercise by 16%
· The core temperature of each subject increased by an average of 7 degrees
· Thermal sensation was significantly greater but comfortable in HotPants
"Zaggora developed its unique Celu-Lite fabric technology, which harnesses the body's natural heat to increase core temperature during exercise, promoting the deeper warming of tissue. This creates increased perspiration, resulting in greater energy expenditure and calorie burn – all of which combine to help women boost the effects of their exercise routine and ultimately achieve quicker results." – amazing!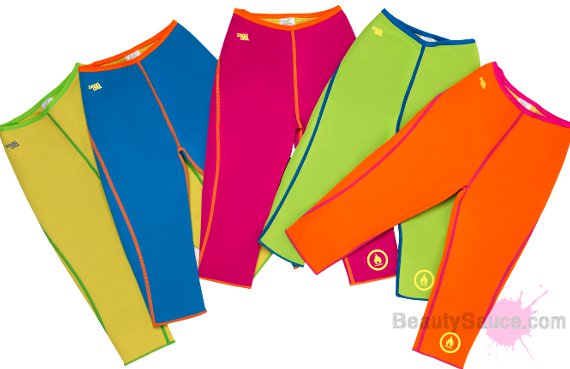 Since the launch in July 2011 Zaggora have been inundated with orders seeing over 480,000 being snapped up.
Denise Richards is pictured wearing Zaggora's new Viva HotPants, a range of bright, bold mid-length leggings available in five colours, priced at £50 and available at www.zaggora.com
If any of you have tried these let me know, I'm hoping to go on a holiday this year but need to act fast in shaping up my thighs so thinking these would be great.