Umberto Giannini has created perfect kits to help you create 4 of-the-moment hairstyles, Vintage, Up Do, Backcomb and Festival. In each kit you get the tools and accessories needed to create the look. To help you achieve the hairstyles Artistic Director Paul Gooch has created how-to videos on each kit which you can find on YouTube, channel name noplainjanes.
The kit I have is the Vintage Hair Styling Kit, inside you get 12 velcro rollers in 3 different sizes, a tail comb, 2 rollys in small and large, bobby pins and long dressing pins in brown and blonde and a lace hair band.
See the Gallery to find out what the products look like and how my hair turned out.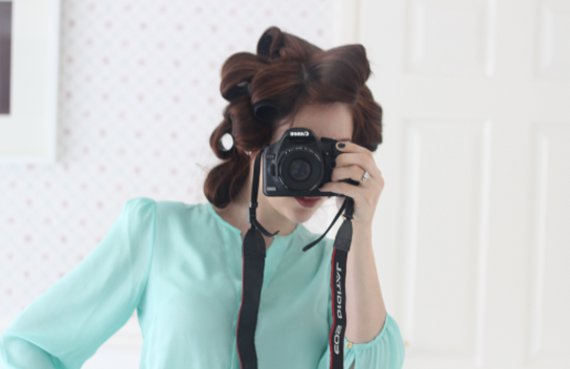 In the first pic you can see how my hair was before the rollers,
The Gallery
How to
I washed and rough dried my hair parting it on the side then placed the largest rollers on the top section of my head with the smallest on the bottom. I took each section and sprayed generously with hairsray making sure it was detangled before pinning up with the roller. After a little while I removed the rollers carefully and lightly separated with my fingertips. My hair was fuller with a little wave looking like I had a professional blowdry, I think if you want a curl place rollers in hair that's 98% dry and warm it up with the hairdryer so that the hair sets around the rollers.

Price – £12.00
Avaialble – Boots
I tried the rollys but need a little more practice as the front kept falling down, it looks beautiful in the video though.
Which vintage hairstyle is your favourite?