Have you guys seen the new Caviar manicure? O.M.FREAKING.G this is awesome. It's probably not practical but then when did practical become fun? This little kit comprises of a bottle of tiny 3d beads and Ciaté Paint Pot nail varnish which compliments the bead shade. There's a choice of three colours at the moment Mother of Pearl, Black Pearl and Rainbow. I'm hoping there'll be more.
It works by applying 2 coats of nail polish and then tapping the beads over the wet nails and gently pressing in to hold the beads in place.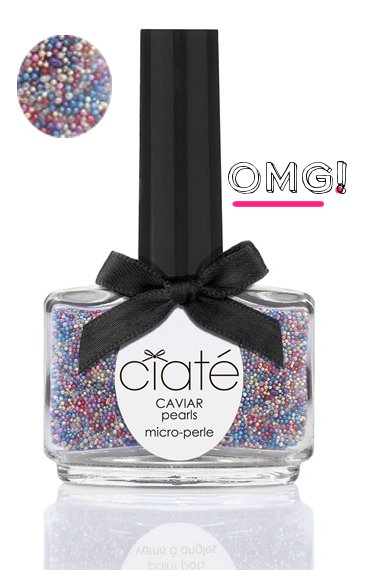 "The inspiration behind the Caviar Manicure™ came about when Charlotte, Ciaté's Creative Director, was looking to create 3-dimensional nails for a front cover magazine shoot and wanted to develop something feminine, indulgent yet delicately extravagant. The finished effect gives nails an instant sophisticated look. Very Ciaté!" – Ciaté.co.uk
Join the waiting list at Ciate.co.uk to ensure you get yours. £18 per kit, Available from next week.