MAKE-UP TUTORIALS | FASHION WEEK – Let Skin Shine!.
Today the two are combined as I created this glossy skin tutorial based on the Sporty Skin make-up seen at the S/S shows but it looks as though it is carrying on into A/W, not that beautiful highlighted skin will ever not look good whatever season!
This is a look I pretty much do daily but I have exaggerated it a little more for the tutorial keeping in line with the show looks but still keeping it wearable. I've never been a fan of heavy make-up with lots of powder products, I prefer sheer skin that looks like I'm super hydrated and have had a great sleep. Cream products go hand in hand here as they give more of a dewy texture on the skin.
My look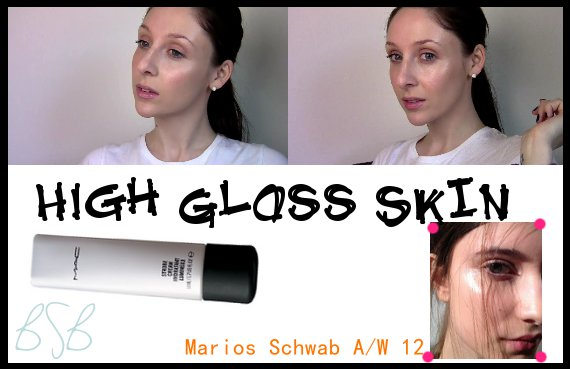 Image Credit – Lower image, Val Garland via Twitter
Skin looks better if it has been prepped well, I exfoliate regularly. This removes dull dry skin and smoothes the surface, I makes sure I use a serum under my moisturisers each morning and night for added protection and hydration.
Here is how the to do the look.
Products Used
Face
Mally Primer
MAC strobe cream
MAC Lustre Drops in pink rebel
MAC Face and Body foundation N3
MAC cream colour base in Pearl and Hush
Lips
Prestige Lipliner in Silk
MAC clear creme gloss

Eyes
Smashbox Smashing Intern
I'm not sure Val would have used Stobe cream as the look she created is quite pigmented however you can create a similar look as I have shown that is a little more wearble.