VIDEOS | MAKE-UP TUTORIALS – Look Every Inch A Star.
Most of us have seen the pics of Ange looking super glamourous at the Golden Globes awards. I'm sure lots have re-created this make-up but I couldn't help but have a go. What do you think?
G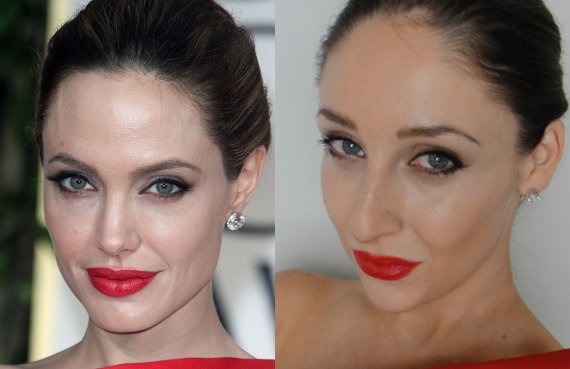 I have done an Angelina inspired look before but the not the combo of feline eyes and red lip. Watch the tutorial to see how I did this.
The Tutorial
The Products
Eyes –
Jemma Kidd Brow perfector in Brunette
MAC Naked pigment
Jemma Kidd i-sculpt in Carnaby St
Maybelline gel eyeliner
Rimmel Glam eyes mascara
Lips
Prestige lipliner in Amore
NYX cherry lipstick
Face
Jemma Kidd citrus colour corrector
Mally primer
Myface cosmetics fair 3 medium 1 foundations
Bobbi Brown concealer
What do you think of my imitation dress? it was made from a pillow case and the red was some satin wrapped around cardboard 🙂